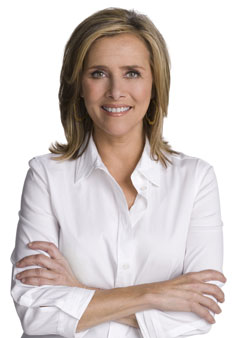 Today show host Meredith Vieira, J75, who has won nine Emmy Awards, is the speaker at Tufts' 152nd commencement.
Today's Vieira to Deliver Commencement Address
Emmy Award-winning journalist headlines May 18 ceremonies

Emmy Award-winning journalist Meredith Vieira will return to her alma mater to deliver the commencement address at Tufts University on Sunday, May 18.
"Meredith Vieira is one of the most respected figures in American journalism today, with a unique perspective on both the news itself and the business of news," says President Lawrence S. Bacow. "Tufts is very proud to claim her as a distinguished graduate, and I know that her remarks will resonate with our graduates and their families."
Vieira, J75, who has won nine Emmy Awards, has co-anchored Today on NBC since September 2006. As the host of the syndicated program Who Wants to Be a Millionaire?, she is one of only a few television personalities to have two concurrent programs on air. She began her television career as a local reporter and anchor at WJAR-TV in Providence, R.I., later making her way into the newsroom at WCBS-TV in New York City, where she was a reporter.
She first gained national recognition as a CBS News reporter in Chicago from 1982 to 1984. She later became an award-winning correspondent for the CBS newsmagazine shows West 57th and 60 Minutes. Her departure from 60 Minutes over management's refusal to allow her to continue to work part-time to care for her young children sparked a national debate about whether women could balance family and career.
Vieira served as co-anchor of the CBS Morning News, as chief correspondent for the ABC news-magazine show Turning Point, as the moderator and co-host of ABC's The View and as host of Lifetime's Intimate Portrait.
At commencement, which begins at 9 a.m. on the academic quad on Tufts' Medford/Somerville campus, Vieira will receive an honorary doctor of humane letters degree.
In addition to Vieira, five other distinguished leaders will be awarded honorary degrees: Steven S. Manos, executive vice president of Tufts for 26 years who retired last fall; Mary Oliver, a Pulitzer Prize- and National Book Award-winning poet; Susan Rodgerson, an artist, teacher, entrepreneur and the moving spirit behind Artists for Humanity; Dr. Robert S. Schwartz, a longtime faculty member at the School of Medicine who made path-breaking contributions to the development of immunosuppressive drugs; and Dr. Donald E. Wilson, M62, senior vice president for health sciences at Howard University and dean emeritus of the University of Maryland School of Medicine.