The Long March to November
Democrats face difficult decisions but still hold an advantage in the general election, says political expert
By Marjorie Howard
Every morning, Jeffrey Berry switches on his computer and goes to the website pollster.com. So he wasn't surprised when Hillary Clinton won the primary races in Texas and Ohio on March 4. "I'm a numbers guy," says Berry, the John Richard Skuse Class of 1941 Professor of Political Science. The website, a collection of a variety of polls, had clearly shown that Clinton would win in Ohio and that while Barack Obama was catching up, the New York senator was ahead by a few points in Texas.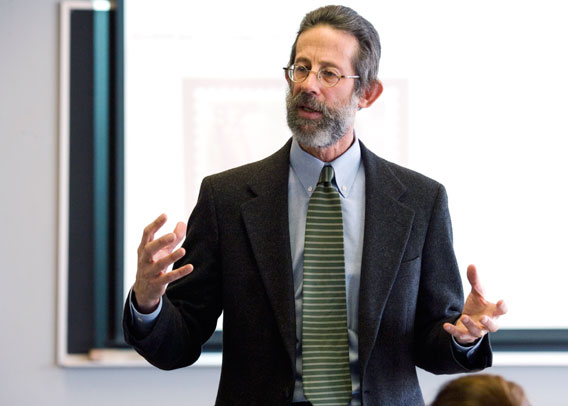 "I think everybody's a bit shell-shocked and a bit fearful that this will go all the way to the convention and that bitter feelings will emerge from the loser," says political commentator Jeffrey Berry, a professor of political science. Photo: Melody Ko
Though the polls predicted the outcome in those two races, what's not clear is what comes next for the Democrats. "I think everybody's a bit shell-shocked and a bit fearful that this will go all the way to the convention and that bitter feelings will emerge from the loser," says Berry, who is frequently called by local and national media, from NPR to Reuters, to comment on electoral politics. The next primary is March 11 in Mississippi, where Obama is favored. "Another big state coming along is North Carolina, on May 6, which Obama should also win," Berry says. "The Pennsylvania primary is April 22, but there are other states after Pennsylvania. So more chapters are going to be written, and there is no clear future."
Adding to the muddied picture, he says, is the role of delegates from Michigan and Florida. Both states held primaries earlier than allowed by the Democratic Party, which had warned the states that as a consequence, it would not seat their delegates at the party's convention in Denver in late August. Clinton won the Florida primary. In Michigan, she was the only Democrat on the ballot. With such a close race toward the nomination, some Democrats are suggesting the delegates from Michigan and Florida be seated or that the primaries be held again in what they are calling a "do-over."
"I think this is a bigger issue than the super delegates, the party officials who have a vote," says Berry. "Do you create a mechanism to allow those states to bring delegates to the convention or do you leave them out? Super delegates will follow who they think the winner of the primary season is. But with Florida and Michigan, the party thought everything would be settled, and it would be a moot issue."
There have been some 40 primaries and 20 debates, he notes. "In 2004, the Democratic race for the nomination ended the night of the Iowa caucus, so this is rare."
The Republicans, meanwhile, have no such complicated issues, awarding all the delegates in a state to the winner and not apportioning them as Democrats do. There are no super delegates and no unseated delegates. Why are Democratic Party rules so much more complicated? "Because the Democrats have a commitment to democracy," Berry says, laughing.
On the Republican side, Berry says former Massachusetts governor Mitt Romney had a great chance to win the nomination and blew it. "I think what people will remember about him is that he spent a ton of money and was roundly rejected by the voters," notes Berry. "He's hardly going out with the reputation of coming close—just the opposite. He flopped against a fairly weak field."
John McCain was not supported by the party establishment, was disliked by conservatives, ran out of money and "was considered a corpse on the road for a long time," Berry says. "So he's hardly a giant killer—more like a mosquito swatter. But he's certainly gained by coming back from the dead." Though many conservatives disavow McCain, Berry thinks the Republican Party will rally around him "because they don't like the Democrats, and he certainly has an appealing personality, which will serve him well."
That said, Berry sees an advantage for the Democrats in the November election. "There's a general perception that we're drifting into recession. There's an unpopular war in Iraq that doesn't appear to be headed toward a conclusion, and there's an unpopular Republican president in office," he says, "so all of those things work strongly against the election of McCain."
Marjorie Howard can be reached at marjorie.howard@tufts.edu.