Back with a Big Bat
Out last season with an injury, 2006 player of the year Danielle Lopez looks to help the Jumbos softball team maintain NESCAC dominance

By Paul Sweeney
Softball coach Cheryl Milligan thought she was giving her team a break when she suggested they begin this season's practice a day later than planned, but they would have none of it. They wanted to get their season going.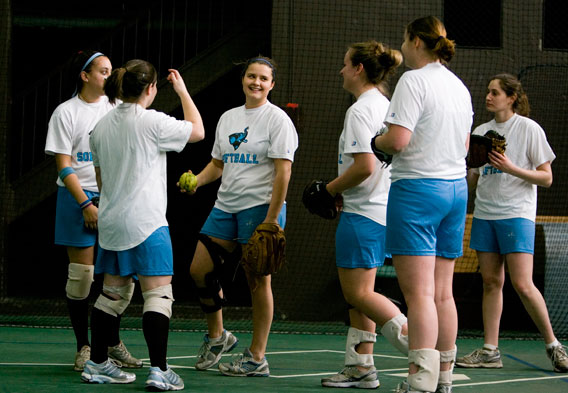 Danielle Lopez is happy to be practicing with her softball teammates in late February, coming back after a year off due to an injury. Photo: Melody Ko
One of those players has even more reason than most for wanting to get out on the field and into the batting box. Senior Danielle Lopez, an All-American as a freshman in 2005 and the New England Small College Athletic Conference Player of the Year in 2006, missed all of last season with a knee injury. Now she's back and eager to play again.
The softball team was coming off a sub-par season when Lopez and other freshmen were counted on to help turn the team around in 2005. The adjustment didn't take long. She hit a home run in the third game of her career against defending national champion the University of St. Thomas, and went on to hit eight home runs that season. The team hit 42 homers overall, an average of 1.2 per game and fifth-best mark in NCAA Division III softball history.
Playing second base, Lopez had an even better season as a sophomore, hitting 11 home runs and nabbing the conference's Player of the Year award. In 2007, a more experienced Tufts team headed into the season with great optimism. But nine days before they were to leave for the season-opening tournament in California, Lopez tore her anterior cruciate ligament during a team exercise, and was out for the season. She made the best of it, though, staying with the team that season and helping out however she could from the bench.
"I had moments when I couldn't take sitting there watching other people do my job on the field," says Lopez, who is called D-Lo by her teammates. "But to be behind the scenes, on the bench, I got to see a lot and hear a lot. I was able to interact in ways that I otherwise wouldn't have if I was playing."
Lopez returns to a team that is so talented this spring that she says she will have to win her position back. She joins an infield that includes All-Region First Team players Casey Sullivan, A10, and Samantha Kuhles, A09. Lopez, who was red-shirted last season and can play again next spring, expects to pick up where she left off.
"She may not feel 100 percent yet, but with D-Lo, her 89 percent is close to everyone else's 100 percent," says Milligan, J98, G01. "She's worked hard to get to or very close to 100 percent."
The Jumbos season starts on March 16 at the Sun West Tournament near Los Angeles, and hopes are high. Last year's team was one win away from heading to the College World Series. All of the key players returned this spring, and another talented class of recruits has been added.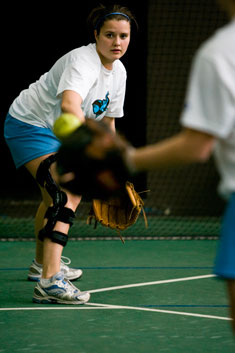 Being at Tufts is "probably the best thing ever for me," says softball player Danielle Lopez. Photo: Melody Ko
"We'd like to be at the College World Series, no doubt about it," says Lopez.
A Fresh Start
On and off the field, Tufts has helped Lopez realize her potential. She entered college as a naïve local kid from Danvers, Mass., who was intimidated by Tufts' academic reputation. Intent upon taking advantage of a college education that her parents did not have, she embraced all that Tufts had to offer. She has immersed herself in academic pursuits and studied abroad in Barcelona. Her grades are dean's-list caliber.
"I thought I was going to be the dumbest person at Tufts when I got here," she says. "Coming here and succeeding athletically and academically showed me that I'm not limited. Being at an academically challenging place and succeeding, I guess the sky's the limit when you realize that."
Lopez's passion through her teen years was horses, not softball. She's owned four and has enjoyed success in the sport of equestrian showing. As a sophomore at Tufts in 2006, she was a regional champion and placed third nationally in her division. She initially came to Tufts to be a veterinarian.
Horses had been her life, but Tufts has broadened her horizons. After completing half of the required credits for pre-vet, she changed her focus to neuroscience. She's now a double major in biopsychology and biomedical engineering, with hopes of pursuing a Ph.D. and potentially working on neurodegenerative diseases such as Alzheimer's.
"Tufts is famous for being able to find out anything and everything that you want to know about anything, because there's so many people willing to help," she says. "Being here was probably the best thing ever for me." And with her help, this might be the Jumbos' best season ever, too.
Tufts Sports Information Director Paul Sweeney can be reached at paul.sweeney@tufts.edu.