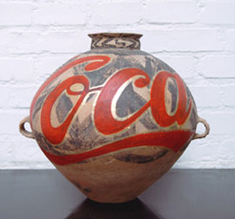 Ai Weiwei, Neolithic Culture Pot with Coca-Cola Logo, 1992, Neolithic pot with acrylic paint, 12" x 13.125". Photo: Courtesy of the artist
Branded by Art
Gallery exhibition shows how we are being sold more than we realize
By Marjorie Howard
Enter the Tufts University Art Gallery and, from an overhead speaker, you hear monks softly intoning what sounds like a Gregorian chant. The music washes over you, and the cathedral-like atmosphere is somber. But pause for a moment to listen more closely: you're hearing a mass that worships not a god but gods: the male voices are singing "Konica Fuji, Audi Ford, Sony, Sony" and the ever familiar "Coca-Cola."
The music serves as a mesmerizing backdrop for the exhibition Branded and On Display, at the Art Gallery on the Medford/Somerville campus until March 30. The show "nudges us to re-view our culture with an appraising eye," say guest curators Judith Hoos Fox and Ginger Gregg Dugan. The 22 artists featured in the exhibition use music, film, photography and a variety of objects to address how brands have become internationally recognized images, how we sometimes brand ourselves and how brands help us organize our own lives.
Take the work of painter Laurie Hogin, "Allegory of Psychodemographics: Twenty-Four Brands My Family Uses in a Typical Summer Day, 2006." In the series of paintings, a nasty-looking, monkey-like creature wears a different coat for each hour of the day, each decorated with familiar brands ranging from Smucker's peanut butter in the morning to VISA later in the day and ending, appropriately enough, with Ambien.
Then there is the Chinese artist Ai Weiwei, who took a 6,000-year-old Neolithic pot and painted Coca-Cola along its side in Coke's iconic red script with a gold border. According to Fox, when the artist was asked about the possible desecration of something so old, he replied, "Well, it's worth more now."
Coca-Cola is also the target of another artist, Siebren Versteg, who set up a computer and projector that flash live news on the wall, like a kiosk in Times Square. In this case, though, the news is transmitted in the same typeface used on Coke bottles, bringing a jarring juxtaposition to events: "Vice President Dick Cheney" and "blast in Afghanistan" crawl by in the cheerful, familiar white script against a red background.
One artist took note of how people may unwittingly participate in branding. Amelia Moore, who lives and works in Chicago, photographed University of Illinois students at a football game, all wearing orange, the school color. By filling a large canvas with the same photo over and over again, the viewer is lost in a sea of orange that resembles a "Where's Waldo" picture. The students, say the curators, have voluntarily branded themselves to express their loyalty to their school.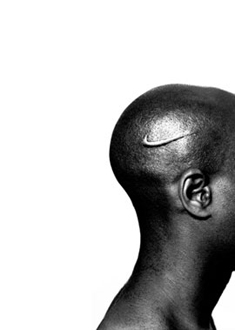 Hank Willis Thomas, Branded Head, 2003, digital C-print mounted to Plexiglass, 96" x 60". Photo: Courtesy of Jack Shainman, New York
One of the more provocative exhibits is by Hank Willis Thomas, an African-American artist whose work often focuses on the use of the African-American male body in advertising. "Branded Head," for example, shows the profile of an African-American man's shaven head, face obscured, with the Nike "swish" literally branded above his right ear. Thomas says the piece is a reflection on how slaves were branded as a sign of ownership, and how "in the 21st century their descendents perpetuate a state of branded consciousness," according to his Web site.
While brands seek to convey information instantly, viewers of the exhibition, organized by the Krannert Art Museum at the University of Illinois at Champaign-Urbana, will notice that some information is missing here: there are no explanations about the art on display. That's intentional, says Fox, so viewers will spend more time looking at the works themselves rather than reading about them. Still, that information is available in a catalog available at the gallery entrance.
"As we're all beckoned by smart merchandisers," says Fox, summing up the exhibition, "at least we'll be more conscious about being duped into buying things."
The exhibit runs through March 30. Gallery hours are Tuesday through Sunday, 11 a.m.–5 p.m., and Thursdays until 8 p.m. For more information about the exhibition, visit the Tufts University Art Gallery website or call 617-627-3518.
Marjorie Howard can be reached at marjorie.howard@tufts.edu.