Booster Shots
Dental students give their first injections of local anesthetic—to each other
By Julie Flaherty
No one likes a shot in the mouth, but can it be harder to give than to receive? Each January, second-year students at the School of Dental Medicine take a gentle stab at injecting their first local anesthetic, facing what Professor Morton Rosenberg calls the "most fearful procedure in dentistry." The upside? They practice these injections on the most empathetic guinea pigs—each other.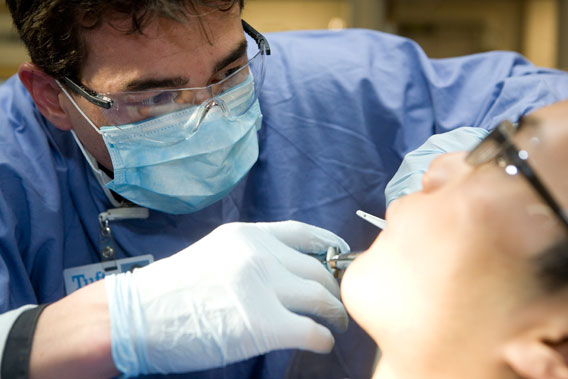 Is it better to give than receive? Michael Winkelman readies his first injection of local anesthesia to fellow student Kyungsuk Yoo. Photo: Alonso Nichols
This singular rite of passage marks the students' transition from classroom courses to hands-on clinical training, which means it is the final hurdle before treating real patients. It can be a first in other ways, as well. "For maybe 30 percent of students, they have never had a local anesthetic, their teeth are so perfect," says Rosenberg, D74, who has directed the local anesthesia clinic for eight years.
As the class of 2010 takes its turn, you might expect the clinic to be so quiet you could hear a needle drop. But the fifth floor of the dental school hums with nervous laughter and words of encouragement, an advantage of trying out newfound skills on a pal's mouth. When one injection falls short of its mark, the "patient," Courtney Rubin, D10, urges her classmate to try again. "Get back on the horse," she says. "Just do it, seriously. I have a high pain threshold."
Pablo Gonzalez, D10, is determined to be extra tactful with his clinic partner, Laleh Sotoodeh, D10. "She knows where I live," he says. She later gives him high marks.
Assistant Professor David Paul, D89, appreciates their apprehension, remembering the first local injection he gave as a student, on this same floor, some two decades ago. "You're doing it to your friend," he says, adding, "You hope they're your friend."
Rosenberg is grateful for the dozen fourth-year teaching assistants who help guide the 70 sophomores through the task, which is more than just pushing a plunger. The slower the injection, the less the patient will feel it; but hover too long with the needle, and the patient gets unnerved. As one student starts his injection, teaching assistant Gregory Pette, D08, suggests some patient distraction: "Now would be a good time to talk about how the Patriots are going to do."
Students learn there is more than one way to give a shot. Should you bend the needle a little first to make the approach easier? Should you close the mouth slightly and aim high, or keep the mouth open and aim lower? Because each mouth is different, no one method necessarily works for every patient, says Yoon Kang, D08, a teaching assistant. "During my two years in clinic, I sort of developed my own method," he says. "I can show them that, and they can have it as part of their arsenal."
Paul Trombly, D85, an associate clinical professor, says the second-year students receive understanding guidance from the teaching assistants, and the fourth-year students get a confidence boost. "You don't know how much you've learned until you try to teach something," he says.
The school's head of infection control, Shannon Balletto, is also on hand to reinforce safety precautions like gloves and face protection. What better moment to teach safety than when students are learning to recap needles without sticking themselves?
Some claim to sweat bullets; some are stoic. The one thing they have in common is the fervent desire not to be the one who needs 20 tries to get it right. Teaching assistant Jennifer Blair, D08, later says the students were shaking a little, but once they had given and gotten their allotment of Carbocaine, the dental anesthesia of choice, they were happy to find it had been a fairly simple procedure. Even so, she says, "they were embarrassed to smile because they thought their lips were drooping."
Julie Flaherty can be reached at julie.flaherty@tufts.edu.