Another Award for the Interfaith Center
Building receives honor for excellence in architecture renovation and adaptive reuse design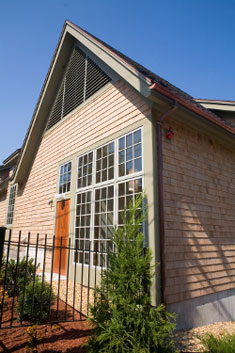 The Tufts Interfaith Center officially opened in September 2007. Photo: Melody Ko
The Tufts Interfaith Center has won an award for excellence in architecture renovation and adaptive reuse design from the Society for College and University Planning and the American Institute of Architects Committee on Architecture for Education.
The Interfaith Center building project is now the winner of three awards, including a 2008 Faith and Form Design Award for Renovation and a Small Firms/Small Projects Award from the Boston Society of Architects.
Since the building's completion in the fall of 2007, it has become a popular meeting space for the university's faith communities. The building, located at 58 Winthrop Street, is the former Tufts Catholic Center, which was sold by the Archdiocese of Boston to the university. The former cottage-style structure was transformed into a place "to enhance the spiritual and religious life on campus for everyone," the Rev. David O'Leary, university chaplain, said in 2007.
One of the challenges was to design the main hall as a space that would allow use by a variety of religious groups, each with individual needs. As a result, the interiors are mostly unadorned and in neutral colors, to serve as a "blank slate" for each user group. A half wall partitions off an area on one end of the hall, which also serves to conceal storage for religious service items such as prayer rugs, chairs, cushions and icons.
A key design challenge for the renovation was to provide a new space for supporting functions of the big meeting space, including a new accessible entrance, elevator and accessible restrooms. This change resulted in a new shape for the front of the structure, with a large window facing the street. The old concrete, blue-painted steps and front porch were replaced by a new entry and upper lobby, filled with natural light and allowing wide-open views to the outside.