STOMP Goes to Google
A Tufts program that uses Legos to teach engineering to school kids spreads to California
By Marjorie Howard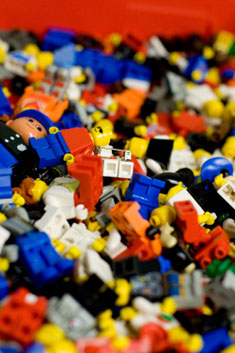 The STOMP program brings engineers and college students into elementary classrooms to teach engineering—using Lego bricks. Photo: Karina Picache
Question: What's a STOMP at Google?
Answer: Not a dance. It's a Tufts program that has inspired a group of Google engineers and programmers to bring engineering education into the classroom.
Google, of course, is the popular search engine and software company. With headquarters in Mountain View, Calif., the firm encourages its employees to spend 10 to 20 percent of their time doing projects outside of their primary area of work. The company also sponsors talks by outside speakers and last year invited Chris Rogers, a professor of mechanical engineering and the director of the Center for Engineering Education and Outreach (CEEO), to discuss engineering and education.
Rogers is one of the founders of STOMP, the Student Teacher Outreach Mentorship Program, which operates under the umbrella of the outreach center. Since 2001 STOMP has sent college and high school students into classrooms around the country, using Lego bricks and other hands-on tools to teach kids engineering through project-based learning. Elementary school students have built pyramids, amusement park rides, simple machines and more while learning about problem-solving, teamwork, planning and design. (See earlier story and video in the Tufts Journal.)
Following Rogers' presentation, a Google programmer attended a Lego engineering conference for teachers interested in incorporating project-based instruction in their classrooms. He met Melissa Pickering, assistant director of the CEEO, and developed a plan to bring STOMP to Google.
Pickering and Ethan Danahy, the software designer for the CEEO, will train 10 Google engineers and some 20 teachers from an elementary school near Google's headquarters during a workshop on August 24. In the fall, the trained Google engineers will visit three fifth-grade classrooms once a week to help the teachers enhance their existing lessons with Lego-based projects. The Google engineers, like the Tufts engineering students, will provide technical help and also serve as real-world engineer role models for the young students.
Google has established a website for its employees, explaining how the pilot STOMP at Google program will work.
Google isn't the first company to send its staffers into the classroom with the help of Tufts. A program called I-STOMP has worked with more than 200 volunteers from National Instruments, Raytheon and Symantec, and will be working with General Electric, Foster Miller and I-Robot in the coming year.
Marjorie Howard can be reached at marjorie.howard@tufts.edu.