Spiritual setting
New Interfaith Center embraces all religious traditions
by Helene Ragovin
The brilliant mid-day sun streams through the windows of Tufts' new Interfaith Center, filling the worship space beneath the vaulted ceiling with light and a sense of peace.
© MELODY KO
The new center—a study in simplicity and serenity, designed to make students of all faiths feel comfortable and inspired—occupies the building at 58 Winthrop St. on the Medford/Somerville campus that formerly housed the Tufts Catholic Center. After purchasing the site from the Archdiocese of Boston, the university has transformed the once-dilapidated, cottage-style structure into a place "to enhance the spiritual and religious life on campus for everyone," the Rev. David O'Leary, university chaplain, said.
"It's exciting to me to have all the different student religious organizations engaging in a natural intermingling," said O'Leary. "The groups will be bumping into each other and interacting, and that will be wonderful."
The Interfaith Center, which was dedicated in late September, contains offices for three of the university's associate chaplains—Ann Penick, the Catholic chaplain; Jeff Von Wald, the Protestant chaplain; and Shareda Hosein, the Muslim chaplain. The Jewish chaplain, Jeffrey Summit, will maintain his office at the Granoff Family Hillel Center, and O'Leary will keep his office at Goddard Chapel.
In addition, there is a small prayer and meditation room; a meeting room with a kitchenette and, most significantly, a spacious worship and gathering area on the second floor that uses natural elements, such as light and wood, to create a sense of warmth and tranquility.
While the room has elements that were designed with particular religious traditions in mind—for example, an inset shelf that Hindus or Buddhists can use to hold ritual objects during worship—the idea was to make the space "as neutral a room as you can get," O'Leary said.
A noteworthy feature of the new building are two washing rooms on the second floor, one for men and one for women, that can be used by Muslim students to perform ritual ablutions before prayer. These rooms contain hand-held nozzles and raised areas with drainage, to accommodate the washing of face, hands and feet before prayer.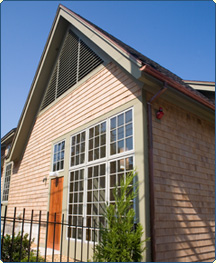 © MELODY KO
O'Leary said he and architect Karla Johnson, a principal in the Somerville firm of J. Stewart Roberts Associates, toured many religious and interfaith facilities at other campuses in the Boston area before Johnson designed the one at Tufts. "Our biggest lesson was that the Muslim community needs proper bathrooms with proper drainage," he said.
"The Muslims will be having prayers here every Friday," O'Leary said. "But it is also for Buddhists, Hindus, Quakers, Baha'i … for anyone who is not comfortable in Goddard Chapel." Goddard, built in 1883 by Tufts' Universalist founders, has a notably Christian ambiance, particularly because of its stained-glass windows depicting St. Paul, St. John the Evangelist and St. Mark. From a historical perspective, such explicitly Christian décor was an uncharacteristic feature for a Universalist chapel of that time.
Jewish programming and religious services, both Conservative and Reform, continue to take place at the Hillel Center, which was funded by private donations and opened on the Hill in 1994.
The Winthrop Street building has long been a feature of Medford's Hillside neighborhood—the original plans indicate it was built in 1913 as a clubhouse for an organization called the Hillside Club. But it's probably best remembered by longtime Medford residents as a Knights of Columbus post, and was eventually acquired by the archdiocese, which used it as a Catholic Center for Tufts students. For many years, O'Leary said, the university's Catholic chaplain actually lived in the building, although by the late '90s, it was riddled with mold and in dire need of repair.
Tufts eventually acquired the building and decided to renovate and open it to the whole campus community for religious purposes. While it is impossible to get an official count of all students' religious affiliations, the annual surveys of incoming first-year students indicate that Jewish and Catholic students each make up between 22 percent and 24 percent of the undergraduate student body; Protestant students comprise between 15 percent and 19 percent, and Buddhist, Hindu and Muslim students each make up about 2 percent to 3 percent, with the rest listing other faiths, or no preference.
The $1.5 million project, which was built by L/R Construction of Framingham, Mass., took about nine months to complete. The unifying design feature of the center is nature, a common theme in almost all faith paths, O'Leary said.
"Our thinking is that we were going for dignity and durability," Johnson, the architect, said. "Also, the main space needed to be flexible, and not even suggest that one religion is dominant over another. I hope anybody would be comfortable setting up for their particular rituals and traditions. Part of that was bringing in natural light and the elements of the outside," she said.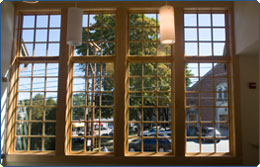 © MELODY KO
A major part of that effort was changing the windows. Previously, the building featured sets of two double-hung windows along the second story, with a smaller window above each set. Those were changed to one larger window in each location, so that the worship room is lined with windows that nearly extend from floor to ceiling. Downstairs, the windows in what are now the chaplains' offices had been closed off; they have been re-opened to provide more natural light in the work spaces.
Another dramatic change is the second-floor ceiling. Previously, there had been two layers of drop ceilings, which also obscured a gallery/balcony that had once been part of the building. Those ceilings have been removed, creating a 24-foot vaulted ceiling with exposed beams.
The new facility uses the same footprint as the old building, although the façade has been covered with cedar shingles. And the Interfaith Center is fully accessible—gone are the steep blue steps that made it all but impossible for anyone using a wheelchair to enter. An elevator was also installed. The building is more energy-efficient, both because of new technology and the increased use of natural light. Outside, a small yard and terrace have been created in the back.
"One of the things was to make a place where students and faculty and others of the Tufts community would want to come, a place where they would feel comfortable," Johnson said, "hopefully, a place where they will be learning more about other people's beliefs."
Helene Ragovin is a senior writer in Tufts' Office of Publications. She can be reached at helene.ragovin@tufts.edu. This story appeared in the October 2007 issue of the Tufts Journal.