Practical Idealists
Advice for young people who want to change the world, but don't want to go broke in the process
By Leslie Macmillan
Students are often drawn to Tufts by their optimism—a drive to end hunger, bring justice to the world or simply to improve the lives of the less fortunate. But when they get their degree, they may find themselves saddled with student loans and nurturing the idea of one day getting married, buying a house and eventually sending their own kids to college. Is this vision consistent with tramping across the red dust plains of Africa, doling out rice from a sack?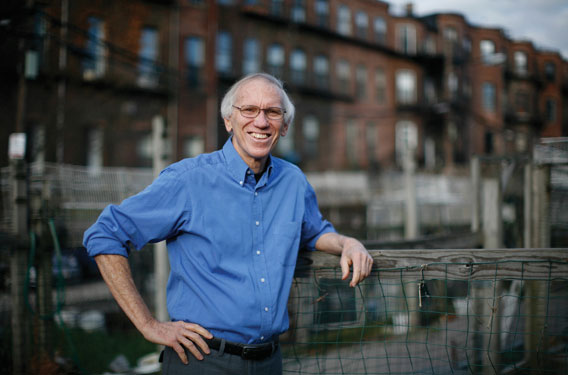 "Most graduate students want to save the world, but they don't want to be Mother Teresa," says John Hammock. Photo: Yoon S. Byun
Being an idealist doesn't mean taking a vow of poverty, says John Hammock, F68, F71, an associate professor of public policy at the Fletcher and Friedman schools. Having taught ethics and its relationship to international humanitarianism since 1996, Hammock is familiar with the dilemma of how to balance altruism with personal needs.
"Students would come back to me years after they graduated and tell me they were doing jobs they didn't want to do, working for some large, private corporation," he says. "Most graduate students want to save the world, but they don't want to be Mother Teresa."
But how do you achieve that? To help, Hammock and Alissa S. Wilson, F05, now a policy advocate for the American Friends Service Committee, interviewed 50 people who work in jobs they love and published their best advice in the book Practical Idealists: Changing the World and Getting Paid (Harvard University Press). It is a how-to manual of sorts for people who want to work on social issues and still earn a reasonable living.
"The book doesn't prescribe anything," Hammock says. Instead, through questions and exercises, the authors encourage readers to examine their values, passions and skills. Money, for example, is a big obstacle to taking a job outside the private sector. Readers, Hammock says, should ask themselves, "How much is enough?"
Samantha Yu, who analyzes family social service programs for the city of Los Angeles, relates in the book that accepting a modest salary was not "a huge adjustment" for her. "I grew up in a very typical middle-class family," she says. "My salary will support that. It's not as tough as it might appear."
First, Know Thyself
To know what you want out of a career, Hammock says, you have to understand your own identity. His own political awareness was fostered by his expatriate childhood in Cuba, where his father, an American, had taken a job at the island's first Woolworth's store. The overthrow of Batista's dictatorship in 1959, which he witnessed at age 14, filled him with ideas of justice and social change. "The Cuban revolution struck a real chord with me," he writes on www.practicalidealists.org, the companion website to the book. Although he recognized the harm perpetuated during the upheaval, "the rhetoric of equality, of equal access, of racial harmony all made tremendous sense," he writes.
"From an early age, I knew I wanted to work with poverty issues, knew I wanted to work in Latin America," says Hammock. He went on serve as executive director of Oxfam America from 1984 to 1995 and to found the Feinstein International Center at Tufts. Currently, he is also the North American director of the Oxford Poverty and Human Development Initiative.
Hammock sees the same idealism that spurred him in his students. "People come to the Friedman School because they want to change the world," Hammock says. "They want to work on hunger issues or poverty issues. At Tufts there is a strong sense of people wanting to give back—especially after the financial crisis."
The times are right for idealists, he says, crediting the Obama administration with fostering a culture in which people care about the greater good. He gives the university credit as well. "Tufts has been a real leader in promoting this kind of work—volunteer and civic engagement," he says. "There's a very healthy population that wants to work in health issues, refugee issues, hunger and nutrition."
Alternative Careers
The crunchy-granola image of the '60s hippie do-gooder is gone, says Hammock, replaced by a practical approach to working for social change that cuts across many professions. A lawyer or an engineer has just as much potential to save the world as a social worker or a human rights activist.
James Forman Jr., a former public defender and now a professor at Georgetown Law School, reflects in the book that "we have so few quality lawyers [as public defenders] and we pay them so little. The results are what we see—a lot of people who don't get due process. So I thought…let me put myself on the front lines." Similarly, Mel Rodis uses her small law practice in Phoenix, Ariz., to represent immigrants who are victims of slavery, debt bondage and indentured servitude.
There are many approaches to making major life decisions, the book notes. Chris Estes, a low-income housing advocate, took part in a vocational retreat, while Josh Dorfman, who specializes in eco-friendly design and green homes, "drank microbrews and learned the chords for the 'House of the Rising Sun' " before settling on how to put his M.B.A. to best use.
How you do it doesn't matter, the authors write. "The crucial actions are to stop and think—to develop a steady habit of reflection."
As Hammock puts it, "Some people need to go on silent retreat, other people need to buy a six-pack of beer, and others need a cold shower." Taking the time for reflection isn't easy, he adds, "because students are so busy. But you have to. If you don't, all of a sudden you'll be in the job market, and if you haven't taken that time, it's going to be hard."
It can be even harder to make a transition mid-career. "You talk to people who are 45, and at that point, they're often locked in," Hammock says. He hopes the book will get them when they're young. But that means getting his students' heads out of a book from time to time, too.
"Academia is a lot about, well, academics," Hammock says with a laugh. "In academia we fill people's heads with theory—which we need. But we don't spend a lot of time talking about who we are. The book talks more to the heart, and gets the heart and the head to move together."
This story first appeared in the Spring 2009 Tufts Nutrition magazine.
Leslie Macmillan can be reached at leslie.macmillan@tufts.edu.