Uneasy Alliance
How do we make sure that academic medicine isn't tainted by its association with the pharmaceutical industry?
By Jacqueline Mitchell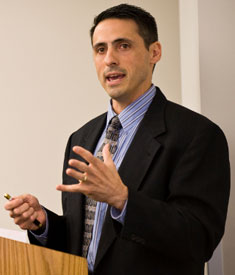 "We all recognize that people in a position of judgment shouldn't have ties to the parties they judge," said Adam Urato. Photo: Alonso Nichols
To most Bostonians, the idea would be patently absurd. What if the umpires calling a Red Sox-Yankees game were on the Steinbrenners' payroll?
"It's a pretty basic principal—we all recognize that people in a position of judgment shouldn't have ties to the parties they judge," said Adam C. Urato, assistant professor of obstetrics and gynecology at the School of Medicine. He was the keynote speaker at a Tufts symposium on conflict of interest in academic medicine held on May 13, and urged his colleagues to guard against the damage conflicts of interest—and even perceived conflicts of interest—can wreak on the medical profession.
Urato first became concerned with conflicts of interest in medicine in 2005. Attending grand rounds, an educational meeting for medical staff, at Tufts Medical Center, he heard a speaker from GlaxoSmithKline advocate universal prenatal herpes screening. Urato knew that screening the 4 million U.S. women who are pregnant every year for the herpes virus would result in about a million prescriptions for the drug company's antiviral medication, Valtrex, each year. He also knew that while there is no proven benefit of universal prenatal screening, there is evidence the practice causes some harm by increasing the likelihood of Caesarian deliveries.
"No expert panel recommends herpes testing during pregnancy, but we have this oddball scenario where physicians in the United States are more likely to learn the wrong protocol because these continuing education activities are sponsored by [pharmaceutical companies]," Urato said.
Now Urato is worried about drug companies' influence on the debate surrounding antidepressant use during pregnancy. "This is a huge unknown; we're basically doing an experiment on the human population by exposing embryos and fetuses to [antidepressants]," Urato said. In 2006, the Journal of the American Medical Association—one of the most prestigious medical journals in the field—published an article finding that women who discontinue antidepressant medications during pregnancy have a high risk of relapsing into depression.
But, noted Urato, the article failed to address the well-known problem of withdrawal from antidepressants, nor did it mention pregnancy outcomes of women who took medications during gestation. The authors also didn't disclose their close ties to the pharmaceutical companies that make antidepressant drugs, claiming their study did not advocate any particular class or brand of antidepressant, and therefore was conflict-free.
"Who buys that argument? Not the editor of the New York Times, who called it 'preposterous,' " Urato said, citing evidence that the public is wary of physicians' "cozy" ties with industry. While 94 percent of physicians have relationships with drug and device makers, 85 percent of the public finds these arrangements unacceptable.
Doctors ignore the public's skepticism at their peril, Urato said. "Medicine is losing the public's trust for the same reason we don't trust Ronald McDonald when he tells us where to buy a hamburger," he said. "We simply can't be both paid spokesmen and unbiased authorities."
Full Disclosure
"Medical research enjoys a huge percentage of the federal budget for research," added Tufts Vice Provost Peggy Newell, a panelist at the ethics symposium, which was sponsored by the University-wide Committee on Ethics. "Once the public loses faith in research done in hospitals and universities, they will not be so eager to support it, so it's critical that all of us worry about conflicts of interest," said Newell, whose office manages Tufts researchers' collaborations with industry, as well as patenting and research compliance. Newell tells researchers that before they sign any agreements, imagine the disclosure of their financial ties splashed across the front page of the New York Times.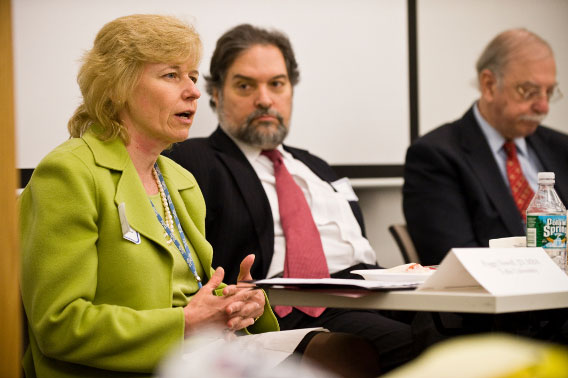 "Once the public loses faith in research done in hospitals and universities, they will not be so eager to support it," said Peggy Newell, left, with Paul Summergrad and Jerome P. Kassirer at the symposium on conflict of interest in academic medicine. Photo: Alonso Nichols
Such disclosure of financial ties is "necessary but not sufficient to solve the problem of conflict of interest," argued panelist Jerome P. Kassirer, Distinguished Professor of Medicine at Tufts. Kassirer, who wrote the book On the Take: How Medicine's Complicity with Big Business Can Endanger Your Health, is a well-known critic of conflicts of interest in medical research. "The individual listening to an expert or reading a study does not know how to interpret [disclosures]. The answer to conflict of interest is to get rid of it."
But Michael Rosenblatt, dean of the School of Medicine and a professor of physiology and medicine, cautioned against "applying a blunt instrument to something that should be done more thoughtfully and surgically."
Rosenblatt's own collaborations with industry resulted in the development of the drug Fosamax, the first medication shown to reduce fractures in patients with osteoporosis. "I'm very proud of what I did with Fosamax. I feel like I've saved lives," Rosenblatt said, citing research that 20 percent of elders who suffer hip fractures die within two years of the injury. Rosenblatt added that many antibiotics, vaccines, gene therapies and drugs that cure cancers and manage AIDS "would not have been developed without the very real interface between academia and industry."
"I think there's a risk that rigid standards can damage important elements of the research mission," concurred Paul Summergrad, professor and chair of the department of psychiatry at the School of Medicine. Summergrad argued that people act not just in their own interests, but also out of certain professional and personal obligations. Noting that such conflicts are "ubiquitous in human life," Summergrad wondered if limiting physicians' earning power might discourage the best and brightest students from entering the field.
However, panel moderator Sheldon Krimsky, a professor of urban and environmental policy and planning in the School of Arts and Sciences, considers conflicts of interest a threat to the academy itself. "Universities are the rare place in our culture where people don't have to get permission to write or publish, and this privilege should be protected at any cost. It's important to protect the knowledge process," he said.
Calling himself "not anti-industry, but pro-patient," Urato cast no blame on the pharmaceutical companies. It's their obligation to their shareholders to market and advertise their products, he said. Urato wants the medical profession not to write more rules and regulations, but to "change the culture" by instituting a common consensus on the issues and providing financial incentives and rewards for conflict-free expertise throughout the health-care system.
"Umpires do get paid, paid to be impartial," Rosenblatt agreed, proposing a Food and Drug Administration kitty to pay for unbiased, conflict-free consultants. "There are lots of solutions that would allow industry and academia to continue interacting."
Jacqueline Mitchell can be reached at jacqueline.mitchell@tufts.edu.