It's All About Change
In his commencement address, Massachusetts Governor Deval Patrick urges graduates to be "pragmatic idealists"
By Helene Ragovin
For most of the Class of 2009, their time at Tufts ended much as it began: assembled on the Hill beneath overcast skies at a wet and windy ceremony, yet filled with hope and excitement for the future.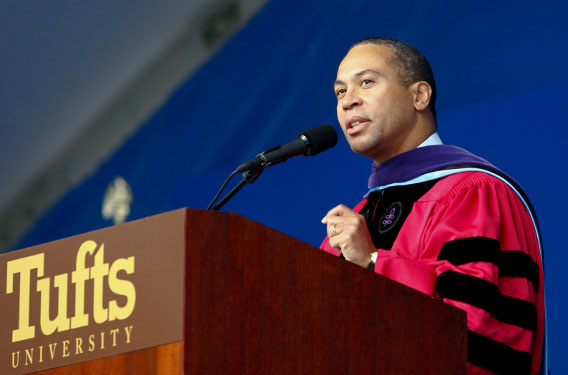 "The world needs pragmatic idealists today, in spite of the crisis around us, and maybe especially because of it," said Deval Patrick. See an audio slideshow of the all-university commencement. Photo: Joanie Tobin
In August 2005, the undergraduates in the School of Arts and Sciences and the School of Engineering arrived for a soggy matriculation ceremony that opened with thoughts and prayers extended for the victims of Hurricane Katrina, which had buffeted the Gulf Coast just two days before.
On Sunday, May 17, they gathered to receive their degrees—this time joined by students from the university's graduate and professional schools—under umbrellas and rain ponchos yet again. But the joy and buoyant spirits of the graduates and their loved ones were evident in the cheers, hugs and broad smiles that were the order of the day. In all, the university-wide ceremony recognized close to 3,000 students.
"Congratulations, grad-u-wet!" cried one father, embracing a new graduate in a bear hug after the ceremony.
The commencement speaker, Massachusetts Governor Deval L. Patrick, reminded the graduates and their families that the country is now being buffeted by forces that are less tangible, but no less threatening, than Katrina.
"More and more families are working harder and still losing ground," he said. "Dreams are broken. The poor are in terrible shape and have been for some while. But the difference is that now the middle class is one paycheck away, one serious illness away from being poor and deeply anxious about it.
"That is the world you are about to inhabit—a society in many ways in anguish and an economy in crisis," Patrick said. "And I want you to embrace it because crisis is a platform for change."
The theme of "change" echoed throughout Patrick's speech. He began by invoking the election and inauguration of Barack Obama, and the hope for change they sparked in so many Americans.
Patrick continued with his own story, of his journey from poverty on the South Side of Chicago to becoming the first African-American governor of Massachusetts. He related that he had never owned a book as a child, yet his own daughter has grown up in a highly educated and cosmopolitan environment.
"One generation!" he said. "One generation and the circumstances of my life and family's life were profoundly transformed."
Patrick urged the graduates to see themselves as "pragmatic idealists"—people who can "imagine a better tomorrow and then reach for it."
"The world needs pragmatic idealists today, in spite of the crisis around us, and maybe especially because of it—because the world you are about to inhabit is filled, in the same instant, with extravagant beauty and utter devastation, with both glamorous comforts and abject suffering," Patrick said.
"We need to renew our commitment to the American story," the governor reminded the audience. "I ask you, out of this crisis, to make a change."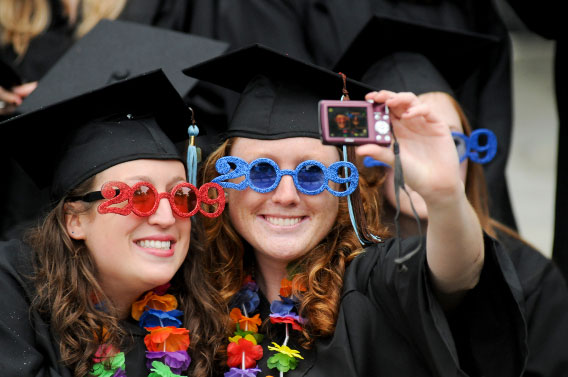 Tufts awarded 2,956 degrees—1,305 undergraduate degrees and 1,651 graduate degrees—during its 153rd commencement. Photo: Jodi Hilton
The university bestowed honorary degrees upon Patrick and six others, including David W. Burke, A57, an accomplished figure in public service and television news; Leslie H. Gelb, A59, a Pulitzer Prize-winning journalist and foreign-affairs expert; Sister Margaret A. Leonard, executive director of Project Hope; Patricia Q. Stonesifer, former CEO of the Bill & Melinda Gates Foundation; C. Megan Urry, J77, the Israel Munson Professor of Physics and Astronomy at Yale University; and Robert A. Weinberg, founding member of the Whitehead Institute for Biomedical Research.
Challenging Times for Medicine
At the commencement ceremony for the School of Medicine and the Sackler School of Graduate Biomedical Sciences, the impending changes looming in the fields of medicine and research were palpable, coloring each speaker's remarks.
"That something needs to change is not even a question," said medical class president Jacob Chacko, M09, before citing the need for better-tuned teamwork among health providers to achieve continued excellence in the years to come. He joked with his classmates about the shared ordeal of their training, and ended humbly, saying, "We may know a lot of things, but that knowledge has yet to be tested."
Sylvia Krause, a cancer researcher who gave the Sackler student address, struck a hopeful note when she pointed out that President Barack Obama intends to make cancer research a top priority of his administration, doubling the funds available in her area. "It is crucial to maintain our commitment to basic science," she said.
Ellen Zane, president and CEO of Tufts Medical Center and the Floating Hospital for Children, painted the historic moment dramatically in what she had to say about health-care reform in the United States and the critical role of physicians just entering the field. "You graduates are at the epicenter of this change," she noted.
With the voice of experience, Zane decried the needless administrative complexity of today's insurance plans and the tendency of doctors to practice defensive medicine against the threat of lawsuits, thereby squandering time and resources.
"The time for change is now," she said in conclusion. "Your future in medicine rests with you. I have no doubt that you are ready for the challenge."
Dental Students Succeed as a Team
On Carmichael Quad, 176 members of the class of D09 became doctors of dental medicine. Dean Lonnie H. Norris, DG80, thanked the class for their unity, hard work and patience with the construction project under way as the School of Dental Medicine adds five floors to its building at One Kneeland Street. Norris urged the new doctors to "come back to the beautiful new space," and to "consider academic dentistry here or at other schools; dental education needs you."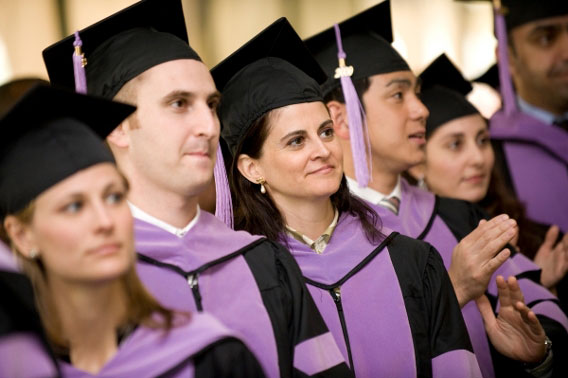 Dean Lonnie H. Norris urged graduates to "consider academic dentistry here or at other schools—dental education needs you." Photo: Alonso Nichols
Jason Conforti, president of the Class of 2009, reminded his classmates that "where we succeeded, we succeeded as a team. We must carry that with us." Michael Nessim, president of the class of international dental students trained at Tufts to practice in the United States, added that the new doctors "should never lose our students' sense of exploration. We started at a great place; let Tufts be our reference and our home to come back to."
Luis Del Castillo, DG99, assistant professor of prosthodontics and operative dentistry, and Philip Koralishn, associate clinical professor of prosthodontics and operative dentistry, received the Dean's Award for Excellence in Clinical Teaching. Joanne M. Falzone, D80, also an associate clinical professor of prosthodontics and operative dentistry, shared the Dean's Award for Excellence in Pre-clinical Teaching with ten-time winner Charles H. Rankin, D79, DG86, D08P, a professor of endodontics.
The Dean's Award for Excellence in Basic Science Teaching went to Michael A. Kahn, professor and chair of oral and maxillofacial pathology, and the Provost's Award for Outstanding Teaching and Service went to Robert J. Chapman, professor of prosthodontics and operative dentistry. Chapman, A63, D67, DG74—a triple Jumbo—retires from his position this spring. Norris presented him with the scroll conferring his new title of Professor Emeritus.
In addition to the new D.M.D.s, nine students were awarded master's degrees, and 60 received postgraduate certificates of achievement and fellowships. The ceremony ended with James B. Hanley, D75A, DG79, the dental school's associate dean for clinical affairs, leading the graduates as they recited the dental graduate oath.
Breaking Conventions in Nutrition
The Gerald J. and Dorothy R. Friedman School of Nutrition Science and Policy awarded 58 master's degrees and 16 doctoral degrees at its 28th commencement ceremony, held in Cohen Auditorium.
In his address to the graduates, Thomas E. Hughes, N87, A10P, chief executive of the pharmaceutical company Zafgen Inc., urged the class to challenge conventional wisdom. Perhaps aware of the butterfly-filled stomachs in the audience, he used the history of ulcers as an example.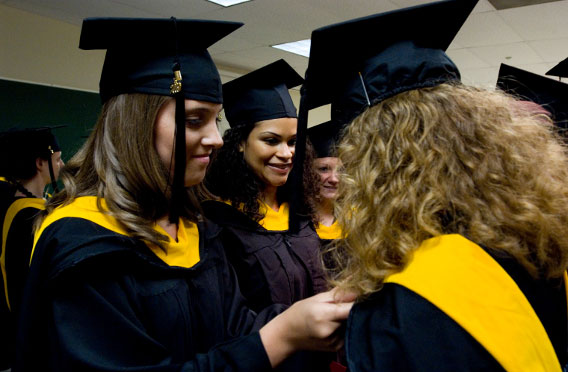 The Friedman School awarded 58 master's degrees and 16 doctoral degrees at its 28th commencement ceremony. Photo: George Imirzian
For many years, physicians believed they were caused by stress, emotional instability and poor diet. Then, in the late 1970s, researchers Robin Warren and Barry Marshall theorized that a bacterium called Helicobacter pylori could be to blame. When they presented their findings, "they were literally laughed off the stage," Hughes said. They turned out to be right, of course, and their research led to antibiotics as the standard treatment for ulcers.
"Now that they are Nobel Laureates, people don't laugh at Warren and Marshall anymore," Hughes said.
"Convention often gets shattered by breakthrough thinking. We should not be so smug in our knowledge," said Hughes, who received his doctorate from the Friedman School and is now a member of the school's Board of Overseers. "If something does not make sense—and it matters to you—don't let go of it. Never discount your insights. They are precious. Use feedback and criticism from others to hone your ideas so that they penetrate. Then find an audience and be heard in a loud voice."
Jessica Jones-Hughes, who completed the master of science and combined dietetic internship, said in her class address that she was struck by the "creativity, community and compassion" that pervade the Friedman School. She said she discovered the "irreplaceable value of a supportive community" two years ago, when her apartment near campus burned down.
"Within days, my email box was overflowing with responses of donations that Tufts faculty, staff and students were offering. Everyone had something they wanted to give," Jones-Hughes said. "It was beautifully overwhelming."
Focused on Veterinary Clients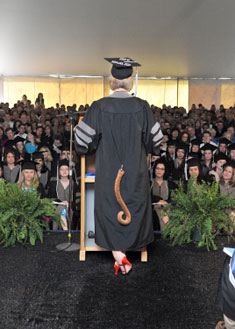 "My life goal is to be the person that my dogs think I am," said Cummings School student speaker Danielle M. Diamond, V09. Photo: Andrew Cunningham
Friends and family—from great-grandparents to the week-old son of a graduate—gathered on the Grafton campus of the Cummings School of Veterinary Medicine to celebrate the achievements of the Class of 2009. At the school's 27th commencement, 92 degrees were awarded: one Ph.D., 14 M.S. degrees, and 77 D.V.M. degrees.
Dean Deborah T. Kochevar told the candidates to embrace their careers with "enthusiasm, passion and dedication." Tufts Provost and Senior Vice President Jamshed Bharucha told the class that "the vet school is a jewel of which we are immensely proud." Referring to the budget challenges that the school and the nation have faced this year, he added, "The veterinary school is here to stay. You are part of the Tufts family, and we still stand by you through thick and thin."
The class selected Eugene White, associate professor of environmental and population health and director of the Tufts Ambulatory Service in Woodstock, Conn., to deliver the faculty address.
"You're entering the greatest profession in the world," he told the class, adding that it would challenge their minds and their physical abilities every day. "You will play a significant role in the lives of animals and people," he said. He offered "three bits of wisdom" learned from his father, a tool-and-die maker: Work hard (your patients deserve it); be honest with your clients; and don't take shortcuts.
"My life goal is to be the person that my dogs think I am," said student speaker Danielle M. Diamond, also selected by the class. She echoed White's conviction that veterinarians must relate to people as well as animals. "We came here because we love animals," she said, but when clients seek out veterinarians, "it was our ability to relate to humans that brought them to us." Despite her serious theme, Diamond's humor was on display; she delivered her address with a stuffed animal monkey tail pinned to her gown.
Among the graduates was the school's first triple-degree recipient, Elliott R. Garber, who received his Doctor of Veterinary Medicine and Master of Public Health degrees, as well as an M.S. in comparative biomedical sciences. The Cummings School's second Ph.D. was awarded to Siobhan Mor, who defended her thesis based on research on cryptosporidiosis.
After acknowledging the late Henry L. Foster—the longtime benefactor of the school who had administered the veterinary oath for its first 25 years—David J. McGrath III, G83, V86, A11P, a university trustee and chair of the Board of Overseers to the Cummings School, led the class in the oath. Finally, Kochevar spoke to the newly minted doctors, advising them to introduce themselves to the public health office in the towns where they begin their first jobs, and to "meet a public school teacher" to connect with young people and teach them about the "joys of being in science." She added, "Remember that research is an important part of the work you do," and exhorted them to "continue to learn every single day."
The ceremony completed, friends and families spread out on the lawn in front of the Agnes Varis Campus Center for photos and congratulations. Hovering over one group was a helium balloon shaped like a dog—wearing a mortar board.
Degrees of Diplomacy
This year, 164 students received professional degrees from the Fletcher School—159 master's and five doctorates.

Fletcher Class Day on Saturday, May 16, featured awards presentations, including the Edward R. Murrow Award for Excellence in Public Diplomacy to Susan Ziadeh of the U.S. Department of State. The Dean's Medal was given to keynote speaker Leslie H. Gelb, A59, president emeritus of the Council on Foreign Relations, who then spoke to the graduates.

Gelb called on Fletcher graduates to bridge the gap between policy and action, to exercise common sense in foreign policy and to embrace American power through leadership. Contrary to popular jargon, he said that the world is indeed not flat and that we have not entered a post-American era in world affairs. Power and power structures are still important, and the United States remains the most powerful and influential country in the world, he said.

Eschewing ideology and embracing pragmatism, Gelb urged graduates to practice common sense in foreign policy. Goals that are achievable, evidence-based and moderate create tangible results on which further steps can be taken, he said.

On Sunday, Dean Stephen W. Bosworth spoke at the Fletcher commencement. He expressed optimism that despite the current economic crisis, with their Fletcher education and network, the graduates will play an important role in guiding the global issues of the future. Dahlia Shaham and Hasham Mehmood gave the student addresses, and the Paddock Award for Excellence in Teaching was presented to Professor Kim Wilson.
Helene Ragovin can be reached at helene.ragovin@tufts.edu. Julie Flaherty, Catherine O'Neill Grace, Erica Marrero, F09, Jacqueline Mitchell and Bruce Morgan contributed to this story.