Cap and Gown Time
Commencement 2008 takes place on Sunday, May 18
Nearly 2,500 members of the Class of 2008 will receive their diplomas on Sunday, May 18, during Tufts' 152nd commencement.
Meredith Vieira, an Emmy Award-winning journalist, will deliver the main address when ceremonies begin at 9 a.m. on the academic quad on the Medford/Somerville campus. Vieira, J75, is a co-host of NBC's Today show and has been a reporter for several television news programs, including 60 Minutes. She will receive an honorary doctor of humane letters degree.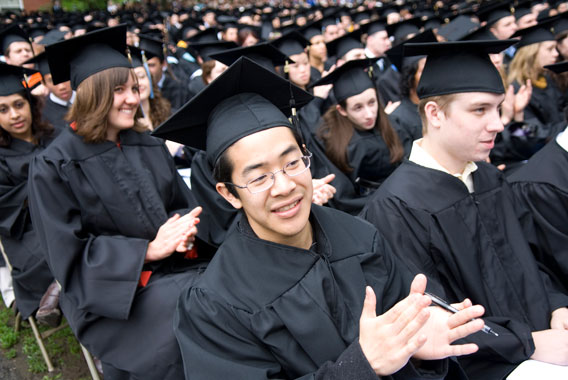 Graduates enjoy the commencement ceremony in 2007. Photo: Jodi Hilton
Five other distinguished individuals will also receive honorary degrees: Steven S. Manos, executive vice president of Tufts University for 26 years; Mary Oliver, Pulitzer Prize- and National Book Award-winning poet; Susan Rodgerson, artist, teacher, entrepreneur and the moving spirit behind Artists For Humanity, a nonprofit organization that engages urban teens in art and the creative process; Dr. Robert S. Schwartz, a widely recognized contributor to hematology and immunology, whose path-breaking contributions to the development of immunosuppressive drugs helped make organ transplantation possible; and Dr. Donald E. Wilson, M62, senior vice president for health sciences at Howard University and emeritus dean at the University of Maryland School of Medicine.
Tufts will offer a real-time webcast of the all-university commencement ceremony. For details about the webcast and instructions about testing your technology so that you will be able to access the webcast, visit http://commencement.tufts.edu.
Degree-awarding ceremonies for Tufts' individual schools and departments in the School of Arts and Sciences will follow the main ceremony. The times and locations for the awarding of individual undergraduate degrees can be found at: http://commencement.tufts.edu.
For more information about Commencement 2008, including detailed schedules, go to http://commencement.tufts.edu.