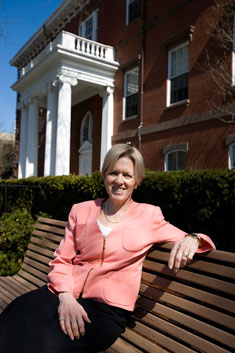 "When I came to Tufts, I knew I wanted to stay. I loved it here from the beginning. It's a great place to work," says Catherine Doheney, secretary to the faculty of AS&E. Photo: Laurence Kelly
Unflappable at Ballou
Catherine Doheney retires after 25 years holding it all together
By Helene Ragovin
It was 1983. The president of Tufts was an energetic Frenchman named Jean Mayer, and the dean of the School of Arts and Sciences and Jackson College was a petite biologist named Mary Ella Feinleib. There were no desktop computers on the first floor of Ballou Hall-the sound of administrative work was still largely associated with the rapid-fire sound of manual typewriters.
This was the scene when Catherine Doheney first arrived at Tufts. She wasn't entirely new to the university, having worked briefly as a temp in the philosophy and international relations departments, but serving as Feinleib's staff assistant was her first permanent position here. Since then, Doheney has seen the arrival of two university presidents and numerous vice presidents and deans at Ballou. She has survived a revolution in office technology and witnessed the academic and administrative transformation of the schools of Arts and Sciences and Engineering.
Now, as secretary of the faculty, what Doheney knows about keeping AS&E running smoothly could fill a book-and it has, a big binder she keeps within arm's reach in her first-floor office. "Just about everything I do is written down in here," she says. Doheney began recording these details about a year ago, when she decided to retire. On June 30, after 25 years at Tufts, she will officially pass on that binder.
"Today people say you should not stay at a position too long; it's not going to look good for them. But it was not that way when I came," she says. "For me, in my 25 years at Tufts, I feel like I've held so many different positions because I've worked for so many different people and worked my way up the ladder."
Doheney has worked as an administrative assistant, office manager and secretary of the faculty. Along with Feinleib, her supervisors have been former A&S dean Frank Colcord; academic vice president Bob Rotberg; vice president of AS&E and dean of the faculty Mel Bernstein; executive administrative dean Wayne Bouchard and senior director of finance and planning Sue Leverone.
Since 2005, the secretary of the faculty position has been part of the provost's office, where Doheney reports to senior assistant provost Elizabeth Canny. "Cathy and I have worked fairly closely for the past 10 years," Canny says. "I see firsthand the wonderful working relationships she has with the faculty, administration and staff across the Medford campus. I will miss her warmth and presence."
As secretary of the faculty, "I'm the go-to person, the liaison," Doheney says. "I've been here so long a lot of people call me about all kinds of issues, from process and procedures to checking on precedents, and history on how things have been handled in the past."
Indeed. Political Science Professor Jeffrey Berry, chair of the faculty tenure and promotion committee, calls her "the difference between order and chaos" in the T&P process. "She is the organizational memory, encyclopedia and rule book," he says. "Not only is Cathy our guide through the thicket of confusing rules and obscure documents, she is a source of common-sense advice and unimpeachable judgment. We're flappable; she's unflappable."
"During my year as chair of T&P I came to realize that she was the hub around which the whole process turned-the rest of us were just the spokes," says Roger Tobin, professor of physics.
When Doheney decided to go back to work after raising her three children, she temped for almost two years. "I went to quite a few different places, and everywhere I worked, I knew I didn't want to stay. However, when I came to Tufts, I knew I wanted to stay. I loved it here from the beginning. It's a great place to work."
"I think the philosophy department should be given a special award, a finder's fee, a commission, for being the gateway through which Cathy Doheney entered Tufts and began her meteoric rise," says University Professor Daniel Dennett, who was department chair when Doheney began her first temp stint at Tufts. "I was always a distracted and disorganized chair, so it took an intrepid temp to hold the show together. I'm happy to say that we must have treated her pretty well and given a good impression of Tufts, because look where she went from that humble beginning."
Doheney certainly has seen many changes. "When I first came to work at Tufts-and I'm dating myself here-on the first floor, we had no computers," she recalls. "We had an electric typewriter, and faculty from other departments would come here to use it."
They were the first ones to get a computer in Ballou. "It was shared among three staff women who worked here. Each of us would take turns using it a certain amount each day, and we would teach each other what we had just learned. It took a combined effort to learn how to use that computer-it was much more difficult than now."
As much as things have changed on the Hill since 1983, things have changed in Doheney's home life, too. A native of Everett, Mass., she and her husband, John, now live in Georgetown, some 30 miles from the office. It's not an easy drive to and from Medford each day, but worth it, Doheney says. "I love working at Tufts, but what's most important is where I go at the end of the day, and it's just a beautiful place to live," she says.
While her retirement officially starts July 1, Doheney has promised to remain on a temporary basis as long as needed to train her successor. But she won't be at Tufts all the time-she and her husband have bought an RV and eventually want to do more camping and traveling. She wants to go to the gym on a regular basis; read for pleasure; rediscover the joys of cooking; and start an herb garden. And she's excited about being able to spend more time with her grandchildren.
Among the faculty, Doheney will be well-missed-both for what she does and for who she is. "She is a generous and gentle person," says David Sloane, associate professor of Russian, who recalls sitting next to Doheney while giving blood at Hodgdon Hall some years ago. "I give blood almost all the time, following her model of generosity."
"I suppose that somehow the university's wheels will continue to turn after Cathy leaves us, but it's hard to imagine that they will turn as smoothly, or be lubricated by as many smiles and as much good will," says Tobin, the physicist. "After she retires, I plan to ask her to give guest lectures in introductory physics on the topic of equilibrium, because she knows far more about it than I do."
Doheney says there is a lot she will miss about Tufts.
"I tease my husband that he will have to tell me at least once a week what a good job I'm doing," she laughs. "This is an extremely rewarding position. I will miss my interaction with the faculty and staff, being needed by so many people. There is a feeling of satisfaction that I get on most days that I've helped so many people."
Is there anything she won't miss?
"The commute," she says, without hesitation. "That's an easy one."
Helene Ragovin can be reached at helene.ragovin@tufts.edu.