Struggle and Inspiration
Tufts symposium tackles difficult issues facing women in the science, medicine and engineering fields
By Jacqueline Mitchell
Women in scientific fields face an uphill battle. While the number of women in medical school, for example, equals or exceeds that of men, women rarely attain leadership positions. The problem becomes more dramatic in academia, where just 11 percent of department chairs and 10 percent of deans are women, according to Hannah A. Valantine, professor of medicine and senior associate dean for diversity and leadership at Stanford University School of Medicine. Presenting data showing how women drop out of medicine over the course of their careers, she noted, "It's a funnel, not a pipeline."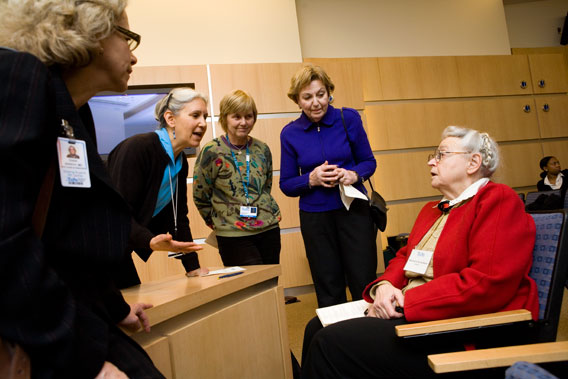 Talking with keynote speaker Mildred S. Dresselhaus, an Institute Professor at MIT and professor of physics, at the symposium are (standing from left) Diana Bianchi, the Natalie V. Zucker Professor of Pediatrics, Obstetrics and Gynecology; Alice Lichtenstein, the Stanley N. Gershoff Professor of Nutrition Science and Policy; and Brigitte Huber, School of Medicine professor of pathology. Photo: Alonso Nichols
At the Tufts Symposium on Women in Science, Medicine and Engineering, held on the Boston campus in April, a number of women spoke of their struggles and inspirations, emphasizing the need for positive role models and active mentoring. Unconscious biases held by both sexes, work-family balance and the "two-body problem" that occurs when married academics look for work in the same town were also recurring themes.
"As the only woman in all of my classes, I felt I had to succeed. I didn't have a choice. Then I felt I had to help others," said keynote speaker Mildred S. Dresselhaus, an Institute Professor at MIT and professor of physics, electrical engineering and computer science. Mentoring is the most important means of encouraging women to enter and stay in scientific careers, she added.
Nalini Ambady, professor of psychology at Tufts, gave an overview of research showing the impact unconscious bias can have on performance and on hiring practices. Since Asian Americans are typically regarded as good at math, and women are not, Ambady's team recruited Asian-American female students with high SAT math scores and divided them into groups, "triggering" their different identities with separate questionnaires.
It turned out the group whose Asian-American identity had been triggered significantly outperformed the group whose female identity had been triggered. "We all have multiple identities, cultural groups to which we claim membership, some positive, some negative," Ambady said. "Unconscious bias is the hardest to tackle."
Difficult Lessons Learned
Hard work and passion for what they do; that's what four of Tufts' most successful women scientists have in common. On a panel moderated by the symposium's organizer, Simin Nikbin Meydani, associate director of the Jean Mayer USDA Human Nutrition Research Center on Aging at Tufts, the four shared their experiences.
Linda M. Abriola, dean of the School of Engineering, said she went into engineering to please her father and to avoid becoming a secretary, like her mother wanted. It wasn't long before Abriola noticed she was the only woman in most of her classes, and then she stayed "because I was stubborn."
Without female role models, Abriola focused on her career. But at Tufts, she said, she found herself in a supportive environment for the first time in her career, which in turn has had an impact on her personal life. "I'm now a stepparent to three preteens, which is more challenging than I imagined."
When Diana W. Bianchi, the Natalie V. Zucker Professor of Pediatrics, Obstetrics and Gynecology at Tufts School of Medicine, applied to medical school, a male admissions officer asked her, "Why should I admit you? You'll just have a baby and drop out." Men drop out, too, she thought. Her advice to women today is to "be visible. Set an example."
Eight and a half months pregnant with her first child, Eileen Kennedy, now dean of the Friedman School of Nutrition Science and Policy, took a position with an international research organization. She started the full-time job two weeks after the birth of her daughter and traveled three to four months at a time. It might not sound like she had achieved the perfect work-life balance, "but I loved this part of my life. I was totally relaxed," Kennedy says.
Her work was interesting, and she enjoyed both flexibility and a supportive environment. Contrast that to the time a male colleague characterized Kennedy's hard-won promotion as "not fair," on the grounds that Kennedy's husband earned enough money to support her. From this, Kennedy says she learned to "sever contact with toxic colleagues."
Deborah T. Kochevar, dean of the Cummings School of Veterinary Medicine, credits Title IX, the federal law mandating equal funding for women's athletics in schools, with some of her success. Sports in college were a "formative experience," she says, that taught her to manage her time and to feel comfortable with her ambition and competitive spirit. "There's no right time to have a family," she added. "Family policies have progressed, but they will never progress further without people pointing out how they need to progress."
"The days of the glass ceiling are over. Today it's a labyrinth. There are no limits, but the path is scary and confusing," says Stephanie H. Pincus, emerita professor and chair of dermatology at the State University of New York at Buffalo and founding director of the RAISE project, which seeks to enhance the status of women in science, medicine and engineering.
She presented data showing that women researchers receive fewer grants and research dollars than their male counterparts. In one study, these differences in funding disappeared when the applicants concealed their genders. Perhaps more troubling, some data indicate women actually apply for fewer grants and less money than their male counterparts. Both of these issues, Pincus suggested, could be addressed by faculty development workshops, teaching junior faculty how to write stronger grant applications.
Tufts University has "a strong commitment to advance women in these fields, and we at Tufts have a lot to be proud of," Jamshed Bharucha, Tufts provost and senior vice president said in his closing remarks. "But there is a lot more work to be done," he noted. "It requires continuous work to keep making progress."
Jacqueline Mitchell can be reached at jacqueline.mitchell@tufts.edu.