D is for Dirt
School gardens are springing up like daffodils. But will they make children enjoy science, respect the earth and occasionally eat their veggies?
By Julie Flaherty
Standing in front of the chalkboard, Gretchen Miller, N08, sets the ground rules: don't step on them. Don't squeeze them. Don't cut them in half. Keep screaming down to a minimum.
Then Simca Horwitz, N08, dumps a fresh pile of dirt on each cluster of desks. The earthworms have arrived. Disgusted and enthralled, engrossed by the grossness, the third-graders are on their feet, reaching toward the soil, wriggling as much as the worms to get a good view.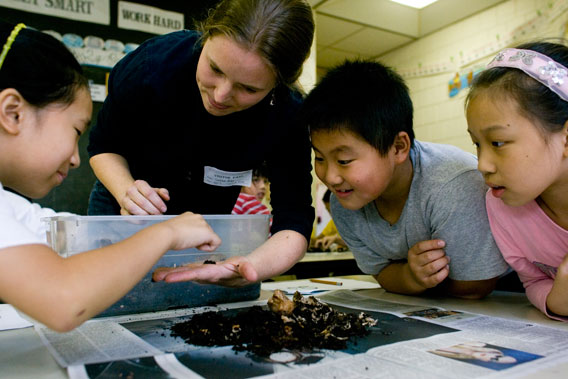 With the help of some squirmy friends, Gretchen Miller, N08, teaches third-graders at the Josiah Quincy Elementary School about the role worms play in decomposition. Photo: Melody Ko
"Let's see if we can find some eggs," Horwitz says, and the 21 students in Janice Chin's class start gently picking apart the soil, tea bags and coffee grounds, looking for the miniscule worm progeny. Ooh, they say. And Eww.
This lesson on decomposition is part of a partnership between the Friedman School and its neighbor, the Josiah Quincy Elementary School. Throughout the school year, all the students in the Agriculture, Food and Environment Program (AFE) arm themselves with songs about roots, stems and leaves and reports from the fictitious Topsoil Times and bring lessons on gardening to the 125 third-graders in the school in Boston's Chinatown neighborhood.
Garden-based learning, as it is called, is a hot topic in education circles across the country. Already, the National Gardening Association's web directory lists thousands of school and community gardens where young people can get their hands in the soil. The enthusiasm is such that in 2006, the California legislature appropriated $15 million to support legislation aimed at putting a "garden in every school." Congress even debated last year whether to create a grant program that would pilot "garden-to-kitchen" programs in schools nationwide.
When students grow things with their own hands, the theory goes, they are more likely to have a positive ecological outlook, an appreciation for where food comes from, and maybe even a fondness for healthy foods like fruits and vegetables.
But there is a surprising lack of research to back up those intuitions. "There have been just a handful of studies," says Kathleen Merrigan, director of the AFE program and the creator of the Quincy School partnership. "Considering we now have several thousand schools with not just gardens, but gardens they are trying to connect to an educational purpose, there's a lot of work yet to do."
Seeds of Research
Students and faculty at the Friedman School are looking to fill the knowledge gap with scientific investigation while helping schools like Quincy develop their gardening curriculums. Their research will build on the work of Michelle Markesteyn Ratcliffe, N07, who devoted her dissertation to studying school gardens in California. In a pioneering study, she looked at whether sixth-graders who got their hands dirty got better grades in science, became more environmentally aware, or became healthier eaters, and she found some positive relationships.
Ratcliffe says schools need to take a holistic approach to incorporating nutrition and environmental education into the curriculum. Just as you can't start serving mustard greens at lunch and expect kids to like it, you can't sow some seeds next to the playground and expect miracles.
"It's a piece-by-piece, larger-systems approach," she says, supported by "positive, engaging experiences around food in the classroom, the garden, the cafeteria and the community."
Ratcliffe creates those experiences as the farm-to-school manager for the West Coast conservation organization Ecotrust and as Western lead for the National Farm to School Network. She enjoys watching the surge of school gardens. "When I started the Ph.D. program in 1999, one of my colleagues told me school gardening was not a legitimate field of study," Ratcliffe says. "Ten years ago, it probably wasn't."
And yet school gardens have a long history in the United States. During World War I, children were called upon to "enlist" in the United States School Garden Army and grow their own food, freeing up crops for troops. This federally funded program sought to make agricultural education a formal part of the public schools, and some say it represented one of the first attempts to nationalize a curriculum of any kind in the United States. In 1916, more than one million students took part. The effort was echoed in the proliferation of Victory Gardens during World War II, the time in American history when fruit and vegetable consumption was at an all-time high.
Maria Montessori, the founder of the Montessori Method, was one of many educators who were early champions of school gardens. "When [the student] knows that the life of the plants that have been sown depends upon his care in watering them," she wrote, "the child becomes vigilant, as one who is beginning to feel a mission in life."
Many current AFE students have faith in garden-based learning, including Abigail Randall, N09, who started a "green-thumb club" for emotionally troubled adolescent girls at a residential facility in Arlington, Mass., where she worked. "For a lot of them, spending 20 minutes weeding outside in the garden could turn their day around," she says.
Before coming to the Friedman School, Gretchen Miller, N08, worked at a third grade in Portland, Ore., where she helped create an after-school club that centered on an organic gardening plot. "I was astounded at how much kids didn't understand about where their food was coming from," she says. The children were turned off by the tomatoes and potatoes she pulled from the garden, until she explained they could be turned into ketchup and French fries. "What about broccoli," one asked. "Can we make French fries from broccoli, too?"
Maura Beaufait, N09, has a particular interest in the social benefits of gardening. She helped run a gardening program for teenagers in Poughkeepsie, N.Y., where the participants were paid to tend and sell produce from the garden. The garden is a very visible part of the neighborhood, which gives the teens a feeling of status within the community. "That serves some of the same purpose that teens are looking for when they join a gang," Beaufait says. "You want to belong? Here's a way to do that constructively."
The students not only changed the way they ate, but brought vegetables home to their families, and used the income from their gardening work to influence the family grocery shopping. "We talk a lot about voting with your dollar and the power of your economic choices to really make changes in the system," Beaufait says.
In her experience, a garden provides an escape from the structured learning of the classroom. "As soon as you leave that space, you open up for so much critical thought to happen," she says. "It kind of equalizes the playing field, and everyone has something to learn and something to teach, and you're just side by side, learning."
Some Little Plot of Land
The Quincy School partnership began in 2006, when Merrigan, on the lookout for ways her city-bound AFE students could satisfy their need to connect with the soil, heard that the Quincy School had a rooftop garden. It turned out that Lai Lai Sheung, a third-grade teacher, had created a container garden for her class on top of the city building.
To lend a hand, the AFE students began by doing a literature review of all the school garden curricula from across the country. With funding from the Tisch College of Citizenship and Public Service at Tufts, where Merrigan is a fellow, they purchased the best books and lesson plans they could find and created two resource libraries, one for Tufts and one for the Quincy School. Then the Tufts students began teaching guest classes about plant parts, the life cycle and decomposition.
Jennifer Obadia, a doctoral student and the project manager for the partnership, points out that "some children simply learn better when they use their hands." That could mean clutching at a tangle of worms, or picking pumpkins at Drumlin Farm in Lincoln, Mass., as part of a field trip. With funding from Tisch College, Obadia and the other AFE students planned and chaperoned the excursion, which brought all the third-graders out of the city for a day last October.
Meanwhile, Obadia is on the advisory panel for a Boston Natural Areas Network program that received a grant to help put gardens in the Boston Public Schools. She is working with three schools, whose teachers "run the gamut from expert gardeners to 'I know this would be good for my kids but I have no idea what to do,' " Obadia says.
One attraction of school gardens is that they don't cost much money, Merrigan says. "Most schools have some little plot of land; Lai Lai is doing it with cement planters; GrowLabs [indoor light gardens] are not that expensive. So it's really about time and how gardens can facilitate what teachers are already trying to achieve." With so many requirements already, teachers don't want to take on extra challenges. "It can't be an add-on," Merrigan says.
To that end, the AFE students wove their lessons into the existing science curriculum goals. Ultimately, the AFE program students and faculty hope to design a curriculum guide geared to the needs of teachers in Massachusetts, where the school year is woefully misaligned with the growing season.
"We want to think in innovative ways about how you make a garden-based learning intervention in the deep freeze of February," Merrigan says. "How do you keep this going the academic year long?"
A combination of indoor and outdoor programs can help. During the winter, the AFE students started pea plants in the Quincy School classrooms that the children then cared for at home. In the spring, they moved the seedlings to the garden.
A guest appearance by writhing invertebrates is another answer. "There was nothing more exciting for kids," says Merrigan, "than to have those earthworms to uncover in the dirt."
This article appears in the spring 2008 issue of Tufts Nutrition magazine. Julie Flaherty can be reached at julie.flaherty@tufts.edu.