25 Players, 25 Cabs
When the Red Sox played as a team, they won. When they didn't, they didn't
By Sol Gittleman
When World War II ended in 1945, I was ready for a great baseball season. Most of us 12-year-old kids in Hoboken, N.J., were Yankee fans, eager for our heroes to come back. But when they did, they came back as old men, and in 1946, there was such a dominant team up in Boston that we thought, "It's over. The Yankees will never win in our lifetimes." The Red Sox had this great slugger, Ted Williams, who had hit .406 in 1941 and was in his mid-20s; they had Bobby Doerr and Johnny Pesky and Dom DiMaggio. They were all young and seemingly indestructible. They tore into the Yankees and ran away with the 1946 American League Pennant. The St. Louis Cardinals won in the National League, but it would be no contest in the World Series. Who could stop the tidal wave of Red Sox hitting led by Williams?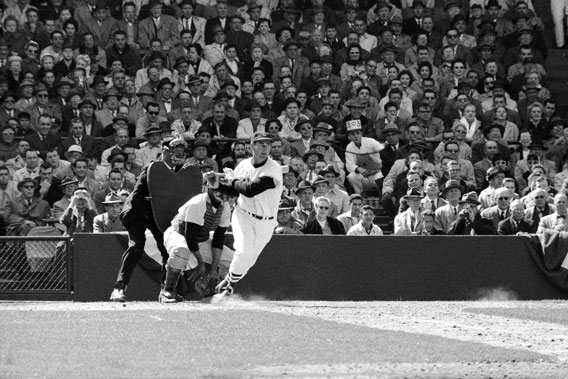 Ted Williams bats against the New York Yankees at Fenway Park on April 20, 1960. He was beyond human as a hitter, but was unwilling to swing at a pitch outside of the strike zone, even if a hit meant the difference between a win and a loss. Photo: Herb Scharfman/Sports Imagery/Getty Images
When it was over, the Cardinals had won in seven games; Williams had only a handful of singles to show for his efforts, and the Red Sox would enter into a period of futility that would not end until the miracle of 2004. Behind Ted Williams's seemingly Herculean talent, it turned out, was a flawed baseball player who thought of hitting only as a demonstration of his own perfect ability.
Williams could pick up the spin of any pitch. His reflexes were so tightly tuned that he could slow the ball as it was coming to home plate and do with it whatever he wished. He was beyond human as a hitter. As a leader, though, he was imperfect, vain, self-centered, unwilling to swing at a pitch outside of the strike zone, even if a hit meant the difference between a win and a loss.
In the 1946 World Series, three off-speed left-handed pitchers named Howie Pollet, Harry Brecheen and Al Brazle reduced Williams to helplessness. He couldn't adjust to their tantalizing offerings, and failed to lead his team to victory.
Williams continued to lead the league in individual statistics for more than a decade and was joined by teammates whose individual performances were extraordinary. In 1949, Williams and Red Sox shortstop Vern Stephens tied league leadership in runs-batted-in, with 159. Williams led the American League in homeruns, with 43; Stephens was right behind, with 39. Yet for the second consecutive season, the Red Sox lost the pennant on the last day of the season. The Red Sox of 1948 and 1949 are the only team in Major League history to lose a pennant on the last day of the season in two consecutive years.
In the decade immediately after World War II, when the Boston Red Sox should have produced dynastic results, they failed. The stars had been aligned for them, but the gods had other plans. They gave them arguably the world's greatest hitter, but with a catch: he was an indifferent fielder with a flawed personality and an angry adolescent's temperament and no leadership abilities.
Their owner was a man of enormous wealth who could have shaped the baseball franchise any way he wished. His financial resources were endless. But he was a bigot who hired other bigots, a drinker who hired drunkards, and when the Red Sox had the opportunity in 1945 to sign Jackie Robinson, Tom Yawkey would have none of it; nor would Pinky Higgins, the manager and later general manager; nor Joe Cronin, the long-term manager who traded away his competition rather than help the franchise. Cronin was an aging shortstop who did not want to surrender his job in 1940 to a rookie at Louisville named Pee Wee Reese. Instead, he convinced Yawkey to get rid of the kid. Reese went on to become the franchise for the Brooklyn Dodgers and lead them to their first World Series triumph in 1955.
In 1949, the Red Sox received a scouting report on a 17-year-old black outfielder for the Birmingham Black Barons named Willie Mays, who would be in the Major Leagues in two years. That was too quick for Tom Yawkey, and the Red Sox passed on Mays. Can you imagine a Red Sox line-up with Williams, Doerr, Pesky, Dom DiMaggio, Jackie Robinson and Willie Mays? That was not just a possibility; the opportunity lay in the hands of the Red Sox management.
Instead, the Red Sox became the last franchise to bring an African American to the major leagues.
The years passed. Williams retired in 1960, and all hope went out of the franchise. Joe Cronin became president of the American League. Tom Yawkey died and was elected to the National Baseball Hall of Fame, but his spirit and legacy hovered over the Red Sox. There were unexpected successes in 1967, 1975 and 1986, but nothing endured. With the Age of Clemens, there was still a lack of leadership in the clubhouse; it was still 25 players, 25 cabs.
And then it changed. The Yawkey Age was over. There were new faces, new ideas and an understanding that talent and character won titles. Enter the Age of the "Idiots," as Johnny Damon dubbed his teammates in 2004, that wonderful group of modestly talented athletes who possessed the will to win-and management understood this.
There will be no Hall of Fame ceremonies for Damon, Mark Bellhorn, Kevin Millar, Jason Varitek, Bill Mueller, Trot Nixon, Derek Lowe or Tim Wakefield. There might not even be one for Curt Schilling, Manny Ramirez or David Ortiz. But they brought something else to the team, something in addition to enough raw talent to win; they brought the will to win. Derek Jeter tried to explain this to a young journalist who pressed the Yankee shortstop on the team's collapse in the 2004 American League Championship Series. The Red Sox, down three games to none and trailing by a run in the bottom of the ninth inning of Game 4, came back to win the series in seven games. They went on to sweep the St. Louis Cardinals in the World Series.
"We just weren't the same team," said Jeter.
The young reporter wouldn't accept that. "You added the best player in baseball [third baseman Alex Rodriguez] to an already-terrific team, and you still lost. That doesn't make sense."
Jeter tried again. "We just weren't the same team," he insisted, then walked away.
An older reporter turned to the young man and said, "He means O'Neill, Brosius and Girardi, the guys with character."
It takes more than talent to win, and the Bosox have learned, through the decades, that difficult lesson of building a team with character. The signing of Mike Lowell, counterintuitive because of his age, perhaps, was a statement for the clubhouse.
Once again, the Red Sox are getting what they deserve, and everyone is smiling. We have the Age of John Henry, Larry and Theo. All's well.
Sol Gittleman is a University Professor and professor of German, and was provost from 1981 to 2002.