In the Public Interest
A new program helps grads working in nonprofits pay student loans
By Marjorie Howard
Sophomore Madeleine Buras says the idea of returning to her native New Orleans after graduation to help people affected by Hurricane Katrina is appealing. But she'll have student loans to pay off and, until recently, didn't think she could consider a public service job because the salary would be too low.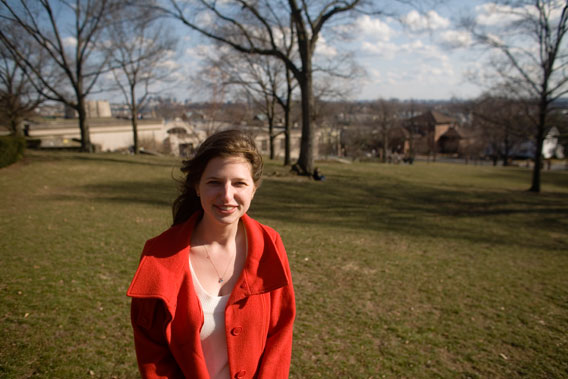 The new loan assistance program is "great for people who want to work in the nonprofit sector but are concerned about having to pay off their loans," says sophomore Madeleine Buras. Photo: Melody Ko
Now, thanks to a program believed to be the first of its kind in the country, Buras, a political science major, may be able to pursue her dream. Tufts University has created a new initiative that will help all undergraduates, graduate students and those with professional degrees to pay off their loans if they work in public service or at a nonprofit organization after graduation.
The Tufts Loan Repayment Assistance Program, known as LRAP, is aimed at encouraging Tufts alumni to pursue careers that may not necessarily be lucrative but will serve the public good. Graduates in fields such as teaching, health care in regions lacking medical resources and social work would be eligible.
"Every student who graduates with a loan worries about how to pay it off," says Tufts President Lawrence S. Bacow. "We would like alumni to be able to pursue their passions-to do what they really want to do-without being unduly focused on the need to retire a student loan. It is especially appropriate for Tufts to make this commitment, since as an institution we seek to encourage a spirit of public service in our students."
For Buras, whose family home was flooded by more than four feet of water and is still unlivable, the new program could offer a chance to work at a nonprofit organization in her community.
"I think it's a beneficial program because a lot of times students are deterred from doing jobs they want to do," she says. "It's great for people who want to work in the nonprofit sector but are concerned about having to pay off their loans. A lot of people don't have parents who are able to help them. This gives me a lot more choices."
The number of awards will depend on the overall number of applicants and the funding that is available, as well as an individual's income and level of indebtedness. The program is being funded annually with $500,000 from the Omidyar-Tufts Microfinance Fund, which was established with a $100 million gift from Pierre Omidyar, A88, the founder of eBay, and his wife, Pamela Omidyar, J89.
Alumni must apply by September 1, 2008, and award recipients will be notified by December 1, 2008. Applicants will need to reapply each year for assistance. Alumni must complete an application form as well as submit documentation that includes a pay stub and a tax return. The website for the program, which will include application materials, will launch in mid-April. Alumni must currently be repaying education loans or be in a grace period. Anyone who is on a deferred payment plan, has defaulted on a loan or been delinquent is not eligible.
Sunny Breed, J66, G72, president of the Tufts University Alumni Association, says the new program "is not a cure-all, but certainly is a way for those who have loans to consider the nonprofit sector as an option, because historically, nonprofit-sector salaries have been very low compared to the business sector. If a student graduates from Tufts with a lot of loans, their choices are more limited. It's a wonderful option for them, and I hope they take advantage of it."
Breed says the program "furthers the effort of active citizenship" fostered by Tufts. She noted that the university is home to the Jonathan M. Tisch College of Citizenship and Public Service, which was established in 2000 to support Tufts' core mission of promoting civic engagement.
Nate Cleveland, A07, says he'll apply to the program. A political science major from Auburn, Maine, Cleveland is a college advisor at a high school in Springfield, Mass. His job is funded through the Massachusetts Campus Compact, based at Tufts and part of a nationwide initiative aimed at increasing college enrollment and graduation rates among low-income high school students.
Cleveland estimates he has loans totaling around $15,000. "I think the loan program is a really great idea, because students are graduating with more and more debt each year," he says. "It definitely increases the feasibility of this type of job. Right now, this is the kind of work I want to do, and it's pertinent and important, so I'm interested in staying in it in some capacity."
The goal of the new loan program is not to cover the entire debt for a small group but to help as many graduates as possible with a portion of their debts. With costs running $46,680 a year for tuition, room and board, undergraduates who borrow-about half of current students-leave Tufts with an average debt of $14,400 from federal and private loans, says Patricia Reilly, director of financial aid for the Medford/Somerville campus. The National Association of Colleges and Employers reports that graduates who work in social services earn an average of $26,000 to $34,000 a year, according to Jean Papalia, director of career services at the School of Arts and Sciences.
Debt for graduates of Tufts' medical, dental and veterinary schools runs even higher, ranging from about $127,000 at the veterinary school to $175,000 at the dental school and $171,000 at the medical school.
Reilly says the new program is part of a larger strategy to make loan repayments manageable. She noted that starting with the class of 2011, the university instituted a program to replace loans with outright grants for undergraduates whose families earn less than $40,000 a year.
As of last October, the federal government also began offering loan forgiveness programs for college graduates who work in public service, but only after they have made loan payments for 10 years. "Our assumption," says Reilly, "is that we may be able to help students with their payments over the first 10 years, and then the government may step in if they still need help."
Marjorie Howard can be reached at marjorie.howard@tufts.edu.