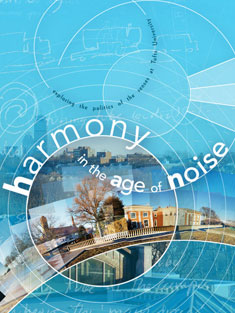 Seeing with Our Ears
An interactive sound sculpture, "Harmony in the Age of Noise," opens on the Tisch Library roof April 23
By Marjorie Howard
Listen: do you hear a hum from your computer or the rattle of your office's heating system? When you walk across campus, would you be able to tell where you were if your eyes were closed? Would you hear a ventilator system from a nearby building or the click, click, click of heels going up a stairway?
Or does the roar of six leaf blowers drown everything else out?
We have lost our ability to really hear what's going on around us, says New York composer and sound artist Bruce Odland. Instead, we focus on what we see, or we simply hear a mishmash of noise, paying little attention to individual sounds. Tufts anthropologist David Guss, who has worked with Odland in theater and films, has long been thinking about what he calls a sense of place.
Now they have teamed again on a project called "Harmony in the Age of Noise," an interactive sound sculpture designed to encourage people to pay closer attention to their environment and to hear, as if for the first time, what surrounds them every day.
"Harmony in the Age of Noise" opens April 23 on the Tisch Library roof and runs until August 10. The project, as conceived by Odland, will incorporate sounds from three different sources: a live feed from the Medford/Somerville campus, recordings by students from participating classes and audio uploaded from a website that can be controlled by any visitor.
"Bruce's pieces are sound explorations of place that make people much more conscious of their environment," says Guss, who teaches a course called The Architecture of Utopia, which aims to help students understand the college campus environment. "I started talking to him about ideas he might have about doing an installation. He came here, recorded, listened and came to classes." The sculpture, Guss notes, will "help people re-experience their environment, shift their senses."
Odland is known for his large-scale sound installations in public spaces. A project called "Harmonic Bridge," for example, under a Route 2 overpass in the parking lot at the Massachusetts Museum of Contemporary Art in North Adams, Mass., converts the sound of traffic into a more pleasant hum. A similar Odland project occupies a street corner in West Hollywood.
At Tufts, Odland says he wants the community to "investigate the whole nature of the college campus and its environment, primarily with our ears and with our ability to perceive space with our ears. We want to know the why and the how about the sounds and zones and buildings and spaces people live in and around Tufts. We want to know why people feel the way they feel when they cross into campus."
First, Odland says, "we have to accept there is a sound environment . . . a 360-degree space that our brains are constantly decoding around us as to how we know where we are. It's at least as much auditory as visual, but our society has lost track about how to address that."
Some 100 undergraduate and graduate students are helping complete the sculpture. Many of them will create what Odland calls "sound maps" of the Tufts campus; others will help design and build the gazebo-like installation structure. The students are not only taping sounds and building the project, they are rifling through Dumpsters, looking for materials to build the sculpture.
As part of the project, the students are studying, thinking and writing about sound and their sense of place. They are learning to listen-for instance, they shut their eyes and explored the common room at Metcalf Hall to discover whether they could find their way guided only by sounds. Odland is also offering workshops that teach participants how to "listen deeply." Guss, meanwhile, has organized workshops, classroom discussions and a seminar to accompany the installation.
Guss says one of his hopes for the project is to create a sense of community by involving people from a range of programs and schools. So, while the main design of the sculpture is being executed by sculptor Mark McNamara, students from the Experimental College course Art, Activism and Community: Visual Art for Social Change are assisting him. Courses offered in the departments of art history, music and anthropology are using the project as a springboard for discussion and observation. Tina Ye, a senior in architectural studies, has designed the project's website, which includes a blog by Sarah Moshontz de la Rocha, a senior majoring in anthropology. She understands the contradictions of harmony in an age of noise: "Given this is a project about sound, what I'm about to say is going to sound funny-this project has vision," she writes.
"We have to bring up the ability to hear space and detail," says Odland, "because people have shut that out. We need to regain our hunter-gatherer sense of hearing and decode our environment through our ears instead of shutting it out."
"Think," he likes to say, "with your ears."
Marjorie Howard can be reached at marjorie.howard@tufts.edu.