No Easy Way Out
Lee Hamilton tells a Tufts conference that leaving Iraq responsibly will be difficult
By Taylor McNeil
The next president of the United States will not have any easy options in Iraq. That was the assessment of Lee Hamilton, longtime congressman from Indiana and member of the Iraq Study Group, who spoke at a Tufts conference on the Middle East on March 27. "I can guarantee you when they step into the Oval Office, they are going to face an array of foreign policy problems as difficult and challenging as any American president has faced in my lifetime," he said. "I think the good options in Iraq are long since past."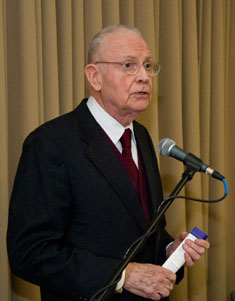 Lee Hamilton, former U.S. congressman and member of the Iraq Study Group, which advises the president, spoke at the Fares Center conference. Photo: Tiffany Knight
Hamilton, whose career in Congress included many years on the House Committee on International Relations, recited a litany of failures and missteps by U.S. policymakers, while still trying to retain some hope for eventual resolution.
"It's quite clear to me that President Bush's objectives for the war will not be met," he said, explaining that the effort to achieve regional democratic transformation and elimination of Islamist terrorism has failed.
"The conflict is a stalemate," he said. "The levels of violence, even with the surge, have remained about the same since November." The flare-up of fighting in southern Iraq in late March put at risk the gains made earlier, he noted. "However you cut it, Iraq is still a very violent and very dangerous place."
Hamilton gave the keynote address at the conference, "The United States and the Middle East: What Comes Next After Iraq?" Organized by the Fares Center for Eastern Mediterranean Studies, the two-day event featured panel discussions on topics covering the Gulf, Islamic parties and groups, challenges facing U.S. policy and public diplomacy and the Arab-Israeli conflict, among others.
Hamilton laid a good amount of blame for the current state of affairs in Iraq squarely on the Iraqi government. "Iraqi politicians, it seems to me, have squandered the space given to them by American forces," he said. "The big problem, of course, is that the central government is dysfunctional, disorganized, incapable of providing essential services to its people, incapable of providing security."
What the U.S. needs to do, he argued, is to get the Iraqi government to make more progress in many areas, from security to politics to economics. "For reasons that I have never been able to understand, we simply are unwilling to put pressure on Iraqi officials to act decisively," Hamilton said. He notes that Iraqi Prime Minister Nouri al-Maliki clearly understands that he doesn't need to heed U.S. directives-he knows he faces no penalties for ignoring them.
As to the future, Hamilton was not optimistic : "I think the best you can hope for is a somewhat-stable government, well below the high standards of democracy that President Bush sought."
Hamilton suggested that with the right policies, "something like a tolerable stability in Iraq can be achieved, if we sustain support of all kinds-not just the military-for an extended period of time." The United States, he said, should demand Iraqi leaders get their political house in order, "and if they do not, we're leaving, slowly, steadily, surely."
Polls show that Americans want out of Iraq. Still, Hamilton noted, "I think most Americans have concluded that we must leave Iraq responsibly. Not as we arrived: haphazardly, unilaterally, shortsightedly. But it does matter how we leave Iraq. Can we find a responsible path out?" He said that Iraq will require a substantial commitment of U.S. resources for years to come, while also posing the question, "Should we pay the immense cost of this war in light of all kinds of competing priorities?"
Regardless of timetables, Iraq will dominate U.S. foreign policy for years to come, Hamilton said. "I don't know of any single issue that demands more candor, more honesty, more rigorous analysis, more resources, more effective implementation, more clarity of our objectives than our country's role in Iraq."
Taylor McNeil can be reached at taylor.mcneil@tufts.edu.