May 2010 People Notes
2010 Tufts Distinction Awards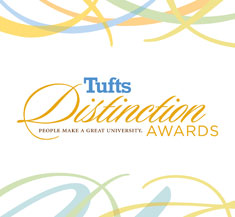 Winners have been announced. See the list and save the date at http://distinctionawards.tufts.edu.
Frank Ackerman, a senior research fellow with the Global Development and Environment Institute and a senior scientist with the Stockholm Environment Institute, was a guest on "Your Call," a show on National Public Radio affiliate KALW 91.7 FM, in San Francisco, discussing President Obama's energy policies and how U.S. climate policies are taking shape. Download a podcast of the discussion on the show's website: http://yourcallradio.blogspot.com/2010/04/whats-in-obamas-energy-plan.html.
Astier M. Almedom, director of the International Resilience Program at the Institute for Global Leadership and professor of the practice in humanitarian policy and global public health at the Fletcher School, was a member of the Language and Society panel at the inaugural conference of African Languages in the Disciplines (ALD), organized by Harvard University's African Language Program in late April. Almedom's talk, titled "Let Us Listen to One Another in Tigrinya: The Underpinning of Agreements," was a synopsis of her essay to be published by Palgrave Macmillan in the forthcoming International Handbook of Peace Studies. The Tigrinya word for "let us listen to one another" also means "let us agree," implying that listening is key, and different and even conflicting points of view are allowed and expected.
Sean Carroll, who earned his Ph.D. in immunology from the Sackler School of Graduate Biomedical Sciences in 1983, has been named vice president for science education at the Howard Hughes Medical Institute, the nation's largest private supporter of science education. Carroll is the Allan Wilson Professor of Molecular Biology, Genetics and Medical Genetics at the University of Wisconsin at Madison. Considered a leader in the field of evolutionary developmental biology, Carroll's lab has shown how changes in gene regulation during development shape the evolution of body parts and body patterns. Carroll starts his new job in September and plans to maintain his lab at Wisconsin. He is the author of six books, including Remarkable Creatures: Epic Adventures in the Origins of Species, a finalist for the 2009 National Book Award in nonfiction. He writes a monthly column, also called "Remarkable Creatures," for the science section of the New York Times and has been a consulting producer for the public television program NOVA. In March, he received the 2010 Stephen Jay Gould Prize in recognition of his efforts to advance public understanding of evolutionary science.
Steven Chapra, a professor and Louis Berger Chair in the Department of Civil and Environmental Engineering, gave the 2010 John R. Freeman Lecture at the MIT Tang Center on April 26. The annual lecture, which is sponsored by the Environmental and Water Resources Group of the Boston Society of Civil Engineers Section, the American Society of Civil Engineers and the MIT Department of Civil and Environmental Engineering, is intended to address emerging issues in environmental and water resources engineering. Chapra's talk, "Rubbish, Stink and Death" outlined the historical evolution of water-quality management, as well as his current research related to the modeling of waterborne epidemics in river systems.
Christina Economos, N96, an associate professor at the Friedman School and holder of the New Balance Chair in Childhood Nutrition, will become director of the Nutrition Communication Program on July 1. The program was created by founding director Jeanne Goldberg, G59, N86, J92P, in 1995 in recognition of the need for communications professionals who are able to interpret research studies and results and communicate that information in ways the public can understand. To date, more than 80 students have graduated from the program.
Kevin P. Gallagher, a senior researcher at the Global Development and Environment Institute (GDAE), traveled to the University of California, San Diego, on April 23 to participate in a panel discussion on the future of NAFTA. He presented GDAE's reports "NAFTA at 15" and the "Future of NAFTA" alongside Mexico's finance minister, its chief NAFTA negotiator and its former chief NAFTA negotiator. Gallagher's commentary on the new International Monetary Fund position in favor of selective use of capital controls, "Control That Capital," was published in Foreign Policy on March 29. The Guardian also posted a video opinion piece on the same topic.
Grant Garven, professor of geology in the School of Arts and Sciences and adjunct professor of civil and environmental engineering in the School of Engineering, was an invited speaker at the third Kaplan Symposium, "Challenges of the Global Water Shortage," at Maagan, Israel, in mid April. Garven's talk was titled "Effects of Faults on Coastal Groundwater Salinity, Southern California." His research on fluid movement in geologically complex regions was a complement to the work of other conference scientists in atmospheric studies, meteorology, aquatic chemistry and limnology.
Paul Giguere, an assistant professor at the Friedman School, has been named senior director of academic initiatives, a new position at the school. He will direct the newly formed Office of Academic Initiatives, which will enhance the school's educational mission through the development and support of new and existing degree programs, continuing education and distance learning initiatives.
Liz Cochary Gross, N82, N88, a Friedman School overseer, founding president of the Friedman Alumni Association and the school's vice chair for the Beyond Boundaries fundraising campaign, received a Distinguished Service Award from the Tufts University Alumni Association on April 10. She was recognized for being a champion and advocate of the Friedman School since her graduation from the first class in 1982. The award is the highest honor bestowed by the alumni association.
Ron Hollander, a lecturer in the Department of Public Health and Community Medicine, spoke at the "Health Care Reform: The Conversation Continues" conference in Nashville. Audience members included a coalition of business, health-care and civic leaders called HealthCare 21, based in Knoxville. The topic of Hollander's talk was the opportunities and challenges of the new federal health-reform law, the experience in Massachusetts and the roles that stakeholders can play in responsible and effective implementation.
Jacqui Holmes, G11, a graduate student in urban and environmental policy and planning, presented her thesis research at the Association of American Geographers annual meeting in Washington, D.C. Her presentation was titled "Landowner Leadership in Brownfields Reuse Planning: Case Study Examples," and is part of a larger research project directed by her thesis advisor, Assistant Professor Justin Hollander, and funded by the government of Canada.
Tama Leventhal, an assistant professor in the Eliot-Pearson Department of Child Development, received the Foundation for Child Development Young Scholars Award. The Young Scholars Program focuses on understanding the changing faces of the nation's children, as reflected in the current demography of the United States. The program's goals are to stimulate basic and policy-relevant research in this area and support the career development of young investigators.
Michael McBurney has joined the Friedman School as an adjunct professor. He had been head of scientific affairs at DSM Nutritional Products Inc. since 1998, and previously was a professor and founding head of the Department of Nutrition and Food Science at Texas A&M University. He participated in two sessions at the Experimental Biology Conference in April, one on "Challenges of Integrating Genomics, Dietary Guidance and Risk Reduction into Nutrition Policy: Vitamin E, a Case Study," and another on "Nutrients of Concern and Nutrition Disparities: Trends from NHANES Surveys and Market Research."
Catherine "Cate" McLaughlin has joined the dental school's development and alumni relations team as director of the Tufts Dental Fund. She comes to Tufts from the United Way of Mass Bay and Merrimack Valley, where she was director of leadership gifts and annual giving. A graduate of Regis College, McLaughlin joined the United Way as a development assistant after graduation. While working full-time, she pursued an MBA with a concentration in nonprofit management from Suffolk University.
Margaret McMillan, an associate professor of economics in the School of Arts and Sciences, will be the director of the Development Strategy and Governance Division at the International Food Policy Research Institute in Washington, D.C. She will serve in her leadership role at IFPRI while on leave from Tufts. She and her team will conduct research and outreach to help developing countries with strategies related to food, nutrition and agriculture for reducing hunger and poverty, and will manage strategy support programs in Ethiopia, Ghana, Malawi, Mozambique, Nigeria, Uganda and China.
Stelios Michalopoulos, an assistant professor of economics in the School of Arts and Sciences, will be a member of the Institute for Advanced Study at Princeton University during his sabbatical in 2010–11. IAS members are selected on the basis of their achievements and promise. While at IAS, Michalopoulos will pursue his research on issues in economic development and cultural economics, including the origins of Islam from an economic perspective.
Vali Nasr, A83, F84, professor of international relations at the Fletcher School and senior advisor to the U.S. Special Representative in Pakistan and Afghanistan, received the 2010 Light on the Hill Award. The award, the highest honor bestowed upon a Tufts graduate by students, was presented by the Tufts Community Union Senate in early April to Nasr, who is also associate director of the Fares Center for Eastern Mediterranean Studies.
Julie Nelson, senior research fellow at the Global Development and Environment Institute, gave a presentation on April 15 at a conference on Integrating Development and Climate Change Ethics at Penn State University. On April 16, she participated in a workshop on gender and climate change.
Karen Panetta, a professor of electrical and computer engineering, received the Norm Augustine Award from the American Association of Engineering Societies. It is given for communicating the excitement of engineering through outreach activities that promote careers in science and engineering, and for encouraging youth to improve the environment and change the lives of individuals and communities. Panetta, who founded and serves as editor-in-chief of the IEEE Women in Engineering magazine, has devoted much of her careeer to encouraging young women and minorities to become engineers.
Jean Papalia, director of Career Services, along with Donna Esposito and Robin Kahan, both associate directors of Career Services, recently hosted a team from Kyoto University's Career Support Center during that group's tour of top U.S. college career centers, including those at Harvard, MIT, Berkeley, Stanford and Caltech. They discussed best practices, challenges and hiring trends facing students and alumni.
Lynne Pepall, dean of the Graduate School of Arts and Sciences, was appointed to the executive committee of the Northeastern Association of Graduate Schools. The organization, one of four regional affiliates of the Council of Graduate Schools, draws its membership from graduate schools from Maine to Maryland, as well as several Canadian provinces. As a member of the executive committee, Pepall has been working with fellow members to plan the organization's 2010 conference and will help choose winners for its annual awards.
Christian Peters has joined the faculty of the Friedman School as an assistant professor in the Agriculture, Food and Environment Program. He received his B.S. in environmental sciences from Cook College at Rutgers University. After service in the AmeriCorps program and several farming internships, he decided to pursue graduate studies and received his M.S. and Ph.D. in soil and crop sciences at Cornell University. He was a postdoctoral associate in the Department of Crop and Soil Sciences at Cornell through 2009. Throughout his graduate and postdoctoral research, Peters has focused on modeling the capacity of land to meet food needs.
Richard Reynolds, A67, has been appointed the university's vice president for operations. He had been interim vice president since January. Reynolds has served in a number of advisory roles at Tufts, including as a member of the Board of Trustees Committee on Buildings and Grounds. Most recently he was president of the Reynolds Group, a strategic real estate consulting firm, and is a former principal with Spaulding and Sly. Additionally, he is a past president of the Greater Boston Real Estate Board, former chair of the Massachusetts Government Land Bank, a current governor of the Urban Land Institute and former chair of the Boston District Council of the Urban Land Institute.
Sharan L. Schwartzberg, professor of occupational therapy and adjunct professor of psychiatry, was at Oxford Brookes University (OBU) in the UK the week of March 22 and presented the University Public Lecture, "Groups Gone Wild: Restoring Balance Through the Functional Group Model," as well as a School of Health and Social Care research seminar on "A Research Study of Inpatient Group Psychiatry: The One-Room School House" and two daylong occupational therapy department workshops on "Group Process: Understanding Forces at Work in Therapeutic Groups." She also collaborated with OBU Professor Jennifer Butler to develop a research project to measure the impact of the Tufts student exchange with OBU, which was established in 1994.
Ken Shadlen, a senior research fellow at the Global Development and Environment Institute (GDAE), was in Mexico City for two weeks conducting research for his book, Knowledge Gaps, Knowledge Traps: The New Politics of Patents in Development, about the politics of intellectual property in Latin America. Shadlen also participated in a conference at Southern Methodist University, "Challenges and Opportunities in Mexico," where he presented a paper titled "The Political Economy of Intellectual Property in Mexico." He also gave a seminar at the University of New Mexico on "From TRIPS Plus to NAFTA Plus: Mexican Patent Policy in Comparative Perspective."
Robert Sternberg, dean of the School of Arts and Sciences, has been named provost and senior vice president of Oklahoma State University, effective August 1. Sternberg has been dean of Arts and Sciences since 2005.
Elizabeth Stites, F01, a senior researcher at the Feinstein International Center and an instructor at the Friedman School, presented her work on livelihoods in Uganda at a workshop hosted by the University of Wisconsin-Madison called "New Perspectives on Gender and Human Security."
Michelle Hernandez Stone is the new director of continuing education and conference planning at the School of Dental Medicine. Working in collaboration with Vangel Zissi, D62, DG67, who will continue as director of dental continuing education, Stone will be responsible for expanding the school's new continuing education offerings. In addition, she will develop opportunities with corporate partners that may be interested in using the school's new Continuing Education Center as a venue for education, training and new product introductions. Stone previously was director of continuing education for Straumann Inc., a manufacturer of dental implant devices.
Timothy A. Wise, director of the Research and Policy Program at the Global Development and Environment Institute (GDAE), published an opinion piece syndicated on the Institute of Policy Studies' Other Words syndicate. It reaches a wide range of smaller-circulation newspapers. The piece, "Monopolies are Killing Our Farms," is based on research he is doing with Sarah Trist, a student in the Friedman School's Food Policy and Applied Nutrition Program.
Helen Young, a research director at the Feinstein International Center, attended a two-day meeting on "Adapting to Climate Change in Darfur: Retreat on the Environmental Challenges in Three Darfur States" in El Fasher, Sudan. She gave a paper titled "Livelihoods, Climate Change and Conflict," drawing on her work since 2004, and facilitated a working group on pastoralism and climate change. The meeting was attended by senior U.N. representatives and several federal and state ministers. In Khartoum, she met with representatives of the Darfur Transitional Regional Authority, the Darfur Land Commission and Nomad Council to discuss possible collaborations.