National Treasure
Temba Mudenda, D71, Zambia's first native-born dentist, spent his career spreading the word about preventive care
By Taylor McNeil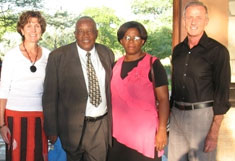 At a November 2009 meeting in Zambia, from left, Patricia Campbell, Tufts' executive vice president; Temba Mudenda, D71, and his wife, Florence; and John Morgan, who led Tufts' first dental mission to Zambia. Photo: Courtesy of John Morgan
When Temba Mudenda returned to Zambia to practice after graduating from Tufts School of Dental Medicine in 1971, he made history. The country had become independent only seven years earlier, and Mudenda was the first Zambian dentist.
He's typically modest about his achievement, having retired from both his practice and his longtime work as a public health administrator. Throughout his career, though, he raised standards and sought to expand access to oral health care in his native country.
Mudenda had first come to the United States to study for his undergraduate degree at Washington & Jefferson College in southwestern Pennsylvania, and quickly decided to pursue an advanced degree. "At the time, the greatest need I perceived in my country was for dentistry, because there were no Zambian dentists at all," he says.
When he arrived at Tufts, he didn't know anyone and was the only black person in his class. He was assigned a room in Posner Hall, and then came a knock at the door. It was his new roommate, Jim Case, D71. "I looked at him and said, 'You are most welcome. I need a roommate to tell me a lot of things about Boston,' " Mudenda says. "But," he adds with a laugh, "he was from California." They became fast friends and explored the city together. They remain in touch via email.
When he graduated, Mudenda didn't have any doubt about where he belonged. "I am the first born in the family, and in our culture, there is a lot of responsibility placed on the first born," he says. Arriving in Lusaka, the Zambian capital, he faced challenges as a new dentist, including a lack of equipment. But Tufts had prepared him well, he says. "They gave you the big black box with all kinds of things, and insisted you buy the equipment and fill it up, and that became my savior when I arrived [back home]."
Soon the Ministry of Health assigned him to run a health post in Livingstone, in southern Zambia near the border of Zimbabwe. He was the only dentist for hundreds of miles. Initially when patients came with toothaches, they just wanted the achy tooth pulled. "Now, with my training, the first thing was to preserve the teeth," he says. And after several years, "people would actually come and say 'filling.' It was very pleasant to my ears."
Promoting preventive care became his mission. He eventually returned to the United States to earn an MPH at the University of Michigan, and refocused his career on public health administration.
Mudenda was instrumental in the development of dental therapy training at the Dental Training School in Zambia, which opened in 1969. It educates students to be dental therapists, as they are called, to provide almost all aspects of care, including restorative dentistry and oral surgery, as well preventive care.
He was one of five consultants hired by neighboring Zimbabwe to establish a dental school from scratch in that nation's capital, Harare, in the 1990s. The University of Zimbabwe Dental School is where Zambians now train to become dentists. Among the school's graduates are four Zambians, and another half-dozen Zambians are currently studying there.
Mudenda was also part of an effort to establish Dental Health Week in Zambia. "When that week came around, we literally dropped our tools and went out to factories, to schools and any other organizations that would cooperate to spread the word about preventive medicine," he says.
John Morgan, an associate professor who runs Tufts' oral health project in Zambia, says, "Dr. Mudenda spent his career in public service as a dentist and oral health-care administrator and truly embodies the principles of active citizenship and civic engagement. In his friendly yet unassuming way, he has brought advances in oral health to many thousands of Zambians who otherwise would have not received care."
Until he retired from his administrative work in 1994, Mudenda set aside two mornings a week "to attend to my patients." His wife, Florence, says that sometimes, "we meet somebody, and they say, 'Doctor, you remember me? You healed my tooth in 1972.' "
"That makes you feel good," says Mudenda.
This story first appeared in the Spring 2010 issue of Tufts Dental Medicine magazine.
Taylor McNeil can be reached at taylor.mcneil@tufts.edu.