A Toothsome Lesson
Boston fifth-graders make the rounds at Tufts Dental School as part of "Science Across the City"
By Andrea Grossman
Garbed in floor-length surgical gowns, bright blue latex gloves and surgical masks, the 45 Boston fifth-graders donned sunglasses for their lesson in healthy smiles at Tufts School of Dental Medicine. The sunglasses shielded their eyes from the ultraviolet lights used in a demonstration of how dental sealants bond to teeth and protect them from cavity-causing plaque.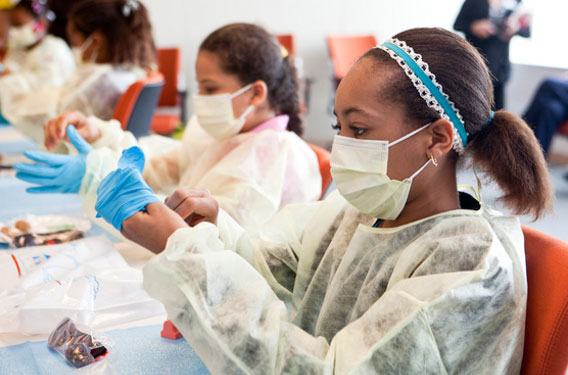 Boston elementary school students put on protective gear before watching a demo of how dental sealants are applied. Photo: Joanie Tobin
The young students, perhaps a future dentist among them, attend the John Marshall Elementary School in Dorchester and the James J. Chittick Elementary School in Mattapan, schools that Tufts University supports though Boston Mayor Thomas Menino's Step UP initiative. Now in its third year, Step UP (for University Partnership) is a collaboration between 10 of the city's public schools and Tufts, Boston College, Boston University, Harvard and Northeastern. The universities have been pooling their resources to help the schools improve student achievement.
Each year the universities host "Science Across the City," a morning of science-themed activities aimed at opening students' eyes to career possibilities. When the youngsters visited Tufts Dental School on May 3, they met with students and faculty, including Dean Lonnie H. Norris, DG80, who greeted them at the start of their day.
The dean asked the students to consider becoming dentists, and if that didn't interest them, to think about other careers in the health-care professions. He said his teachers figured prominently in his own career path. "They were very influential in the decisions about what I would do later in life," Norris said.
And then the fun began with interactive oral health activities, highlighted by students applying sealant material to an anatomically correct plastic tooth. Clutching a small dental instrument, they squirted the liquid sealant on the fake tooth and then watched as Tufts dental students used ultraviolet light to mold the sealant to the tooth.
Many of the fifth-graders had sealants on their own teeth that had been applied by Tufts dental hygienists. One of the university's largest contributions to Step UP is providing dental care to students at no out-of-pocket costs to their families. A staff of hygienists, led by Natalie Hagel, an assistant professor of public health and community service, offers oral health services at six Step UP schools, including screenings, cleanings and fluoride treatments and sealants.
"The Step UP program focuses on prevention of dental disease," Hagel said. "The hands-on demo was a nice segue to answer the scientific questions of 'what is a cavity?' and 'how is a cavity created?' and then 'what can we do to protect our teeth from cavities?' "
As the activities wound down and the students prepared to eat lunch in the school's 15th-floor function room overlooking Boston Harbor, Norris' welcoming remarks appeared to have resonated with at least one child, who told a classmate she'd changed her mind about wanting to become a veterinarian.
"I want to be a dentist," she declared.
Andrea Grossman can be reached at andrea.grossman@tufts.edu.