Jumbo Laxmen Triumph
Lacrosse team heads to NCAA Championship; baseball falls short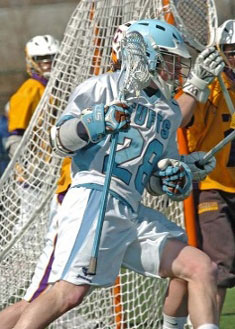 Junior D.J. Hessler, seen here earlier in the season, had one goal and two assists in the victory over Cortland State University.
The Tufts men's lacrosse team is heading to the 2010 NCAA Division III Championship game after upsetting the defending national champion. The laxmen overcame a 6–3 halftime deficit to beat Cortland State University, 10–9, in the NCAA semifinals on May 23. The Jumbos, now 19–1, will play Salisbury University for the national title on May 30 in Baltimore.
Tufts sophomore Kevin McCormick scored with three minutes remaining in regulation, and sophomore goalie Steven Foglietta stuffed Cortland senior Brandon Misiszek's last-second shot as the Jumbos, ranked sixth in the nation, knocked off the third-ranked Red Dragons at the SUNY Cortland Stadium Complex.
Junior D.J. Hessler tied the game at 7–7 with a goal at 11:51 in the fourth quarter and assisted on junior Alec Bialosky's goal 16 seconds later as the Jumbos earned their first lead of the game. Sophomore goalie Steven Foglietta stopped 16 shots for Tufts, including eight in the first period.
Seniors on the team, who missed their graduation to compete in the big game, participated in an early commencement ceremony with Tufts President Lawrence S. Bacow on Friday morning, May 21. They are James Atkins, Darius Bittle-Dockery, Evan Crosby, Patrick Devine, tri-captain Douglas DiSesa, tri-captain Michael Droesch, Zachary Groen, Matthew Hacker and tri-captain Eytan Saperstein.
Tufts, which had never been to the NCAA Quarterfinals prior to this year, will play at noon on Sunday, May 30, at M&T Bank Stadium, home of the Baltimore Ravens football team.
Baseball Ends Season with Record 34–7 Mark
Also hitting the field last weekend, the men's baseball team took on University of Massachusetts-Boston in the NCAA Division III New England Regional Baseball Championship on May 22.
Despite being the top-seeded team in the tournament, the Jumbos fell 12–6 to the seventh-seeded UMass team, which clinched its first regional championship.
Tufts finished its school-record season 34–7 overall.
In the earlier game in the final elimination contest of the 2010 NCAA Division III Regional, hosted by Eastern Connecticut State University, senior first baseman Nate Bankoff knocked in senior catcher Alex Perry with the go-ahead run in the 11th, and junior relief pitcher Ed Bernstein threw five shutout innings, with a one-two-three inning in the bottom of the 11th, to secure the 6–5 victory for the Jumbos over eighth-seeded St. Joseph's College.