Tufts Recognized for Energy Efficiency
Regional nonprofit names the university a green leader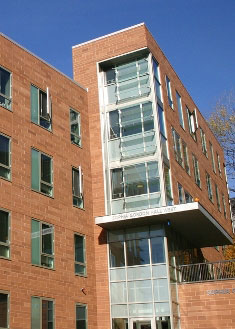 Sophia Gordon Hall, which was constructed in 2006 with many energy-saving features, is one example of Tufts' efforts to go green. Photo: Julie Furbush
Tufts University was recognized as a leader in energy efficiency by the Northeast Energy Efficiency Partnerships (NEEP) at a ceremony in Boston on March 31. The university was commended for its continuing efforts to promote energy efficiencies, which have resulted in annual savings of more than six million kilowatt hours and $600,000.
Tufts is reaching its emission reduction goals by making wide-ranging improvements that reduce overall energy consumption in existing buildings and in new construction.
For instance, Tufts' newest residential building, Sophia Gordon Hall, features rooftop thermal and photovoltaic panels that generate electricity and provide hot water. The building uses motion-controlled lighting, dual-flush toilets and energy-efficient windows, among other sustainable technologies and design elements.
On the health sciences campus, the School of Dental Medicine's newly expanded building has received LEED Silver Certification from the U.S. Green Building Council in recognition of its sustainable design. LEED (Leadership in Energy and Environmental Design) standards are the nationally recognized green building model. The five-story addition has 1,700 new windows that bring more light into the interior and contribute to its energy-saving profile.
Evidence of Tufts' commitment to sustainability is visible across all three of the university's campuses, according to NEEP, a regional nonprofit that promotes the efficient use of energy in homes, buildings and industry. Other energy-saving strategies being employed at Tufts include a campus-wide energy management system, variable air volume for heating, ventilating and air conditioning systems and occupancy sensor controls. Last year the university began installing high-efficiency lighting on all three campuses, a move that is projected to save about $31,000 each year.
"Tufts provides an excellent example of how energy-efficient measures can improve a company's bottom line, contribute to economic growth and reduce environmental impact," says Sue Coakley, executive director of NEEP.
"Tufts University serves as a model of sustainability, not just for higher education, but for business and the commercial sector as a whole," says Michael McAteer, director of National Grid's Business Energy Efficiency Services, which nominated Tufts for the award. "As a longtime advocate for environmental stewardship, Tufts also walks the walk and executes operations and business practices that result in real reductions of its environmental impact."
Tufts was recognized along with 12 other organizations during the 2010 Northeast Energy Efficiency Summit. Only two other universities were cited: Princeton and Syracuse.