Sol Gittleman to Deliver Commencement Address
Tufts' legendary professor and four others will receive honorary degrees on May 23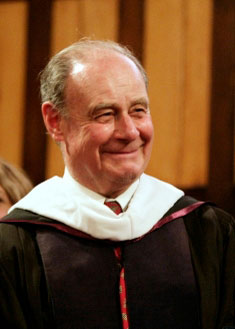 "Sol is not only a great scholar, he is the Babe Ruth of teaching, one of the very best teachers of all time," said Tufts President Lawrence S. Bacow. Photo: Melody Ko
Tufts professor and former provost Sol Gittleman will deliver the commencement address at the university's 154th Commencement on May 23.
Gittleman, who came to Tufts 46 years ago as an assistant professor of German, was provost from 1981 to 2002, but never left the classroom. He was appointed the Alice and Nathan Gantcher University Professor in 2003 and continues to teach courses on the migration of East European Jewish literature to America and American baseball history. Lectures by the colorful and candid Gittleman are embedded in Tufts lore. Students routinely refer to them as "spectacular" and "unforgettable."
"I often tell freshmen that if they want to experience Tufts at its best, they should take a class from Sol—any class. Sol is not only a great scholar, he is the Babe Ruth of teaching, one of the very best teachers of all time," said Tufts President Lawrence S. Bacow. "His commencement address is sure to be memorable."
Born in Hoboken, N.J., to Eastern European Jewish immigrants, Gittleman was by his own admission an unlikely candidate for an academic career. He is the author of books on German literature, East European Jewish literature and the American immigrant experience. Gittleman, who says he is a former New York Yankees fan in the heart of Red Sox Nation, wrote Reynolds, Raschi, and Lopat: New York's Big Three and the Great Yankee Dynasty of 1949–1953 (McFarland, 2007), as well as The Entrepreneurial University: The Transformation of Tufts, 1976–2002 (2004).
Gittleman has received two Fulbright awards, the Harbison Prize of the Danforth Foundation for Outstanding Teaching and a citation as Professor of the Year from the Council for Advancement and Support of Education, and is the recipient of the 2009 Robert J. McKenna Award from the New England Board of Higher Education. He holds a Ph.D. in comparative literature from the University of Michigan, an M.A. in the same field from Columbia University and a B.A. from Drew University.
At commencement, which begins at 9 a.m. on the green on Tufts' Medford/Somerville campus, Gittleman will receive an honorary doctor of humane letters degree. Four other distinguished men and women will also receive honorary doctorates:
Richard Dorsay, A60, M64, the retired chief of radiology at Kaiser Foundation Hospital-South San Francisco and a retired professor of radiology, was a founder of Tufts' Leonard Carmichael Society, which serves as a vehicle for more than 1,000 students to do volunteer service in some 30 community programs. He will receive an honorary doctor of public service degree.
Kristina M. Johnson is the current under secretary of energy in the U.S. Department of Energy. The former provost and senior vice president for academic affairs at Johns Hopkins University and former dean of Duke University's Pratt School of Engineering, she will receive an honorary doctor of science degree.
Ann Hobson Pilot, a distinguished harpist, was the first African-American principal in the Boston Symphony Orchestra and the first female principal harpist in the history of the BSO. She will receive an honorary doctor of music degree.
Gordon S. Wood, A55, is a Pulitzer Prize-winning historian and the Alva O. Way University Professor and professor of history emeritus at Brown University. He will receive an honorary doctor of humane letters degree.
In addition, Helene D. Gayle, president and CEO of CARE USA, will address graduates of the Fletcher School on May 22 during their annual Class Day ceremonies.
For more information on commencement, go to http://commencement.tufts.edu.