What's Killing the Bats?
White-nose syndrome is decimating the insect-eating mammals, and researchers at the Cummings School are on the case
By Catherine Grace O'Neill
Each spring hibernating bats awaken in caves around the country, taking their place in a complex ecosystem and consuming hordes of insects. But a deadly skin disease, known as white-nose syndrome, has killed more than a million bats from Vermont to Virginia since it was first identified in a cave near Albany, N.Y., in 2006.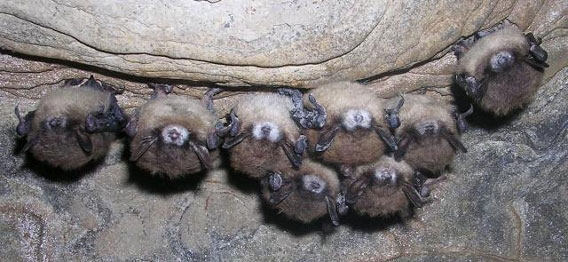 White-nose syndrome is "a hugely devastating disease," says Alison Robbins, V92. Photo: Nancy Heaslip, New York Department of Environmental Conservation
The nocturnal mammals, the only major predator of night-flying insects, eat thousands of tons of potentially harmful agricultural pests each year. A member of one of the species, the Big brown bat, can gobble up between 3,000 and 7,000 mosquitoes in a single night, for example.
White-nose syndrome, which gets its name from the ring of white fungus on the muzzle and wings of many of the affected bats, is killing off as much as 90 to 100 percent of the population in a given hibernation site.
Wildlife biologists believe that white-nose syndrome is caused by the fungus Geomyces destructans, which thrives in the cold caves where bats sleep away the winter months. For reasons that are not yet understood, the infected bats behave oddly—waking up and flying outdoors in winter when there are few insects to feed on. Awakened from hibernation, the bats lose their winter fat reserves before the season is over and starve.
Researchers believe the disease probably spreads from bat to bat. But because it may be carried on clothing and climbing gear brought into caves by spelunkers, the U.S. Forest Service has closed caves and mines in 33 states while scientists figure out how to control the spread of the disease.
Last fall, the U.S. Fish and Wildlife Service's Preventing Extinction program awarded six grants totaling $800,000 to determine the cause and stop the spread of white-nose syndrome. One of those awards went to Cummings School researchers Donna E. Akiyoshi and Alison Robbins, V92, who are trying to develop a rapid diagnostic test for the disease.
The work at Tufts will generate monoclonal antibodies that would be able to detect the presence of the fungus Geomyces destructans in bat caves, says Akiyoshi, a research associate professor of biomedical sciences and the principal investigator on the project. "Since many of the caves are difficult to get to, a field-based test will be useful in that samples can be collected and analyzed on-site," she says. "Based on the results, decisions whether to quarantine the cave can be made quickly."
White-nose syndrome is "a hugely devastating disease," says Robbins, who works with the Cummings School's Center for Conservation Medicine. She points to a census visit to a cave in western Massachusetts in March 2009. "We expected to find 10,000 bats there. We came up with 117." When they returned to the cave in December, only 14 bats were left, she says.
In the Northeast, six hibernating bat species are being affected by white-nose syndrome: Little brown, Big brown, Northern long-eared, Small-footed, Indiana and Tri-colored. Twenty-five other species of North American bats are also at risk of contracting the disease.
On another front, researchers are testing treatments for the disease, Robbins says, including applying antifungal drugs directly on the bats.
Robbins says she remains optimistic that science will come up with a solution. "A lot of people are working on this," she says. "Some medications look very hopeful. I think there is even a possibility for developing a vaccine."
Catherine O'Neill Grace can be reached at catherine.grace@tufts.edu.