Spirituality with a Side of Wry
Rabbi Danya Ruttenberg talks about her book Surprised by God, her work at Hillel and her Ex College class on sex and Judaism
By Helene Ragovin
Rabbi Danya Ruttenberg, the senior Jewish educator at Tufts University Hillel, is no stranger to the vagaries of the contemporary spiritual journey. In her well-received memoir, Surprised by God: How I Learned to Stop Worrying and Love Religion (Beacon Press, 2008), Ruttenberg records her path from cynicism and disenchantment with the Judaism of her childhood to a life of meaningful religious practice and, remarkably, rabbinical school.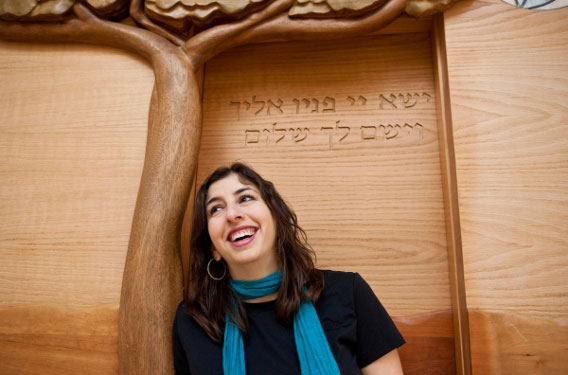 "I wanted to talk about the hard stuff, the wisdom of the ages and how that fits in the contemporary moment," says Danya Ruttenberg. "And I realized that I couldn't tell this story without telling my story." Photo: Alonso Nichols
But the book is far more than a "lost-and-saved" saga—it's also a lively and moving story of a young woman dealing with life, death, family, feminism, punk rock and the whirlwind that was San Francisco in the early days of the dot-com era. (If the book is ever made into a movie, it will have one heck of a soundtrack.)
Surprised by God was one of five nonfiction finalists for the Jewish Book Council's 2010 Sami Rohr Prize for Jewish Literature. In addition, Ruttenberg has edited two collections of essays: Yentl's Revenge: The Next Wave of Jewish Feminism (Seal Press, 2001) and The Passionate Torah: Sex and Judaism (NYU Press, 2009). Now she is co-editing a series of books on Jewish ethics, and this semester is teaching an Experimental College course on sex and Judaism.
Tufts Journal: Surprised by God is a very personal book. What prompted you to write a memoir?
Danya Ruttenberg: I didn't set out to write a memoir. When I was in my early 20s, I was seriously grappling with my own religious practice: where I wanted to be 'Jewishly,' and what implications that might have for my life. And when I went to the bookstore, what I saw were a lot of stories that made spiritual transformation seem effortless. I was doing this hard work, thinking about spirituality and religion, and I discovered it was painful and frightening and uncomfortable. It was also amazing, but hard.
So that was really the impetus behind writing Surprised by God. I wanted to talk about how taking on a religious practice isn't all easy, and how, if you do it right, there is hard work. That doesn't mean you shouldn't do it, and it doesn't mean the transformation isn't worth it. But our current discourse kind of glosses that over.
We live in a culture where there is this hyper-fundamentalist tendency, on the one hand, to go for easy answers. On the other hand, there is this narrative that spirituality is about navel-gazing and separating from community and what feels good, instead of learning to get past yourself and serve others.
I wanted to talk about the hard stuff, the wisdom of the ages and how that fits in the contemporary moment. And I realized that I couldn't tell this story without telling my story.
Many people develop a deeper interest in religion, or become more involved in their religious practice, as they move through life—but deciding to go to seminary is a significant life change. What made you decide to become a rabbi?
When I work with students here at Tufts, I say that your intuition is kind of your radio station for talking to God. You have to be very, very quiet and sit still and hear what your intuition is really trying to tell you. Sometimes it sends you information that isn't the convenient thing you want to hear, and the temptation is to ignore it and go do something else—but that usually doesn't work out very well.
I got to certain point in my Jewish practice where I had begun to fall in love with Judaism and Jewish life—it was like this little voice said 'rabbinical school.' And I said, 'What? That's very funny.' And the little voice started getting louder and louder and more and more insistent.
Over the course of two to three years, I started listening more and more seriously to it. It would have been easier to stay in San Francisco with my nice life, but I had already unwittingly boarded a train that was going off in a different direction. At a certain point, I admitted defeat and applied to rabbinical school. It was the right thing.
How did your latest book, The Passionate Torah, come about? What kind of material do you cover in your Ex College course?
The book started with a piece I knew I wanted to write on modesty, but I didn't know where to place it that would help me reach the right audience. I realized that there are lot of different takes you can have on sex, assuming you have a deep relationship with the tradition, using all these tools we have at our disposal: feminist theory, queer theory, post-modernism. There are a million different ways to think about Judaism and sex.
The idea in the class is to cover a lot of basic, traditional texts, a lot of canonical concepts on sex in Judaism. And then we'll read a lot of contemporary takes on it, too, some straight-up feminist theory, some queer writing, a little mixing and matching. The underlying question is, What is a contemporary Jewish sexual ethic? Should sex be something that has a relationship to holiness and if so, what does that look like? What role do our traditional texts and concepts play in that?
Jewish education often emphasizes Judaism as an ethical system. But the subject of sexual ethics has been conspicuously absent in the classroom, at least historically. Is that still the case today?
For most people coming out of mainstream Jewish education today, the subject is not discussed. This class in part emerged because I often meet with students and they say, 'Wait, what does Judaism say about this or that?' Some of my answers are kind of shocking to them. They are surprised about how in tune the traditional sources have been about the fact that people have desires and needs that can and should be satisfied—the ancient rabbis were not prudes.
Senior Jewish educator is a new position at Tufts Hillel. What does it involve?
It is a position that Hillel International initiated more than two years ago; it's now on 10 campuses across the country. Tufts Hillel was chosen because it's known as one of the best in the country. It's widely acknowledged as such, and there are a million ways to plug in to Tufts Hillel, yet there are plenty of [Jewish] students who haven't found Hillel—either they don't know why they should care about engaging Jewishly, or socially, they don't have the sense that it's their niche, or they're putting all their energy into other extracurriculars. Some students might not necessarily currently connect with what's happening in this building, but they want something.
My job is to say, 'OK, what can we make happen?' Should there be micro-communities all over campus, communities to talk about dating issues related to Judaism, for example? Or to talk about spirituality? Should there be text study? Shabbat dinners in off-campus apartments? Should there be salon discussions?
There are all different kinds of ways to connect. One thing we're initiating is for students with one Jewish parent just to have a space for them to come and talk about all the stuff that comes with that, without presuming that they necessarily self-identify as Jewish. What are the questions? What are the issues? I'm interested in getting to know students and in expanding the possibility of what can be done all over campus—not necessarily to bring them in the door, ever, but to say, you can do Jewish in a lot of different ways.
Helene Ragovin can be reached at helene.ragovin@tufts.edu.