Engineering Leaders
Bernard Gordon's transformative gift will foster leadership in the field
Bernard Gordon, known as the father of analog-to-digital conversion and for breakthroughs such as the fetal heart monitor and portable CT scan, has committed $40 million to Tufts University's School of Engineering to advance its engineering leadership education programs.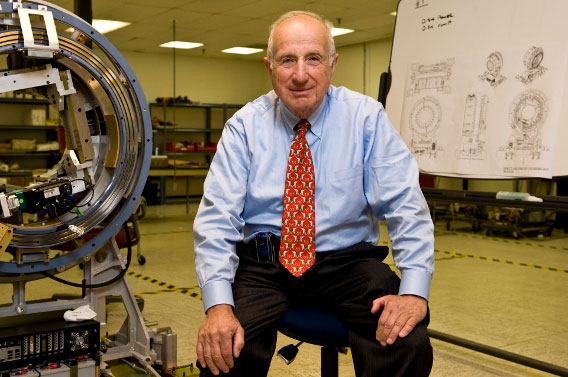 "Great engineers succeed because they are true leaders who combine technical skill with the capacity to lead and motivate others," says Bernard Gordon. Photo: Alonso Nichols
Gordon's philanthropy will enable the school to significantly strengthen its efforts to prepare engineers with not just knowledge of engineering but also the skills and attitudes necessary for successful engineering leadership. This will entail expanding project-based learning for engineering undergraduates, creating a new engineering leadership minor and hiring more professors of the practice—seasoned engineering leaders who bring real-world experience to classrooms and laboratories.
Gordon is cofounder and chairman of NeuroLogica Corp. of Danvers, Mass., and the founder and former CEO and chairman of Analogic Corp. He has been an outspoken advocate for the pressing need for engineers who can assume leadership roles and contribute to society as technological innovators. Gordon's gift to Tufts is the largest he has made to any institution, and he has now given nearly $200 million to support engineering education worldwide. His philanthropy pushes the university's $1.2 billion Beyond Boundaries capital campaign, which is focused on providing resources to faculty and students, past the $1 billion mark.
"This century may fairly be considered the century of the engineer," says Tufts President Lawrence S. Bacow. "Bernie Gordon has devoted his life to the idea that engineers should make the world a better place through their leadership. He knows how to get things done, and we are delighted that he appreciated kindred spirits at Tufts."
"Tufts is committed to educating leaders to serve the common good," says Provost and Senior Vice President Jamshed Bharucha. "Engineering leaders must be able to inspire teams of people to envision and realize technological goals in complex and fast-paced environments. They must understand not just the science but also the people they lead and the people for whom their technology is intended."
Linda Abriola, dean of the School of Engineering since 2003 and a noted environmental engineer, points out, "Many of the challenges we face as a nation and a society are technical in nature, extraordinarily complex and intertwined with global financial and political concerns. Engineers cannot cede leadership to those who may be ill-equipped to understand the technical aspects of our global, information- and energy-driven society. Tufts' School of Engineering seeks to become the school of choice for aspiring technological leaders."
Gordon has been a strong supporter of engineering education that goes beyond traditional technological preparation, a mandate supported by a recent Carnegie Foundation report on the future of engineering education. "Engineers invent and bring to market new technologies that enable advances in health care, manufacturing, infrastructure, transportation, communications, energy production—the full range of human activity," says Gordon. "Great engineers succeed because they are true leaders who combine technical skill with the capacity to lead and motivate others."
The new engineering leadership initiatives will benefit from a close relationship with Tufts' Gordon Institute, which was created by Gordon in 1984 to further graduate education for practicing engineers and moved to Tufts in 1992. The institute's M.S. in engineering management is a nationally recognized business management program designed to provide practicing engineers and applied scientists with the knowledge and skills they need to be leaders in technology-driven companies.
The current class represents more than 30 different firms from all industry sectors. In a 2008 survey, 45 percent of Gordon Institute alumni reported that they had been promoted by their companies while they were still enrolled in the program, and 95 percent had been promoted within two years of graduation.
Chance Encounter Sparks Life-long Tie
Bernard Gordon has had an indelible impact on Tufts. But had it not been for a chance encounter between an aspiring naval officer of 17 and the university president 65 years ago, the close ties between Gordon and Tufts might not have developed.
Gordon grew up during the Depression in western Massachusetts. As a boy, he liked to fix radios and transmitters and tackle other practical challenges. He earned his first dollar at 13, building and selling improved outhouses featuring a cord that, when pulled, released lime and helped leach waste into the ground.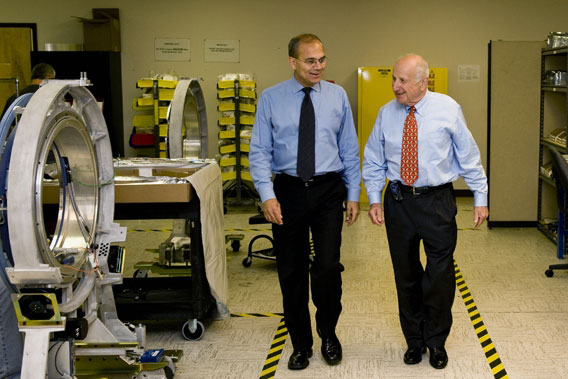 Bernard Gordon and Jamshed Bharucha, Tufts' provost and senior vice president, at NeuroLogica in Danvers, Mass., where Gordon is chairman. "Tufts is committed to educating leaders to serve the common good," says Bharucha. Photo: Alonso Nichols
A teen-aged Gordon entered the Navy's officer training program. The Navy first sent him to MIT, but Tufts was also one of the schools selected to support the V-12 program, and in 1944, the 17-year-old Gordon was housed on the Tufts campus. One evening as the young man walked across campus in his uniform, a tall gentleman approached. Tufts President Leonard Carmichael greeted him: "And how are you, Bernard?"
"I didn't know him and to this day I wonder how he knew me!" says Gordon. "But it seemed to me that Tufts was a friendly place with a personal atmosphere."
Gordon spent six to eight months at Tufts, studying engineering and psychology along with naval navigation and strategy. As a naval officer, Gordon was later assigned to destroyer escorts. Remaining a Ready Reserve officer, he returned to MIT on the G.I. Bill, graduating with a bachelor's (1948) and a master's in electrical engineering (1949).
Prior to his most recent gift, Gordon had donated $35 million to Tufts for a variety of purposes, including the Gordon Institute, the construction of Sophia Gordon Hall and additional support for the School of Engineering. Gordon is a Tufts trustee emeritus, member of the Board of Overseers for the School of Engineering and honorary co-chair of the Beyond Boundaries campaign.
Gordon's core technology of high-speed analog to digital conversion is now found in everything from computers, compact discs and televisions to EKG machines, digital thermometers, atomic clocks and imaging equipment. His companies have developed many breakthroughs, including the first fetal monitor, first lightweight mobile CT scanner, first instant-imaging CT system and an advanced security-imaging system to help detect explosives and other contraband. At NeuroLogica, Gordon is developing a portable imaging system to help stroke and trauma victims.
In 1986, Gordon was honored by President Ronald Reagan with the second National Medal of Technology. Elected a member of the National Academy of Engineering in 1991, he has also been awarded several honorary degrees, including one from Tufts in 1992.
Gordon's gift to Tufts is the latest example of his deep commitment to engineering education that includes establishing not only the Gordon Institute but also the Bernard M. Gordon Prize for Innovation in Engineering and Technology Education at the National Academy of Engineering—an award that the Academy bestowed on the Institute in 2007. His philanthropy has also made possible initiatives at numerous other institutions nationwide, including MIT, the Museum of Science in Boston, Northeastern University, Worcester Polytechnic Institute and the University of California at San Diego.
Helene Ragovin can be reached at helene.ragovin@tufts.edu.