Best in Class
The freshman matriculation welcomed another strong group of students, even in the midst of turbulent economic times
By Helene Ragovin
The arrival on September 2 of the 1,313 first-year students who make up Tufts' Class of 2013 was a happy ending for an often-uncertain admissions cycle.
In familiar fashion, the young women and men filed onto the academic quad for matriculation exercises, hopeful and excited—and maybe just a little anxious—about the four years ahead. They came prepared with outstanding academic credentials: at 1421, their mean SAT score is the highest of any entering class.
The Class of 2013, which includes students from 41 states and 38 countries, enjoy matriculation. Photo: Alonso Nichols
Overall, there are 1,118 new students in the School of Arts and Sciences and 195 in the School of Engineering. The class includes students from 41 states and 38 countries. The number of students from the West Coast increased from past years; there are 118 first-year students from California, making up 9 percent of the class.
Tufts received 15,041 applications for the Class of '13, a decrease of 4 percent from the class of '12. That reflects a national trend, in which college applications overall decreased, at some schools as much as 10 percent or 20 percent, says Lee Coffin, dean of undergraduate admissions. It was the fifth consecutive year that Tufts had received more than 15,000 undergraduate applications. The University also maintained its level of selectivity, accepting 26.5 percent of the applicants to the freshman class compared to 25.5 percent last year.
Bucking the trend was the School of Engineering, which saw a 9 percent increase in undergraduate applications, to an all-time high of 2,232. Overall, engineering applications have increased almost 25 percent in the last three years, Coffin says.
There are 122 international students in the Class of '13, accounting for another 9 percent. Immediately after 9/11, the number of international students enrolling at Tufts and other U.S. colleges declined, but that trend seems to be reversing, Coffin says. "During the last several years, we have been expanding international recruitment, and that seems to be paying dividends," he says. In particular, the number of students from China and Hong Kong has increased—six from mainland China and seven from Hong Kong, with a total of 49 from Asia in the new class.
The first-year class includes 56 valedictorians, 28 salutatorians and 56 National Merit Scholars. The new arrivals' interests range from politics to physics; from cryptography to geography, and beyond. Two members of the class hold U.S. patents; one is listed in the Guinness Book of World Records as "the youngest person to ski on all seven continents." There is a banjo-player; a tae kwon do champion and the captain of the U.S. National Debate Team.
Weathering Uncertainties
The new students' journey to Tufts unfolded against a backdrop unlike any ever seen in higher education. The economic crisis of the past year left administrators at Tufts—and at colleges nationwide—concerned about how the admissions picture would develop.
"This was the most unpredictable cycle because there was no contemporary parallel," says Coffin. "There was no other year to point to, and say, 'this is how people behave in a Great Recession.' "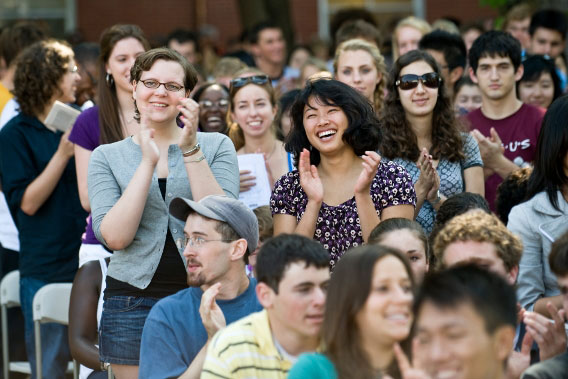 The first-year class includes 56 valedictorians, 28 salutatorians and 56 National Merit Scholars. Photo: Alonso Nichols
Despite those uncertainties, "we are fully enrolled, and it was a remarkably stable year for us," Coffin says. "And for the first time in my career, I would characterize 'stable' as a sexy outcome. I feel really lucky to have weathered this past year as well as we did."
"Last year was a year that we spent, generally, dodging bullets and in the admissions area, we dodged a couple," says Tufts President Lawrence S. Bacow. As the admissions cycle developed, it appeared families were losing access to traditional sources of college financing, Bacow says. Those included threats to college-loan market liquidity and the collapse of housing prices, which could hinder parents' ability to pay for their children's education using homeowners' equity.
"We worried that given the tremendous turbulence in the economy generally, when families had to make the final decision, they would say, 'I'm not sure we can commit to this big an expenditure now,' " Bacow says. The concern was that these conditions could affect Tufts' "yield," the percentage of accepted students who choose to attend.
And while the fall arrived with the Class of '13 fully enrolled, "that's not to say there was no impact from the economic crisis," Bacow says. Yield was down at every level among students who received a financial aid offer. "Families are nervous," Coffin says.
The Class of '13 is slightly less diverse, in racial, ethnic and socioeconomic makeup, than the classes immediately preceding it. Because of the significant need for increased financial aid by returning sophomores, juniors and seniors, the university's financial aid budget for incoming students remained stable from the past year, at $13 million, and could not accommodate increased need among applicants.
Domestic students of color account for 24 percent of the class, compared to 27 percent for the Class of '12. Thirty-five percent of the class is receiving a financial aid grant from Tufts, compared to 36 percent from the previous class; there are 125 students receiving federal Pell grants—considered a marker of socioeconomic diversity—compared to 133 in the previous class.
"That is fewer than we'd like to see," Coffin says. "I don't see it as a permanent situation, but as we came through the economic storm, this is what we had to do."
"We would have had to take even more drastic measures with the university's budget to increase financial aid beyond what we did," Bacow says. "As it stands, most people in this institution are not getting raises; there was a modest number of layoffs; we delayed capital projects, and we would have had to do even more to try and add even greater financial aid resources to the pool—and in the end, I'm not sure it would have made much of a difference," Bacow says.
"I think the economy is going to have to recover, and we don't control the economy," Bacow adds. "What we experienced at Tufts occurred at almost every other institution. When the economy comes back, I think we'll see a change."
"The real answer to the question of how Tufts fared this year was that we continued our momentum, and are enrolling a class that includes students who are intellectually involved and passionate about what they want to do," Coffin says. "When you set aside all the numbers and statistics, at the end of the day, what's most important is that these kids are every bit the equals of their counterparts."
Helene Ragovin can be reached at helene.ragovin@tufts.edu.