Green living
Elegant and eco-friendly, new dorm is a hit on campus
by Helene Ragovin
The roof holds two types of solar-energy panels, and the toilets offer two water-saving ways to flush. There are handicapped-accessible suites on each floor. There's a bi-level theater/meeting space in the lobby. And did we mention the skyline views of Boston from the upper-story bedrooms?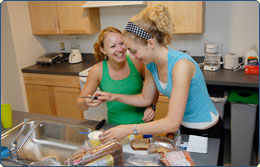 © JODI HILTON
Sophia Gordon Hall, Tufts' newest dorm, is remarkable in many ways. It is not only the university's first residence hall designed specifically to be environmentally friendly, it also increases accessibility for people with disabilities, connects the upper and lower sections of the Medford/Somerville campus and creates a space for residential and academic life to intersect.
"I'm excited to see how this building will take on a daily sense of residential life," said Randy Wilmot, project architect for William Rawn Associates, the Boston firm that designed the building.
The dorm opened its doors to its first residents—124 students, mostly seniors—in late August, with a dedication ceremony on September 6. The building is named in honor of Sophia Gordon, wife of benefactor Bernard M. Gordon, H92, co-founder and president of Neuro-Logica Corp. of Danvers, Mass., and a university trustee.
With its apartment-style layout, the dorm was designed to appeal to juniors and seniors who might otherwise move off campus. All suites have individual bathrooms and fully equipped kitchens.
"The new hall provides the kind of residential experience that upper-class students are seeking," said Yolanda King, director of residential life. "The new hall provides another option for living in apartment-style housing directly on campus." Students were chosen for the new dorm based on housing lottery numbers.
"It's incredible," said Shanti Sattler, A07, who's majoring in peace and justice studies. "Everyone who has walked in has just been stunned. We feel honored to be living here; it's above and beyond anything I ever imagined."
"[My suite] is as big as my uncle's apartment in New York City," said Joanna Xylas, A07, a Spanish major. "Everyone is very impressed."
The dorm's design was intended to "heighten [the students'] sense of community," said William Rawn, principal of the architectural firm. For instance, the hallways are six feet wide—a foot wider than in most dorms—and are all fairly short in length to create inviting spaces for communal life.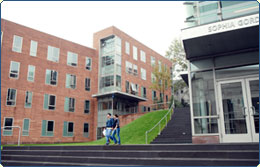 © JODI HILTON
'A positive aspect'
Set into the hillside toward the eastern end of Talbot Avenue, Sophia Gordon Hall has two distinct wings that are connected by a first-floor walkway. In between are a sweeping passageway and a set of steps that provide a clear view—and easy access—between Talbot Avenue and Professors Row.
"It was necessary to build on the steep hillside," said Wilmot. "So we broke the building into two, and we have an open view from Professors Row to Talbot Avenue, which supports the university's master plan concepts."
Additionally, the path provides a wheelchair-accessible route up and down the hill, using an elevator and a series of paths and ramps.
Under the master plan—which William Rawn Associates developed for Tufts—"we really began to identify the site as a positive aspect of the Tufts campus," Wilmot said. Along with the new music building, which is being constructed across Talbot Avenue, the dorm will help create a new gateway to the university.
"What for me is exciting about the building is that it's the first one built under the guidance of the master plan," Rawn said. "One of the main ideas was to increase connectedness of the upper and lower campus."
A university-wide view
Sophia Gordon Hall was designed with a university-wide view, Wilmot said. "We tend to think of spaces relating to the small community of the dorm. But we're also thinking of the larger university community, engaging residential life to both."
The first floor of the east wing contains a 150-seat theater/meeting room that is available to all students, faculty and staff. (Residential areas are separated from the public spaces by card-swipe entrances.) The theater is adaptable for classroom use, student performances—the bamboo floor, for example, is "sprung" so that dance groups will be able to perform comfortably—lectures, readings or more informal gatherings.
This reflects a goal of the Task Force on the Undergraduate Experience, a panel that studied ways to energize intellectual and community life on campus. "The task force was interested in issues of space, in having places for students to congregate in natural ways," said James Glaser, dean of undergraduate education. "The multi-purpose space will be a classroom during the day and an event space in the evenings. We envision student events there—dance performances, films, etc.
"But we also anticipate that students will watch the Super Bowl and 'American Idol' in that space to share these less-formal kinds of experiences," said Glaser. "We hope the space will contribute to a greater sense of community within the residence hall and beyond it as well."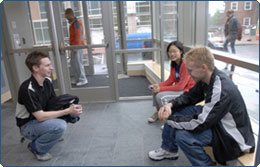 © JODI HILTON
'Best kind of green building' What makes Sophia Gordon Hall unique among Tufts' residence halls is its ground-up commitment to environmental sustainability. The university will apply for certification from the LEED (Leadership in Energy and Environmental Design) Green Building Rating System, a voluntary set of standards the U.S. Green Building Council developed for high-performance, sustainable buildings.
This goal is achieved in two ways, Rawn said—through good design practices and the use of technology. "To us, that's the best kind of 'green' building," he said.
The technical elements were funded, in part, by a $500,000 grant from a state agency, the Massachusetts Technology Collaborative. They include two types of solar energy panels on the roof: photovoltaic cells that collect energy to supplement the electrical system and solar-thermal collectors to supplement the heating system. To save water, there are low-flow faucets, dual-flush toilets and waterless urinals. Insulated glass- and ceramic-louvered walls will keep the building cooler in the summer and warmer in the winter.
As a result, the dormitory is expected to use 30 percent less energy and 30 percent less water. Real-time monitoring of the building's energy use will appear on a screen at the building's entrance, along with other information about the building's sustainability, provided by the Tufts Climate Initiative.
"What's happening is extraordinary," Rawn said. "Most colleges, because of faculty involvement and student demand, are realizing that if other parts of the culture aren't moving toward sustainability…certainly colleges and universities can. It's appropriate, with the deep environmental consciousness on campus and the deep environmental consciousness in the curriculum. It's good that Tufts has gotten ahead of the curve on this."
Helene Ragovin is a senior writer in Tufts' Office of Publications. She can be reached at helene.ragovin@tufts.edu.