Taming the Failed States
John Herbst, F80, a former ambassador, now heads up a State Department program that will dispatch civilians to help stabilize hot spots around the world
By Leslie Macmillan
They have been called one of the biggest security challenges of our time: "failed states," those countries in which the government no longer controls all its territory and cannot provide rule of law or basic services such as water and electricity. Along with human misery, such nations often breed terrorism, violence and drug and arms trafficking, problems that can spill over national borders.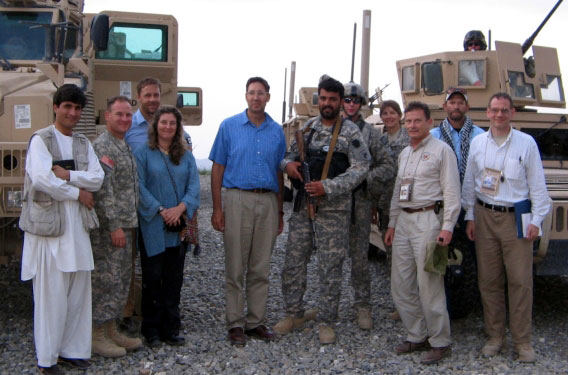 John Herbst, F80, (center) a former ambassador and now State Department coordinator for reconstruction and stabilization, in Khost province, Afghanistan, in June 2008 with members of reconstruction teams there. Photo: Courtesy of John Herbst
When it comes to stabilizing countries in crisis, many now argue that military might alone is not enough. That is why John E. Herbst, F80, a career diplomat in the State Department, is forming a team of American civilians, the Civilian Response Corps, willing to travel to the world's "hot spots," where they will use their skills to help provide whatever basic services the local governments cannot. He calls the expeditionary, deployable civilian force "the future of American diplomacy."
"There have always been ungoverned spaces, lawless frontiers, but they're much more dangerous today because of modern technology and modern communications," says Herbst, coordinator for reconstruction and stabilization in the State Department. He points out that the 9/11 attacks were plotted in Afghanistan, an example of a failed state.
Herbst, who was ambassador to Ukraine and Uzbekistan and served as political counselor in Tel Aviv, Moscow and Saudi Arabia, assumed his current role in 2006, two years after the reconstruction office was established. He says the lessons learned from the failed reconstruction efforts in Iraq and Afghanistan were critical in making the case to Congress for the civilian corps.
"The U.S. encountered problems in Bosnia and Kosovo—and especially in our civilian operations in Iraq and Afghanistan—where different agencies have run programs that are at times duplicative or not coordinated with one another," says Herbst, who speaks Russian and Arabic.
Until recently, Herbst's program consisted of a small force of 100 non-military employees drawn from the Departments of State, Defense and Justice and five other government agencies involved in stabilization efforts in Iraq, Afghanistan, Chad, Lebanon and Kosovo and other countries.
Now, with $65 million in funding from Congress under the fiscal year 2008 supplemental bill and another $75 million received under the fiscal year 2009 omnibus bill recently signed by President Obama, Herbst is beefing up the ranks of the Civilian Response Corps (CRC), which he heads.
When fully funded and staffed, the CRC will consist of an active component of 250 employees from across the federal government who can be on the ground within two to five days of a crisis, and a standby component of 2,000 federal government employees deployable within 30 to 45 days. There will also be a 2,000-person reserve component, which has not yet been funded. When funded, reservists will sign up for four years, train for two weeks a year and—if called—serve overseas for two to six months.
First Steps
The fledgling CRC has already had some impact, albeit on a small scale. After Kosovo declared independence in February 2008, representatives from a number of countries, including two CRC members, formed a committee to protect minority rights and religious and cultural sites. And Herbst cites a program in which CRC participated in Haiti that has "helped train police and put them back in the slum area of Cité Soleil," which in recent years has been plagued by gang violence, shootings and kidnappings.
"Haiti has a functioning government and—by its own standards, a not-bad-functioning government," says Herbst. "But when there's instability in Haiti, you have flows of refugees to the United States. So we have a strong national interest in promoting stability there."
Part humanitarian, part preventive, Herbst says that beyond stabilizing countries emerging from conflict, by shoring up failing states sooner, the CRC could be instrumental in preventing full-scale conflict later.
"A corps of civilians who have the skills needed makes it much less likely that we'll have to use our military," says Herbst, "and much more likely that if our military goes in, we'll be able to stabilize the place in question faster, with less loss of life and less expense."
What kind of person belongs in the ranks of the CRC? "We need people who are self-motivated, who are interested in difficult, challenging assignments, who are not afraid of discomfort and even danger," adds Herbst. "They'll be put in situations—whether it's a country in chaos or potentially in chaos—where they'll have to deal with not just the people in that country but with partners from around the world," including the United Nations, the European Union and NATO.
Herbst acknowledges that the civilian corps is not for everyone. But if you are a city planner fluent in Albanian, you might just give him a call.
"I can't imagine more important or more exciting work," says Herbst. "But it takes a certain type. A sense of adventure is critical. A sense of humor would also not be bad."
Leslie Macmillan can be reached at leslie.macmillan@tufts.edu.