Punk Rockers in Yarmulkes
From the Ramones to Lou Reed to the Dictators, early punk owes its origins to Jewish rebels in the 1970s
By Helene Ragovin
There's a raw blast of driving guitar chords. From somewhere behind an unruly thicket of hair, there's a cry—or it is a growl?—"Hey! Ho! Let's go!" Fists fly in the air.
That was the Ramones, the pioneering punk rockers who were among the cultural bad boys of their day, tweaking taboos and ruffling sensibilities.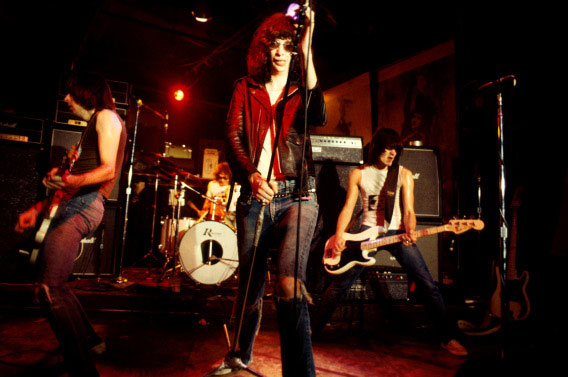 The iconoclastic Ramones at CBGB on January 1, 1977. Photo: Roberta Bayley/Getty Images
But in addition to being iconoclastic and irreverent, the band—along with many other early punks, like Lou Reed and Jonathan Richman—was also continuing a Jewish cultural tradition of responding to oppression, alienation and social injustice through irony, humor and outrage.
That's the main lesson of Steven Lee Beeber's Experimental College course, "The Jewish Origins of Punk Rock," which examines the punk phenomenon of the 1970s through an original—and somewhat unconventional—lens.
In its broadest sense, Beeber maintains, punk rock—at least as it developed in New York in the 1970s and '80s—was also a response to the Holocaust by America's first post-Holocaust generation. It's certainly not what you might think on a casual listen to "I Wanna Be Sedated" and "Blank Generation."
Beeber tackles this seemingly incongruous mix of pop culture, sociology and group psychology in his class, which is based on his 2006 book The Heebie-Jeebies at CBGB's: A Secret History of Jewish Punk (Chicago Review Press), which was recently released in paperback. It also was published last year in translation in Germany, as Die Heebie-Jeebies im CBGBs: Die jüdischen Wurzeln des Punk.
Even If You're Catholic, You're Jewish
Punk is often viewed as a British import—think Sex Pistols and safety pins—but it actually started in New York, where a Jewish sensibility pervades the city's personality. As comedian Lenny Bruce once said, "If you live in New York, even if you're Catholic, you're Jewish."
Beeber chronicles the birth of punk and the Jewish rockers who nurtured it: Lou Reed, whose Velvet Underground helped set the stage in the 1960s for what was to come; the Ramones—two of the four original Ramones, Joey and Tommy, were Jewish; the Dictators; Jonathan Richman; Lenny Kaye of the Patti Smith Group; Chris Stein of Blondie; Sylvain Sylvain of the New York Dolls; Richard Hell, née Meyers, of Television, the Heartbreakers and the Voidoids and Genya Ravan of Ten Wheel Drive, among others.
Click on the play button to see the Ramones playing at CBGB.
Some of these musicians had childhoods in traditional Jewish-American homes, while others were raised in more secular environments, often growing up with Jewish culture's emphasis on political or social justice. Genya Ravan, born in Poland, had a harrowing escape from the Holocaust as a child. Tommy Ramone, born in post-war Hungary to survivor parents, experienced considerable anti-Semitism in Budapest before his family fled in 1956. Some—like Hell, who had a Jewish father—do not particularly self-identify as Jews.
But Beeber's class is more than an elaborate game of "Jewish geography." In addition to grappling with the legacy of genocide—"No Holocaust, no punk," he writes in his book—punk rock also "ties in with lots of things you wouldn't think" in reflecting modern Jewish history and experience, he says.
For instance, he says, punk incorporated the spirit of the early Zionist pioneers with its "DIY" (do it yourself) ethos. "DIY was the rallying cry of punk," Beeber says. The fairly crude musicianship of the Ramones—they had a reputation for only knowing three chords—didn't stop them from becoming the most influential of the New York bands. They inspired others "to put out their own records, to put together a band even if you don't know how to play, to try to sidestep corporate America," he says.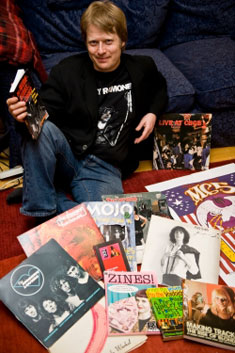 "I think '70s punk still seems fresh because it was pretty volatile to begin with," says Steven Lee Beeber. Photo: Alonso Nichols
Down Bowery Way
The incubator for the early punk sound was the Bowery club referenced in the title of Beeber's book, CBGB. The club's owner, Hilly (short for Hillel) Kristal, grew up in the 1930s at Jersey Homestead, a Jewish agrarian collective in New Jersey. He opened his stage to dozens of unknown, untried bands: his steadfast rule was that they had to play original music.
But the theme that surfaces many times throughout Beeber's book and class is punk's disquieting preoccupation with Nazi motifs and Third Reich imagery. One explanation, particularly for those bands without Jewish members, is to say the punks were simply reaching for the most provocative symbols they could.
For the Jewish punks, most of them born in the late '40s and early '50s, there was something more—beyond a musical statement, it was a sociological phenomenon.
"In a very significant way, it was a reaction by the first generation to come of age being aware of the Holocaust," Beeber says. "In the '50s, there was this numb silence for about 10 years," and a sense of shame associated with victimhood.
After the Israeli victory in the 1967 Six-Day War, however, young Jews began to see things in a different light: "they became proud that Jews could fight back," Beeber says. "The Holocaust was the other end of that, with Jews as victims and government as anything but reliable." The punks were, in the parlance of the 1970s, "co-opting" the very symbols of their oppressors, as it were, and showing their own strength.
Most of the students in Beeber's class are themselves Jewish and appear to identify with the way the rockers explored and, in some senses, transformed their Jewish identities through punk, Beeber says.
Even though most of the students weren't even born when the early punks first burst onto the scene, they seem to relate pretty directly to the music "without a lot of ironic retro detachment," Beeber says.
"I think '70s punk still seems fresh because it was pretty volatile to begin with, and still seems that way—and even when it isn't necessarily volatile and rebellious seeming, it's still quality music that hasn't become dated," Beeber says. "Of course, there are newer bands that [the students] enjoy and relate to more directly in some ways, and yet, like most punk fans, their exposure to the music generally began with the originals."
Helene Ragovin can be reached at helene.ragovin@tufts.edu.