A Medley of Medals
Women's distance relay wins second straight NCAA championship, as team comes in fifth overall in field of 68
By Paul Sweeney
The Tufts women's indoor track and field team's distance medley relay is the NCAA Division III national champion for the second straight year. The 2009 Jumbo foursome of Amy Wilfert, A11; Halsey Stebbins, A09; tri-captain Jackie Ferry, A09; and Stephanie McNamara, A11, ran a time of 11 minutes, 46.88 seconds at the meet at Rose-Hulman Institute of Technology in Terre Haute, Ind., on March 13.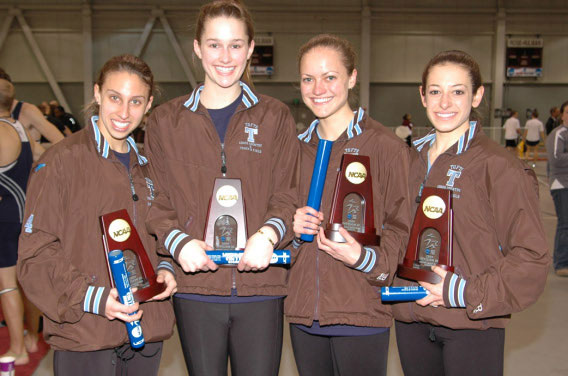 Distance medley champions, from left, Amy Wilfert, Halsey Stebbins, Jackie Ferry and Stephanie McNamara. Photo: Courtesy of Rose-Hulman Institute of Technology
The Tufts team edged the University of St. Thomas at the finish line by 0.08 seconds. The Jumbos entered the NCAAs as the top seed in the event after running an automatic qualifying time of 11 minutes, 47.96 seconds to win the ECAC Division III Indoor Championships, which took place at Tufts the previous week. They did not disappoint, running even faster at the NCAA meet to win Tufts women's track and field's 15th individual or relay national championship. Go to http://www.d3ncaavideos.com/videos/W-DMR.mov to watch a video of the race.
Last year in Ohio, McNamara ran the 1,200-meter lead-off leg for the Tufts distance medley relay team of Kaleigh Fitzpatrick, Katy O'Brien and Catherine Beck that captured the 2008 NCAA title with a time of 11 minutes, 46.79 seconds. At the 2007 NCAA Indoor Championships, the Tufts distance medley relay ran a school-record 11 minutes, 35.54 seconds to finish as the national runner-up. This year's foursome established the team's recent dominance in the event.
The back-to-back titles continue the legacy of Tufts national champions in women's track. Dating back to Vera Stenhouse's eight national titles from 1989 to 1991, Jumbos have now won 15 titles at NCAA Championship indoor and outdoor events.
More Top-flight Performances
Coach Kristen Morwick's team had two other outstanding performances at the 2009 national championship meet. McNamara came back on March 14 to finish as the runner-up in the 5,000 meters for All-American honors. Her 17:02.76 time was second only to Elise Tropiano from Amherst, who won the national championship with a 16:58.84 finish. McNamara's time was more than 24 seconds better than her qualifying time (17:26.91), which had her seeded 13th entering the race.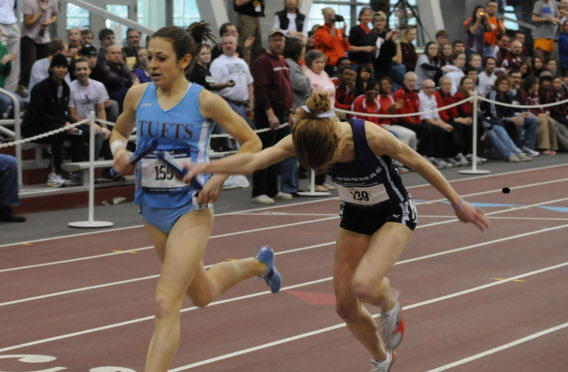 Tufts' Stephanie McNamara edges the University of St. Thomas's Katie Theisen at the finish line to win the distance medley relay. Photo: Courtesy of Rose-Hulman Institute of Technology
Also on March 14, Nakeisha Jones, A12, had the best triple jump during the preliminary round with a leap of 39 feet, 3¼ inches. That was her personal best and tied the season-best for NCAA Division III. Though Jones matched that distance in the final, three other competitors went beyond it. Jones took fourth place for All-American.
With their first-, second- and fourth-place finishes, Tufts scored 23 points at the meet, earning the women fifth place out of 68 teams that scored at the meet. It was the best finish by a New England or Northeast team. It's the second straight top-10 finish for the Jumbos, following last season's sixth-place effort.
The two All-American performances give McNamara six in her young career (three indoor, two cross country, one outdoor). Wilfert, Stebbins, Ferry and Jones earned the first All-American awards of their careers.
Also on March 13, Tufts high jumper Dayorsha Collins, A12, tied for 11th place. She cleared 5 feet 1¼ inches in her first national championship appearance.
Tufts Sports Information Director Paul Sweeney can be reached at paul.sweeney@tufts.edu.