Looking for New Economic Paths
Leontief Prize winners address new vision for trade and development on November 17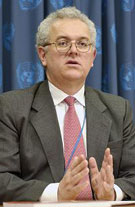 Jose Antonio Ocampo
Jose Antonio Ocampo of Columbia University and Robert Wade of the London School of Economics have been named the winners of the 2008 Leontief Prize for Advancing the Frontiers of Economic Thought. They each will give a lecture at the award ceremony on November 17 on the topic "Beyond the Washington Consensus: New Visions for Trade and Development."
The Global Development and Environment Institute (GDAE), which is jointly affiliated with the Fletcher School and the Graduate School of Arts and Sciences, created the Leontief Prize in 2000 in memory of Nobel Prize-winning economist and GDAE advisory board member Wassily Leontief. The award recognizes economists whose work combines theoretical and empirical research that promotes a more comprehensive understanding of social and environmental processes.
"Jose Antonio Ocampo and Robert Wade are among the most creative economic thinkers, combining rigorous analysis with empirically grounded research," says GDAE co-director Neva Goodwin. "Each of them is laying critical pieces of the groundwork that's needed for solving global problems in ways that will genuinely improve the lives of the world's poor majority."
Ocampo is a leading thinker on the reform of the international financial architecture and on macroeconomic policies to reduce the vulnerability of developing countries to international financial volatility.
His resume includes stints at the United Nations as under-secretary-general for economic and social affairs and executive secretary of the Economic Commission for Latin America and the Caribbean. He has also held several cabinet-level government posts in his native Colombia.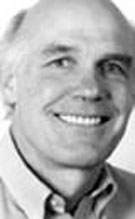 Robert Wade
He is currently a professor in the professional practice of international and public affairs at Columbia University, and is a co-director of Columbia's Initiative for Policy Dialogue. He has written numerous articles, books and reports, including Globalization and Development: A Latin American and Caribbean Perspective, Regional Financial Cooperation and the forthcoming volume, Capital Market Liberalization and Development.
Wade's book, Governing the Market—about the state's role in East Asian development—won the American Political Science Association's prize for best book in political economy. His Village Republics: Economic Conditions for Collective Action in South India showed that the tragedy of the commons does not always hold true and that collective action can be an alternative to privatization and state control in the management of common property resources.
More recently, he has emerged as a leading critic of the view that globalization reduces global inequality and global poverty, and is a leading contributor to rethinking development policy and the international policy framework.
The award ceremony will take place on November 17 at 5 p.m. in the Coolidge Room in Ballou Hall on the Medford/Somerville campus. The ceremony and addresses will be followed by a reception. To RSVP, contact Mukhtar Amin at 617-627-6909 or Muktar.Amin@tufts.edu, or visit the GDAE website.