Snooze Patrol
Students need more sleep, and Tufts is getting the word out that more shut-eye equals healthier lives
By Peter Bendix
Everyone needs it. Most people don't get enough of it. And college students sometimes avoid it altogether.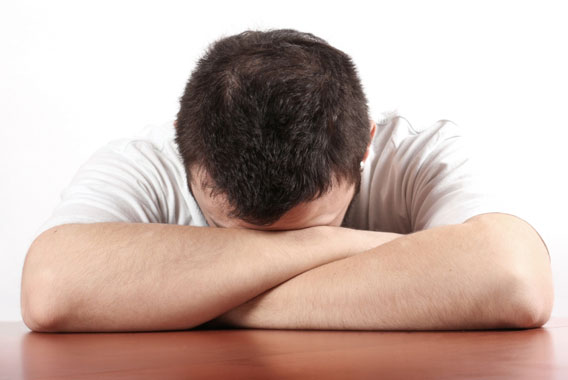 Many students are not getting enough sleep, and others are sleeping at the wrong times, says Kathleen O'Dea, clinic manager for Tufts Health Services. Photo: iStockphoto
It's sleep, of course, which students must cram into their schedule, alongside classes, friends, sports, and scanning that friend-of-a-friend's photo album on Facebook.
Most college students simply don't get enough sleep, and that's not good. Studies have shown that people who don't snooze enough suffer from cognitive impairment—in other words, getting a good night's sleep really is good for your grades.
The problem is twofold: in addition to not getting enough sleep, "a lot of college students are sleeping at the wrong times," says Kathleen O'Dea, clinic manager for Tufts Health Services. While midday naps can be nice, they don't make up for the lack of nighttime ZZZs.
Tufts isn't taking the problem lying down, though. Last semester the university made relaxation CDs available for download and gave away earplugs and sleep masks to undergraduates. The university sponsored Sleep Week, and blanketed the campus with posters filled with sleep tips.
It also sponsored a "Relaxation Day," when students learned how to relax and meditate. Students were encouraged to keep "sleep diaries," detailing how long it took them to fall asleep and how long they slept. Prizes—such as pajamas inscribed with a snoozing Jumbo—were given to students who chronicled their slumber stories.
O'Dea acknowledges that it was difficult to measure the success of Sleep Week and other initiatives. She says that at least some students participated in the activities, and overall "our efforts were worth it."
Earplugs, sleep masks and new relaxation CDs are available at Health Services, O'Dea says, and the university will launch additional efforts to promote a good night's sleep during National Sleep Week next March.
Sleep may be important, but other activities are simply more important, some students say. Evans Clinchy, a senior majoring in English, reports that his sleep schedule is "horribly out of whack"—he gets seven hours a night, but often stays up until 4 a.m. "Not having early-morning classes helps," he notes.
Junior psychology major Jessie Borkan understands the importance of sleep, and professes to love it. But even she only manages around seven hours per night, despite wishing she could get more. In her dreams, she would sleep 10 to 11 hours a night.
Borkan suggests the university do even more to actively promote sleep. "I think we should have university-wide nap time once or twice a month," she says, proposing that "everyone should just get on the quad and the president's lawn and zonk at a prearranged time."
Clinchy, though, is skeptical of efforts to promote sleep. So what if the university offered everyone a chance to win Jumbo pajamas if they slept more? "They would have to be really nice pajamas," he says.
Peter Bendix, A08, is an editorial assistant in the Office of Publications. He can be reached at peter.bendix@tufts.edu.