Oh Yeah? Says Who?
William Lockeretz of the Friedman School gets a thrill out of debunking dogma
By Julie Flaherty
Professor William Lockeretz likes a little bit of irony. Take his Monsanto coffee mug, a gift from a former assistant. He'll casually bring it with him to the first day of class, and see if his fiercely pro-organic students notice he is brandishing the logo of a multinational producer of pesticides, genetically engineered seeds and bovine growth hormone.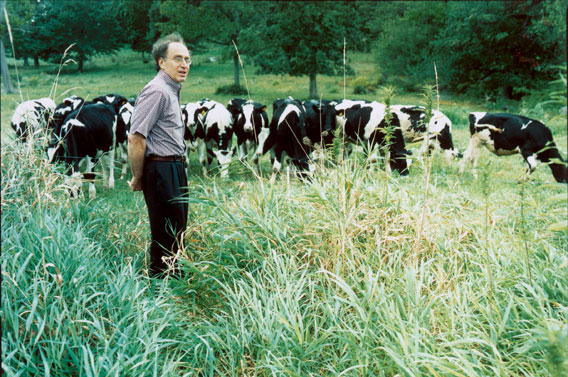 Professor William Lockeretz's advice to his students in the Agriculture, Food and Environment Program: "If you want to change the system, you have to understand the system." Photo: Kathleen Dooher
After 27 years at the Friedman School, the retiring co-founder of the Agriculture, Food and Environment Program hasn't lost his sense of humor. His idealism is largely intact, too.
"I have much the same motivations as my students," says Lockeretz, who received the Alumni Association's Faculty Award this spring, "except I present it in a more quasi-impartial, academic way."
Or as Corey O'Hara, N08, F08, puts it: "He's always a scientist and doesn't take anything for granted," whether it's the assertion that all locally grown food is superlative or the stereotyping of farm subsidies. "It definitely gives you a better, more nuanced understanding about what's really going on out there."
Most students come into Lockeretz's class with strong organic credentials; he teaches them about mainstream agriculture. "If you want to change the system, you have to understand the system," he says. Once they know that, they can talk about how things might be done better.
It was his concern for the environment that pulled this Bronx native away from his first love-physics-which he pursued for 13 years at the City College of New York and Harvard University. But just before he claimed his Ph.D. in 1972, he was caught up in the wave of environmentalism that had swept through the country. Air and water pollution-now those were problems that needed solving.
He spent a couple years at Washington University in St. Louis investigating mercury and lead contaminants. Then a position opened up on an agriculture study, and he signed on. "I was kind of awestruck by the possibility of heading a project on a subject I knew nothing about," he says. "But I think I was a quick learner."
It was the time of the oil embargo, and energy consumption was at the front of people's minds. "Fertilizers and pesticides are among the major consumers of energy in American agriculture," Lockeretz says. "So we looked at organic farming as an energy-saving alternative."
But that first agriculture study had much broader implications. It would turn the conventional wisdom about organic farms-that they were unproductive, expensive and commercially unviable-on its ear.
"People knew all about it, without there being any research," he deadpans. His investigation, the first of its kind, found that organic farmers could be successful. "The yield was somewhat lower, but the production costs were substantially lower, so you came out OK."
Although he has researched everything from soil conservation to animal health and welfare, he is only really satisfied when he is challenging dogma. He did so in the late 1980s, when he surveyed farmers in metropolitan areas about their prospects. While most experts expected a story of doom and gloom, he found that farmers who took advantage of city amenities like cultural attractions and shopping, and who sold their produce at farmers' markets, were optimistic. "Again, I contradicted the prevailing view," Lockeretz says.
In 1981, he received a grant to analyze the economics of using soybean oil for fuel and looked around for a university that would host him during his research. Stanley Gershoff, now dean emeritus of the Friedman School, was the most enthusiastic academic he met with. "He saw the connection between what I was going to do and the broader mission of the nutrition school," Lockeretz says.
After 12 years as a researcher, Lockeretz and his colleague, Molly Anderson, put together a proposal for a unique program of study that would connect three areas related to nutrition. Virginia Berman, N96, was among the nine students in that first Agriculture, Food and Environment class in 1994. "Willie gave us the rare gift true teachers provide-knowledge and passion to spark in each of us the desire to be part of the solution," Berman says.
She says Lockeretz could enchant students with diagrams of bovine digestive systems and engage them with USDA agricultural data. "Statistics in his class became living people with stories," she says. She remembers his multimedia presentation on the 1930s' Dust Bowl, which since has become a hallmark of his class. In addition to the farming facts, he pulled together photographs, folk music, literature and plays created under the Works Progress Administration.
"It was primarily work relief for artists, but the people who headed these projects were visionaries," Lockeretz says. "They wanted to do valuable things that people would learn from." The USDA was just as ingenious, creating agencies such as the Soil Conservation Service and the Rural Electrification Administration. "It was the most creative period in agricultural policy-making in our history," he says.
When not teaching, Lockeretz sings tenor with the Yiddish Community Chorus of the Workmen's Circle. "I'm pretty proud of that because I think we're pretty good," he says. His music and teaching skills are reflected in his sons: David, a jazz musician, and Benjamin, a high school math teacher. His wife of 41 years, the writer Sarah Wernick, had her own Friedman School connection, having collaborated with Professor Miriam Nelson on the first three books in the best-selling Strong Women series. She died of cancer last November.
In some ways, farming practices have improved in the last 35 years, particularly when it comes to pesticides and soil erosion. But factory farms have become the dominant mode for livestock, "and I think that's a very bad development," Lockeretz says. Agricultural industrialization will continue, he predicts, while the organic movement will gain more footing.
"The alternatives will become more prominent," he says, "but always be an alternative."
As his final semester came to an end, Lockeretz was busy choosing the menu for his retirement party. A group of friends, colleagues and former and current students will be joining him in Italy this summer for, appropriately, a "slow food" feast of locally grown and lovingly prepared regional dishes. Bon voyage, Professor.
This story first appeared in the spring 2008 issue of Tufts Nutrition magazine. Julie Flaherty can be reached at julie.flaherty@tufts.edu.