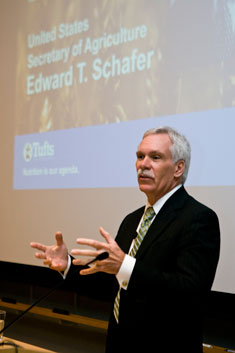 "We need to increase the yields of our crops in every country around the globe or we're not going to be able to meet the demand," says U.S. Secretary of Agriculture Edward Schafer. His lecture is also available as a video. Photo: Joanie Tobin
Growing the World's Food Supply
Don't expect global food shortages to end any time soon without new technology, warns the U.S. secretary of agriculture
By Julie Flaherty
Food prices worldwide have risen 57 percent in the last year, according to the United Nations, igniting food riots from Cameroon to Indonesia. The cause, analysts say, is a "perfect storm" of higher food consumption, rising energy prices, demand for biofuels and poor harvests. Yet when the storm passes, says U.S. Secretary of Agriculture Edward Schafer, don't expect calm seas to follow.
"Too many people say, 'Well, if energy prices go down, or we back off on our effort for biofuels, or the dollar value goes up, things will change again,' " Schafer says. "But the reality is our globe is changing and people's demands are getting stronger and more food is being consumed as economies increase around the world. And we can't change that back."
Speaking to an audience of students and faculty at the Gerald J. and Dorothy R. Friedman School of Nutrition Science and Policy on April 30, Schafer said that an evolving middle class in countries like India and China is boosting demand for meat, dairy products and processed foods, as well as grain for livestock. At the same time, the world's population is growing by 57 million mouths each year.
"The question today is how can developed nations find new, creative ways to meet the critical demands for food aid," Schafer says.
The world needs to grow more food on the same amount of land, he says, yet in Europe, Africa and some parts of South America, yield is virtually flat or declining. "We need to increase the yields of our crops in every country around the globe or we're not going to be able to meet the demand," he says.
Many countries have been reluctant to adopt high-yield American farming techniques and in particular, genetically modified crops, citing human safety and environmental concerns. But in the face of food shortage concerns, Schafer says, those countries are starting to relax their restrictions. Egypt has approved a genetically engineered corn variety, and Australia is ready to plant genetically modified canola in some states. Similar steps are being taken in India, China, Switzerland and Uganda.
"It's time to not allow political and social issues to drive the show here. We've got to be running by science, by good solid science," says Schafer, a former governor of North Dakota. "Americans are as skeptical about change and as demanding about safety as our European neighbors, but once satisfied that the science is sound, they recognize that not moving to the next plateau of human achievement is really just a step backwards."
To emphasize the need for innovation, Schafer points to USDA efforts to develop a strain of wheat that will be resistant to a virulent African stem rust disease that first appeared in Kenya in 1998 and spread to crops in Ethiopia and Pakistan. Schafer calls the disease a great threat to American wheat stocks, which are already at a 60-year low.
The United States has also spent $1.2 billion researching how ethanol can be made from materials other than corn, including new-growth trees, wood chips, straw and grass. "We just can't depend on corn-based ethanol," Schafer says, asserting that new biodiesel sources will help alleviate the distorted price of corn, which, as the primary feed grain for livestock, is contributing to soaring commodity prices.
In the meantime, to ease the deepening food crisis, the United States announced in April that it would release $200 million in wheat stores from an emergency crop trust. The White House is also asking Congress for $350 million in last-minute food-aid funding for fiscal 2008. If the request is approved, the current year's budget for overseas food aid would total $2.3 billion.
Schafer says he believes that up to 25 percent of food aid funds should be used to buy food locally from farmers in developing countries, saving in shipping costs and response time.
"Congress has restricted us right now because they say we have to buy American products" and then ship them overseas, Schafer says. "We think we need the flexibility to respond today to emergency needs." Congress seems willing to give the plan a try on a smaller scale. The five-year, $290 billion farm bill, which Congress passed two weeks after Schafer's talk, provides $60 million to purchase food overseas for people in need.
Julie Flaherty may be reached at julie.flaherty@tufts.edu.