Hats Off to the Class of 2008
Commencement speaker Meredith Vieira advises graduating students to follow their own paths
By Marjorie Howard
Award-winning journalist and television host Meredith Vieira, J75, urged members of the Class of 2008 to listen to their own voices and to believe in themselves. "You have an internal compass," she said, speaking at the all-university commencement exercises on May 18. "I would urge you to follow it."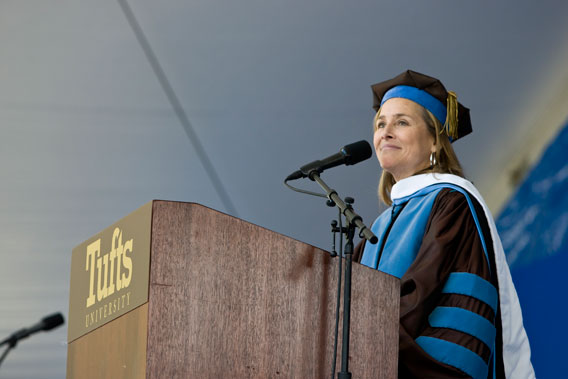 Commencement speaker Meredith Vieira told the graduates to be open to all of life's possibilities. See a slideshow of the all-university commencement. Photo: Melody Ko
Under a nearly cloudless sky, Vieira was the main speaker and the recipient of an honorary degree at the ceremony held on the Medford/Somerville campus. The university awarded 2,828 degrees-1,295 undergraduate degrees and 1,533 graduate degrees-during its 152nd commencement.
Tufts President Lawrence S. Bacow presented honorary degrees to Pulitzer Prize-winning poet Mary Oliver; Steven S. Manos, retired executive vice president of Tufts; Robert S. Schwartz, deputy editor of The New England Journal of Medicine and former professor at the Tufts University School of Medicine; Susan Rodgerson, founder of Artists for Humanity; and Donald E. Wilson, M62, senior vice president of health sciences at Howard University.
In front of a joyous and often exuberant audience of students and their families, Vieira spoke in sometimes funny and irreverent terms about her own odyssey that started at Tufts. Being asked to speak at Tufts' commencement ceremonies was very emotional for her, said the host of NBC's Today show. To appreciative laughter she noted, "If I applied here now, I'd never get in, so I'm grateful to be invited back."
Vieira said she admires Tufts for its mission to create leaders and told an anecdote about a slightly misguided effort to provide leadership of her own while a student.
"I'm going to be honest," she said. "I wasn't much of a leader, except for January 1975, when I led a group of female students across the campus, streaking. . . . At one point I looked over my shoulder, and the only behind I saw was mine. So as I was crouching in the bushes, waiting for the campus police to drive by. . . it struck me that every leader occasionally will find themselves alone and exposed," she said to appreciative laughter.
Vieira noted there is no clear path from point A to point B or any "right" way to find success. Her own career, she said, began partly by chance when she took a broadcast journalism course at Tufts and discovered she enjoyed it. She was asked to narrate a radio documentary and a CBS radio newsman heard it and offered her an internship.
"And literally that's all it took," said Vieira. "It was in the moment. It was one person seeing a spark in me and opening a door that I went through. Had I not taken that class, I don't really know what direction I would have taken."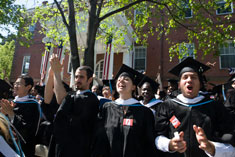 Tufts awarded 2,828 degrees-1,295 undergraduate degrees and 1,533 graduate degrees-during its 152nd commencement. Photo: Melody Ko
Vieira told the graduating students to believe in themselves and related an incident in which a pep talk by her father helped her realize she had the ability and wherewithal to succeed in a challenging career. In her first television job, she said, the news director called her in and said, "You don't have what it takes." Her father asked her if she thought she could do the job. When she said she could, he encouraged her to believe in herself. She returned to work, met with the news director and he gave her a second chance.
Vieira was tested again in a well-known incident. By now the mother of one child with a second on the way, she was working for the CBS newsmagazine 60 Minutes-a job she had long dreamed about. She was told to either work full time or leave.
"In that moment I did what I urge all of you to do. I listened to my gut and I said, 'You know what, I'm out of here.' And I said it in a nice way. And that night for the first night in years I really slept well."
"I had to be true to myself, as hard as that was and as scary as that was. You've got to listen to the voice in your gut. It is individual. It is unique. It is yours. It's called being authentic. There's only one of you and maybe you're not going to follow the path that other people would like to put you on, but that's OK. You're going to find the path that's right for you."
Vieira said one of the rewards of her profession is hearing from people who thank her for doing her job, for informing them or for helping them get through a difficult time by making them smile.
"What I've found," Vieira said, "is that all of us need to connect, we need to reach out to each other. It is the greatest gift that you can give to anybody and ultimately the most important gift of all."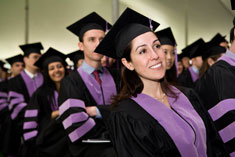 There were 174 School of Dental Medicine graduates at the May 18 ceremony. Photo: Alonso Nichols
New Dentists Urged to Care for Underserved
On Carmichael Quad, 174 members of the class of D08 became doctors of dental medicine. Dean Lonnie H. Norris commended the class for its dedication to excellence and for its commitment to deliver care to the underserved, from the neighborhoods of Boston to developing nations around the world. He also urged the new graduates to maintain their ties to the School of Dental Medicine. "We were fortunate to have had you," he said. "Help us continue to be a leading dental school."
In the midst of the celebration, the new graduates honored their classmate Edilene Chaves Evangelista, a member of the class of international dental students trained at Tufts to practice in the United States, who died in a car accident in December 2006. Evangelista's husband, Sirlei Evangelista, and their small daughter took the stage to receive her diploma.
Aaron Sheinfeld and Marcelo Suzuki, both assistant professors of prosthodontics and operative dentistry, received the Dean's Award for Excellence in Clinical Teaching. Anthony Silvestri, a clinical professor of prosthodontics and operative dentistry, shared the Dean's Award for Excellence in Pre-clinical Teaching with eight-time winner Charles H. Rankin, a professor of endodontics. The Dean's Award for Excellence in Basic Science Teaching went to Alvar Gustafson, an associate professor, and the Provost's Award for Outstanding Teaching and Service went to Petros Damoulis, professor of periodontology, who leaves the school this spring to return to his native Greece after nine years.
In addition to the new D.M.D.s, 17 students were awarded master's degrees, and 48 received postgraduate certificates of achievement and fellowships. The ceremony ended with James B. Hanley, the dental school's associate dean for clinical services, leading the graduates as they recited the dental graduate oath.
Make Your Visions Happen, Medical and Sackler Students Told
Commencement ceremonies for School of Medicine and the Sackler School of Graduate Biomedical Sciences took place at the Gantcher Family Sports and Convocation Center.
In his commencement address, Donald Wilson, M62, began by cautioning the graduates assembled before him: "From today on, the patient is the center of your professional career." He noted that they would be starting out at a time when the United States spends more on medicine than any other nation in the world, yet millions of people are uncovered by health insurance and half of all Americans remain unsatisfied with the quality of the care they get.
He then offered some straightforward advice to the graduates.
First, "have a vision for where you want to go," Wilson said. "Otherwise, how will you know when you reach it?" At the same time, be prepared to adjust your vision along the way. Second, work hard. "If you are looking for the secret and the shortcut around hard work, there isn't any," Wilson warned. Third, be honest. "Honesty contains enormous power that you can use to your advantage," Wilson said, whereas "lies have a way of coming back to you like pigeons."
Finally, know your strengths and weaknesses. Put another way: "Be realistic about who you are and what you can do." All of which had a way of circling back to the speaker's initial injunction, which seemed to shape and inform the others. "Fall in love with your vision," Wilson urged in closing. "Plan on it, work toward it and make it happen."
Earlier, Medical Class President Jonathan Flug, M08, reminisced about the past four years, remarking how the White Coat Ceremony, when he first donned his "milky-white coat," seemed like yesterday. Flug reminded his classmates how diligently they had studied, joking, "We were masters of cramming the night before each exam, and equally adept at celebrating the next night."
Mun Chun Chan, Ph.D., who gave the Sackler student address, drew an amusing contrast between Sackler students (with their collective memories of "days, nights, holidays, weekends spent in the lab") and the medical students who shared space with them on the Boston campus. He sketched himself alone in the library, wearing a soiled T-shirt. "You are the ones who are dressed way too nicely, sitting together and talking excitedly about your first physical exam," said Chan.
Yet the two groups, doctors and scientists, researchers and clinicians, have a common tie, he noted: to improve the world's health. "It is an honor to graduate with each and every one of you," he said.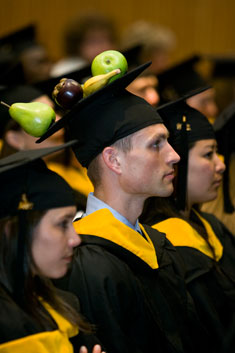 At least one graduate from the Friedman School of Nutrition Science and Policy wasn't taking the day entirely seriously. Photo: Joanie Tobin
A Relevant Career in Nutrition
Eileen Kennedy, dean of the Gerald J. and Dorothy R. Friedman School of Nutrition Science and Policy, told the audience at Cohen Auditorium that issues concerning food and nutrition are affecting both underdeveloped and industrialized nations.
"With your talent, you will be in high demand," she said at the start of the school's 27th commencement ceremony.
Robert Russell, director of the Jean Mayer USDA Human Nutrition Research Center on Aging, agreed, but added that few graduates will end up doing what they expected to do. Russell related his own experience, saying that after finishing medical school he was certain he would be a psychiatrist. Instead, he was drafted during the Vietnam War. Seeing the diseases suffered by malnourished war orphans inspired him to embark on a career in nutrition and public health, including more than a quarter century at the Friedman School.
"A lot of your learning now is going to be accidental learning," he said.
Russell, who was named a professor emeritus earlier in the day at the university-wide commencement ceremony, also spoke of his setbacks. He spent several years researching beta-carotene, which had shown some strong promise as a cancer-fighting nutrient. But his hopes were dashed when it was discovered that high doses of the compound can actually stimulate lung cancer in smokers.
"Since a lot of my career up to that point had been invested in beta-carotene, I thought this was devastating, and I was going to have to find another career," he said. But he decided to look at the reasons behind these effects and found four new genomic and cell-signaling mechanisms that could explain the paradox, opening up a whole new research area.
The upside of failure was also a theme for Jennifer Layne, a Ph.D. recipient, who revealed in her class address that she did not pass her doctoral qualifying exams the first time she took them. She learned, she said, that it's important to be able to articulate what you know, and to admit what you don't know.
"If we can be humble enough to view each mistake as an opportunity to learn, then we will be successful, both personally and professionally," she said.
A. Dana Callow Jr., A74, a member of the Tufts University Board of Trustees, encouraged the graduates to embrace their disappointments.
"You can't fail what you don't try," he said. "If you don't make mistakes and have some failures, you won't have some very, very valuable lessons."
First Ph.D. at the Veterinary School
The Cummings School of Veterinary Medicine awarded degrees to 78 new doctors of veterinary medicine and to 14 recipients of the master of science degree from the school's Animals and Public Policy Program.
Zenda L. Berrada earned the school's first doctor of philosophy degree in comparative biomedical sciences for her work on tularemia, also known as "rabbit fever." When she began her research, she had no idea that tularemia was the very same disease that had killed her great-great-grandmother, who lived in Kansas in the 1920s and whose family hunted rabbits, which was their primary source of sustenance.
The ceremony took place at the Franklin M. Loew Veterinary Medical Education Center, where Dean Deborah T. Kocehvar presided over the event. Patricia L. Campbell, executive vice president of Tufts University, also congratulated the new degree recipients. "My bet is you'll be smiling for the rest of your career, because you'll be doing something you truly love," she said.
Cultural Diplomacy Urged at Fletcher Ceremonies
The Fletcher School of Law and Diplomacy awarded 164 master's degrees and nine doctorates.
Fletcher Class Day was held on May 17, where Joseph W. Polisi, F70, president of the Juilliard School, addressed the graduating class. He stressed the importance of cultural diplomacy in bringing about change in the world and cited the New York Philharmonic's spring concert in Pyongyang, North Korea, as a prime example of the power of the arts to bridge divides between nations.
Corey O'Hara, a member of the graduating class, spoke to his classmates at commencement ceremonies held at Fletcher Field on May 18. He said Fletcher offered its graduates a range of "truly remarkable opportunities" and that the choices offered are not necessarily simple ones.
"No matter how much we try to simplify them, our lives are not going to be simple," he said. "Every day, every one of us is going to make decisions to do things the hard way. We'll sacrifice money and convenience because we have other priorities. We'll sacrifice relationships and time with our families in favor of intestinal parasites in exotic countries."
O'Hara said that Fletcher graduates are not passive observers. "Having a global perspective means seeing global challenges-and you and I and everyone else here sees those as global opportunities. We didn't make the simple choice. Here, it's law and diplomacy. And international business, environment and resource policy, security studies, and even international body-building. These and more-and all of the above," she noted. "Complexity is what makes this school, and this world, an interesting place to be."
O'Hara told his classmates that they would be influencing policy. "The choices we make are going to have real consequences and we can't forget to pay attention to how complex the world really is."
Marjorie Howard can be reached at marjorie.howard@tufts.edu. Julie Flaherty, Jacqueline Mitchell, Tom Keppeler and Bruce Morgan contributed to this story.