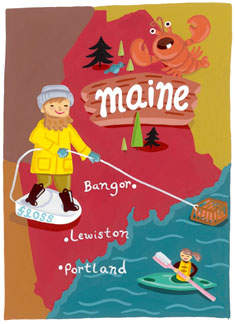 Illustration: Janell Genovese
Mainly in Need of Dentists
It's lobster rolls for everyone in the effort to lure dental professionals to Maine
By Julie Flaherty
If the dentists won't come to Maine, Maine will come to the dentists. That's been the working philosophy of some determined recruiters from the Vacationland State, who have gone so far as to bring lobster roll meals to Tufts and other dental schools in the hopes of luring graduating dental students to set up practices up north.
Maurice J. Convey, D94, who chairs the Maine Dental Association's subcommittee on workforce development, said Maine has gone to some great lengths to increase its dentist population, which is one of the lowest per capita in the country. They've visited high schools and middle schools, hoping to pique younger students' interest in pursuing a dental career. Some dentists, such as Lucien Daigle, D80, of Fort Kent, have had college students shadow them in their practices.
Compared with the national average of one dentist for every 1,656 patients, Maine had one for every 2,165 patients in 2002. "In the next five years, they predict that ratio will be one to 12,000," Convey said, as about 20 percent of Maine's dentists will retire in that time. "A lot of older dentists are eager to bring in new partners."
Convey, a Long Island native, didn't know how much Maine needed dentists when he decided to move here after dental school. He came for the snowboarding and skiing, joining a practice near the Sunday River resort. And that's the pitch he still uses: that Maine is a wonderland for any and all outdoor sports, from snowshoeing to waterskiing.
He can also promise prospective Maine dentists that the work is comprehensive (with the limited number of specialists to go around, dentists are often called upon for the occasional root canal or set of dentures), and grateful patients are guaranteed. "In California, some dentists are still doing hygiene to keep themselves busy," he said.
Justin Griffee, D07, could have gone to sunny Miami when he graduated (both he and his fiancé, Christina Dominguez, D06, were licensed to practice in Florida), but they chose to head north, in part because Aspen Dental, a fast-growing chain that has seen an opportunity in Maine, offered them positions in its South Portland and Biddeford offices. Their money goes farther than it would in high-rent cities like Miami or Boston, and the couple, who both did public health externships, like that they are doing more than cosmetic dentistry.
"We see patients every day who haven't been to the dentist in decades," Griffee said.
Convey sees the chain as a good thing. "It's going to expose those newer graduates to the lifestyle in Maine, even if they don't stay in those large clinics." He's also encouraged that the University of New England is considering building a dental school in Maine, the state's first. "We know most dental students tend to stay in the state where they go to school," he said. And just having a dental school nearby might inspire Maine high school students to consider dentistry as a profession.
Vermont recruiters may hand out free ski passes and Green Mountain coffee to dental students, but the Maine contingent wants to bring its lobster-roll presentation to the Yankee Dental Congress next year. And when the Maine Dental Association holds its annual meeting in the picturesque town of Rockport, it is considering busing students up from Boston and putting them up in a hotel for the night. Take that, Palm Beach.
This story first appeared in Tufts Dental Medicine magazine. Julie Flaherty can be reached at julie.flaherty@tufts.edu.