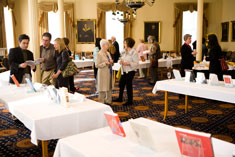 The Dean's Book Party showcased 52 books by Arts and Sciences faculty. Photos: Alonso Nichols
Books of the Year
Publications from A&S authors and musicians range from poetry to faith healing and the future of democracy
April was National Poetry Month, and anyone looking for a dose of new verse would have found it at the annual Dean's Book Party, hosted on April 16 by Arts and Sciences Dean Robert Sternberg. Two volumes by poets from the Tufts A&S faculty were among the 52 books featured.
Metropolitan Tang (Black Sparrow Books, 2008), the first collection from Linda Bamber, associate professor of English, has been much-anticipated by those familiar with her previous poetry, fiction, articles and essays. Poet and critic Tony Hoagland, comparing Bamber to the mid-20th century New York poet Frank O'Hara, calls her work "bopping but sincere, humanistic and grounded but exuberant and irreverent."
The second volume, also a first collection, was O Woolly City (Tupelo Press, 2006) from English department lecturer Priscilla Sneff, winner of the 2004 Kenyon Review Prize in Poetry. Sneff is "a writer for whom the poetic occasion arises not from assignment but authenticity and purpose," wrote Kenyon Review poetry editor David Barker. "She is like an old troubadour poet brandishing the wand of a postmodern trickster, a mixer of syntax and matter, self-conscious song and wild ceremony."
And poetry aside, the rest of the honored books covered a wide array of literary styles and subject matter, showing at once the breath and depth of the A&S faculty. Topics ranged from 19th-century faith healing to the future of democracy; from a 300-year history of art museums to four years in the history of the New York Yankees.
The book party, held annually in the Coolidge Room at Ballou Hall, honors A&S faculty authors who have published recently. This year's event also featured newly published musical recordings.
"The Tufts Dean's Book Party is an opportunity for A&S faculty members to display the books on which they have worked so hard, and for all A&S constituents to take pride in the scholarly work of our faculty," says Sternberg.
The bibliography from this year's event follows:
Elizabeth Ammons, ed. Harriet Beecher Stowe's Uncle Tom's Cabin: A Casebook. New York: Oxford University Press, 2007.
Jody Azzouni. Tracking Reason: Proof, Consequence, and Truth. New York: Oxford University Press, 2006.
Linda Bamber. Metropolitan Tang. Boston: David R. Godine, A Black Sparrow Book, 2008.
Cristelle Baskins and Lisa Rosenthal, eds. Early Modern Visual Allegory: Embodying Meaning. Burlington, Vt.: Ashgate Publishing Co., 2007.
Marina Umaschi Bers. Blocks to Robots: Learning with Technology in the Early Childhood Classroom. New York: Teachers College Press, Columbia University, 2008.
Jay Cantor (writing as Plessis) and Daniel Edwards (writing as Séguier). Niche. Paris: Editions Le Laboratoire and Ecole Normale Supérieure de Beaux Arts, 2007.
Benjamin L. Carp. Rebels Rising: Cities and the American Revolution. New York: Oxford University Press, 2007.
Eric Chaisson and Steve McMillan. Astronomy: A Beginner's Guide to the Universe, 5th Edition. Upper Saddle River, N.J.: Pearson Prentice Hall, 2007.
Kerri Conditto. Cinéphile: French Language and Culture through Film. Newburyport, Mass.: Focus Publishing, R. Pullins Co. Inc., 2007.
Heather D. Curtis. Faith in the Great Physician: Suffering and Divine Healing in American Culture, 1860-1900. Baltimore: Johns Hopkins University Press, 2007.
Conchita L. Davis and Claudia M. Mejía. Miradas: Contextos para conversar y escribir. Upper Saddle River, N.J.: Pearson Education Inc., 2008.
Jim Dow. Marking The Land: Jim Dow in North Dakota. Chicago: University of Chicago Press, 2007.
Louise Dunlap. Undoing the Silence: Six Tools for Social Change Writing. Oakland: New Village Press, 2007.
Ioannis D. Evrigenis. Fear of Enemies and Collective Action. Cambridge: Cambridge University Press, 2008.
John M. Fyler. Language and the Declining World in Chaucer, Dante, and Jean de Meun. Cambridge: Cambridge University Press, 2007.
Sol Gittleman. Reynolds, Raschi and Lopat: New York's Big Three and the Great Yankee Dynasty, 1949-1953. Jefferson, N.C.: McFarland & Co., 2007.
David Valdes Greenwood. A Little Fruitcake: A Childhood in Holidays. New York: Da Capo Press, 2007.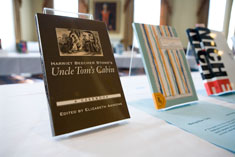 David Valdes Greenwood. Homo Domesticus: Notes from a Same-Sex Marriage. New York: Da Capo Press, 2007.
Boris Hasselblatt, ed. Dynamics, Ergodic Theory and Geometry. Cambridge: Cambridge University Press, 2007.
Elizabeth Teresa Howe. Education and Women in the Early Modern Hispanic World. Burlington, Vt.: Ashgate Publishing Co., 2008.
Joseph Hurka. Before. New York: St. Martin's Press, 2007.
Ray Jackendoff. Language, Consciousness, Culture: Essays on Mental Structure. Cambridge: MIT Press, 2007.
Ayesha Jalal. Partisans of Allah: Jihad in South Asia. Cambridge: Harvard University Press, 2008.
James Jennings, ed. Race, Neighborhoods, and the Misuse of Social Capital. New York: Palgrave MacMillan, 2007.
Richard M. Lerner. The Good Teen: Rescuing Adolescence from the Myths of the Storm and Stress Years. New York: The Stonesong Press, LLC, 2007.
Richard M. Lerner and William Damon, eds. Child and Adolescent Development: An Advanced Course. Hoboken: John Wiley & Sons Inc., 2008.
Richard M. Lerner and Rainer K. Silbereisen, eds. Approaches to Positive Youth Development. Los Angeles: Sage Publications Ltd., 2007.
Peter Levine. The Future of Democracy: Developing the Next Generation of American Citizens. Medford: Tufts University Press, 2007.
Beatrice Forbes Manz. Power, Politics and Religion in Timurid Iran. Cambridge: Cambridge University Press, 2007.
José Antonio Mazzotti and José Luis Falconi, eds. The Other Latinos: Central and South Americans in the United States. Cambridge: David Rockefeller Center for Latin American Studies, Harvard University, 2007.
Andrew McClellan. The Art Museum: From Boullée to Bilbao. Berkeley: University of California Press, 2008.
Lynn Meltzer, et al. Parent Guide to Hassle-Free Homework: Proven Practices That Work From the Research Institute for Learning Development. New York: Scholastic Inc., 2007.
Lynn Meltzer. Executive Function in Education: From Theory to Practice. New York: Guilford Press, 2007.
Neil Miller. Kartchner Caverns: How Two Cavers Discovered and Saved One of the Wonders of the Natural World. Tucson: University of Arizona Press, 2008.
Isabelle Hoog Naginski. George Sand: Mythographe. Clermont-Ferrand: Presses Universitaires Blaise Pascal, 2007.
Susan J. Napier. From Impressionism to Anime: Japan as Fantasy and Fan Cult in the Mind of the West. New York: Palgrave MacMillan, 2007.
George Norman, Lynne Pepall and Dan Richards, eds. Industrial Organization: Contemporary Theory and Empirical Applications, Fourth Edition. Malden: Blackwell Publishing, 2008.
Susan A. Ostrander and Kent E. Portney, eds. Acting Civically: From Urban Neighborhoods to Higher Education. Medford: Tufts University Press, 2007.
Sarah Pinto. Where There Is No Midwife: Birth and Loss in Rural India. New York: Berghahn Books, 2008.
Ann Rappaport. Degrees That Matter: Climate Change and the University. Cambridge: MIT Press, 2007.
Christiane Zehl Romero. Anna Seghers Briefe 1924-1925. Ich erwarte Eure Briefe wie den Besuch der besten Freunde. Berlin: Aufbau-Verlag, 2008.
Amy Ingrid Schlegel et al. Ilya & Emilia Kabakov: The Center of Cosmic Energy. Medford: Tufts University Art Gallery, 2007.
Sharan L. Schwartzberg, Margot C. Howe and Mary Alicia Barnes. Groups: Applying the Functional Group Model. Philadelphia: F.A. Davis Co., 2008.
Laurence Senelick. Historical Dictionary of Russian Theater. Lanham, Md.: The Scarecrow Press Inc., 2007.
Laurence Senelick, translator. Love And Intrigue (Author, Friedrich von Schiller). New York: Broadway Play Publishing Inc., 2008.
Laurence Senelick, translator and editor. The Complete Plays: Anton Checkhov. New York: W.W. Norton & Co. Inc., 2006.
Tony Smith. A Pact With The Devil: Washington's Bid for World Supremacy and the Betrayal of the American Promise. New York: Routledge, Taylor & Francis Group, 2007.
Priscilla Sneff. O Woolly City. Dorset, Vt.: Tupelo Press, 2006.
Robert J. Sternberg et al. Applied Intelligence. Cambridge: Cambridge University Press, 2008.
Robert J. Sternberg. Cognitive Psychology, Fifth Edition. Belmont, Calif.: Wadsworth, Cengage Learning, 2008.
Robert J. Sternberg and Elena Grigorenko. Teaching for Successful Intelligence: To Increase Student Learning and Achievement, Second Edition. Thousand Oaks, Calif.: Corwin Press, 2007.
Maryanne Wolf. Proust and the Squid: The Story and Science of the Reading Brain. New York: HarperCollins, 2007.
Newly Published Musical Recordings
Donald Berman, piano. Aaron Jay Kernis, conductor. Simple Songs, Valentines, Songs of Innocents. Port Washington, N.Y.: Koch Entertainment LP, 2007.
Joanna Kurkowicz, violin. Shirish Korde, producer; Rubén Silva, conductor, National Polish Radio Symphony Orchestra. Svara-Yantra. Cambridge: Neuma Records, 2006.
Gil Rose, conductor. John Harbison Ulysses: Complete Ballet. Boston Modern Orchestra Project. Boston: BMOP/sound, 2008.
Thomas Stumpf, piano. Schumann & Kirschner. Dichterliebe in Four Seasons. Albany: Albany Records, 2007.