Moving Up
The women's tennis team helps a homeless family start a new life
By Paul Sweeney
With the help of the Tufts women's tennis team, a local homeless family recently received an opportunity to help turn their lives around.
In association with Heading Home, an organization that provides emergency shelter, housing and support services for more than 1,500 homeless and low-income people each year, the Tufts team moved a single mom and her three-year old son from a shelter into a permanent apartment in late February.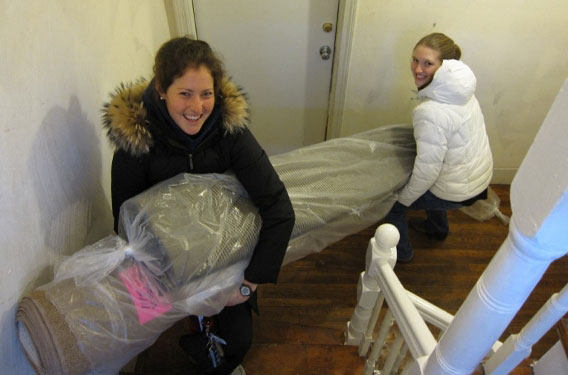 Senior tri-captain Laura Hoguet (left) and sophomore Jenn LaCara lug carpet up the stairs to the new apartment. Photo: Jaime Kenney
As part of Heading Home's Up & Out program, the Tufts team raised more than $2,500 to set the family up in its own apartment. The Jumbos collected donations from friends, family members and alumni, and also received a $500 grant from Tufts. Families of team members purchased home goods such as pots, pans and bedding. A recent alumnus donated a used television.
Up & Out is Heading Home's signature volunteer program, which assists individuals and families who are moving into their own apartments for the first time after being homeless.
"The Tufts tennis team did a wonderful job moving a single mother and her three-year-old son into permanent housing," says Margaret Farmer, a development officer for Heading Home who coordinated with the team. "Many families who move out of shelter do so with only a few bags of clothes and nothing more. The Tufts team ensured that this family moved into a safe, clean, furnished apartment that will allow them to start a new, better life."
The Jumbos spent time with the family to learn more about their needs, interests and goals. The day of the move involved cleaning, furnishing and decorating the apartment, followed by picking up the family and presenting them with the keys to their new apartment. For the Jumbos, the experience was like participating in Extreme Makeover: Home Edition, the popular television program.
"I truly enjoyed the entire experience, from collecting donations to setting up the apartment," says tri-captain Julia Browne, A11. "The most meaningful part of it was when the family walked in and were able to see their new home. It was a very moving experience for our entire team and definitely something we will remember for the rest of our lives."
"My favorite part was decorating the rooms specifically for the family's style, so that they truly felt like they were at home when they walked into their new apartment," says tri-captain Meghan McCooey, A10. "Shopping and pulling everything together the day of the move was a wonderful bonding experience for our team. Seeing the faces of the family as they looked through the rooms was one of the most rewarding experiences of my life."
"I loved working with my teammates and coaches to make the house warm and comfortable for our family," says tri-captain Laura Hoguet, A10. "The whole experience was incredibly rewarding in so many ways, especially when the three-year old son's eyes lit up as he walked into his sports and Spiderman decorated room, started playing basketball on his new hoop and never wanted to stop playing."
Sports Information Director Paul Sweeney can be reached at paul.sweeney@tufts.edu.