What Next for Haiti?
Fletcher experts, including one who was in Port-au-Prince when the earthquake hit, weigh the country's options
By Leslie Macmillan
The group of Fletcher School faculty and students had gone to Haiti with a modest goal—to get people to put their money into banks rather than in their mattresses. They left a country in ruins, lucky to get out alive.
"We were all in a room together when the earthquake hit," says Kim Wilson, an expert in microfinance who was conducting research in Port-au-Prince with five Fletcher students and a research fellow. "We survived because we were terribly lucky."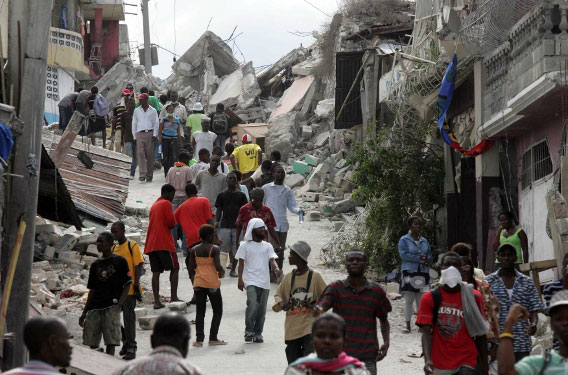 "We survived because we were terribly lucky," says Kim Wilson, who was in Port-au-Prince when the earthquake struck. Photo: Chesnot/Sema/AP
Fletcher has been sending faculty to Haiti for years to work on initiatives for economic, political and legal reform. Louis Aucoin, an associate research professor at Fletcher's Institute for Human Security, lived in Haiti for a year in 1997-98, working with the Haitian Ministry of Justice to reform its laws, which date from the Napoleonic era.
"The sad thing is that Haiti was doing somewhat better," says Aucoin. "President René Préval was faring fairly well, and there was a bit less corruption. Haiti also had a functional parliament at this point, and there are times when there hasn't been a functional parliament."
In addition, crime was down. "The greatest challenge was the problem of gangs. That's been quelled, and the credit goes to the U.N.," says Aucoin. "They took bold action. It was an amazing development. That's another reason why the loss to the U.N. is so sad." Some 150 U.N. staff died in the earthquake, including "a lot of key personnel," he says.
At this point, Wilson and Aucoin said there are more questions than answers as to how Haiti will begin to pull itself together in the months ahead. Aucoin wonders how the Haitian government will hold up. "Préval's voice is quite silent at this point, and there's been some international criticism about that. And the fact that I haven't heard anything about the major slum in Port-au-Prince, Carrefour, probably means there is more bad news to come."
Cooperation with international organizations will be important, but it won't necessarily be easy. "Historically, Haiti has been resistant to international intervention," Aucoin says, in part due to its history as a French colony. Haiti was the first black country to gain independence after the slave revolt of 1804 ousted the French colonial occupiers. "So Haitians are a very proud people."
Wilson, who lectures in international business at Fletcher and has been to Haiti three times on humanitarian missions with Catholic Relief Services, says that foreign assistance can only go so far. "I don't think aid is a long-term solution. The land is over-stripped, overgrazed and over-farmed. There aren't enough resources to support people."
Beyond aid, Wilson says the U.S. "needs to change immigration policies to allow more people in. That's not going to be popular, and a lot of people will say it's not practical, but what is practical?"
A positive development, Aucoin says, is that the U.N.'s success in eradicating gangs signaled "an unprecedented spirit of cooperation, because Haitians felt so grateful to the U.N. for bringing about an increased sense of security. This bodes well for Haiti working with the international community in the future."
Another positive, says Wilson, is the strength of a people who have suffered tragedy before.
"Something surprising happened the night of the quake," says Wilson. "Once darkness fell, the panic in the streets turned to song. People were reaching out to each other, certainly through that first night. We could hear it. It was very present and powerful, and it was continuous."
Leslie Macmillan can be reached at leslie.macmillan@tufts.edu.