The Puck Stops Here
Goalie Scott Barchard is a crucial part of the Jumbos' revival on the ice
By Paul Sweeney
When the Tufts University hockey team defeated Norwich University last year for the first time since the 1959–60 season, goalie Scott Barchard, A12, was the star of the game. His 39 saves led the Jumbos over the Cadets, a program steeped in tradition at the small college level.
"To be a championship team, you have to have a consistently spectacular goalie, and that is what Scott Barchard is," says team tri-captain Dylan Cooper. Photo: Joanie Tobin
Early this season, Barchard's 43 saves helped Tufts earn a 3-3 tie against Middlebury College, the Jumbos' first point against the eight-time national champions since the 1954–55 season. Barchard's 48 saves also helped Tufts defeat defending national champion Neumann University.
"We're a confident team this year," says Barchard, a sophomore from Reading, Mass. "We know that we have a chance every game to challenge our opponent, whether it's Middlebury, Amherst or anybody. With 60 minutes of effort every game, we know we can win."
A lot of the team's confidence stems from Barchard's superb goaltending. In a win at Saint Anselm College on December 5, he set a new Tufts record with 63 saves. Less than 24 hours earlier, he had stopped 52 shots in a victory at New England College. More impressive than the number of saves is the percentage of pucks that he stops. Barchard is currently ranked second among NCAA Division III goaltenders with a .942 save percentage. He finished ninth in the country as a freshman, with a .927 mark last year, when he set the Tufts single-season record with 862 saves.
"His play allows the other guys to be more relaxed out there," says Tufts coach Brian Murphy, A95, G98. "If they make a mistake, they know it probably won't end up in our net. That's really crucial in that it lets the other guys just play their game."
A Student of the Game
For a goalie who ranks as one of the best in the NCAA this winter, Barchard slipped under the radar during the college recruiting process. Tagging along with older brother Gregory got him interested in hockey and playing goalie in the first place. He went to high school at the Rivers School in Weston, Mass., and spent an additional year at Choate Rosemary Hall in Connecticut. Lost in the mix of potential goaltenders, he initially wasn't going to play in college.
But after a season of junior hockey with the Boston Shamrocks in 2007–08, some college programs showed interest. Barchard found Tufts to be a perfect fit. He has played 2,308 out of a possible 2,481 minutes during his career, helping to lead the revival of Jumbo hockey.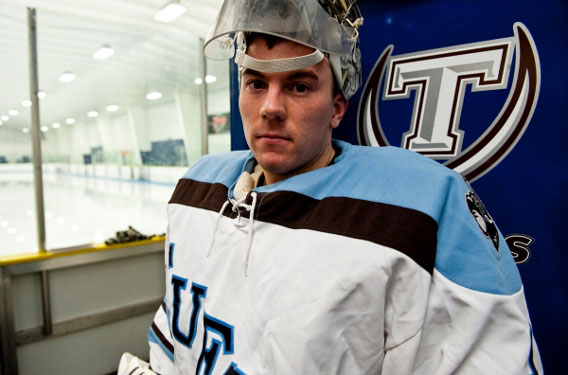 "His play allows the other guys to be more relaxed out there," says Tufts coach Brian Murphy, A95, G98, of Scott Barchard. Photo: Alonso Nichols
"To be a championship team, you have to have a consistently spectacular goalie, and that is what Barchard is," says team tri-captain Dylan Cooper, E11. "He is astoundingly consistent. He stops all the shots I'd expect him to, and then he stops those shots that make me say, 'How did he do that?' "
A true student of the game, Barchard has been following National Hockey League goalies since he was a kid. He's modeled his approach on the Canadian style of puck-stopping, with an emphasis on technique over flash. The mental and physical characteristics of Boston Bruins' goalies past and present like Andy Moog, Tim Thomas and Tuukka Rask have inspired his play.
"If a save looks flashy, then I feel like I'm out of position," says Barchard, a sturdy 6-foot, 195-pounder. "If I'm in a position where I can take it right in the chest and hold it, that's what I want to do. I try to play very simple."
Another sign of quality goaltending is a team's success in penalty killing. Tufts is currently ranked eighth nationally in that category, allowing just nine goals in 80 power-play opportunities by opponents (88.8 percent). Barchard is humble about his success, giving credit to the team's overall play on defense for making his job easier.
"He is a tremendously talented goaltender, but he is also one of the hardest working goalies I have been around," says team tri-captain Dave Antonelli, A10. "He is incredibly focused and is someone who leads by example. I have had the good fortune of having been captain for two years now, and he is certainly someone I have been able to count on in terms of the way he conducts himself and the example he sets."
An economics major, Barchard hopes to play professionally in Europe after college, more for the life experience than the paycheck or fame. Whether that happens or not, he knows that his time at Tufts is helping him set up the rest of his life.
"I always wanted hockey to help me get the best possible education," he says. "Tufts is giving me an opportunity to meet great people, have great professors, so that coming out of here I can go anywhere, do what I want and not be held back. I feel like I'm right where I should be."
Tufts Sports Information Director Paul Sweeney can be reached at paul.sweeney@tufts.edu.