Texas Grit
After years of hopping from one passion to the next, Dreama Sloan-Kelly, M02, has found her niche combining business and medicine
By Bruce Morgan
What kind of med student has the spare time and energy to pitch Mary Kay cosmetics to instructors during her third-year surgery rotation—and succeed at it? "You would see me in general surgery—all the surgeons were buying baskets for their wives," says Dreama Sloan-Kelly, M02. "They would tell me, 'Dreama, you've got skills other than medicine.' "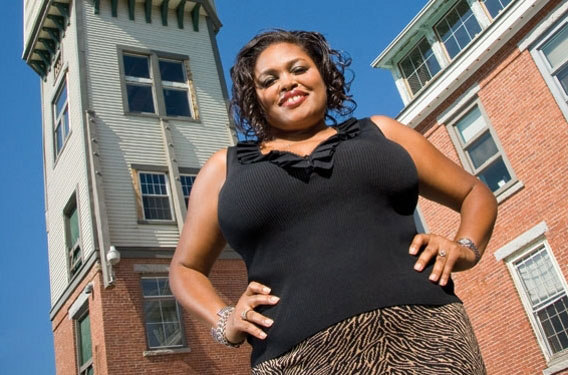 The M.D. on Dreama Sloan-Kelly's business card gave her instant credibility. Photo: Steve Marsel
You can blame Texas, if you like. That's where Sloan-Kelly spent her childhood, accompanying her ex-Air Force dad as he moved from managing one construction project to the next at sites across the Lone Star State. "I was always with him," she recalls happily. "I was his partner in crime." Her whole family had an entrepreneurial spirit and a knack for reinvention. Sloan-Kelly was serving beer at rock concerts and in sports arenas around her hometown of Dallas when she was 12 years old.
It wasn't until she reached Wellesley College that her hyperkinetic intellectual style posed a problem. There, she had trouble settling down long enough to master a foreign language. A professor told her simply, "I think you have a problem." Even now, Sloan-Kelly sounds vague about the nature of her disability. "I can analyze anything. I love puzzles," she says, "but I couldn't do a foreign language."
Medical school tightened the screws. Sloan-Kelly describes it as "a time of utter confusion, misery and growth." She got married. She got pregnant—twice—and left school each time, taking six years to earn her degree. Then there was her robust extracurricular life. She sold Mary Kay cosmetics her third year. By fourth year, she had begun teaching massage therapy in the evenings at a Cambridge school. And all through her medical training, she pursued a keen interest in medical billing procedures. "The doctors used to tell me, 'Dreama, this is not normal,' " she admits.
Her first real job, as director of the medical assistant program at a technical school called the Career Education Institute in Somerville, Mass., tapped this side of her. At CEI, she was teaching students—many of them from disadvantaged backgrounds—how to handle coding and billing procedures in doctors' offices. With typical zeal, which included leading her charges in rapid-fire chants of "I think I can, I think I can," she made a success of it, and them. The program began with 10 students; by the time Sloan-Kelly left a few years later, 700 were enrolled.
After CEI, she spent two years handling sales for a Boston entrepreneur who ran his own medical billing-and-coding support business. Sloan-Kelly broke new ground for the business, setting up accounts in the U.S., Canada, Barbados and elsewhere. "It was awesome; I was doing a million things," she says, "but once I learned the business, I bounced out." On the side, she had begun cold-calling 100 prospective clients a day to build her own emergent coding-and-billing enterprise, Kelly, Sloan and Associates.
Kelly, Sloan has been her life for the past four or five years. Operating out of a small office in a former mill building in Shirley, Mass., with her MIT-educated husband, Horace, as partner, the company sells coding-billing seminars—where she hits the stage wearing "a low-cut dress, high heels and all kinds of bling"—as well as coding-billing guidebooks she has written tailored to individual specialties and software programs that provide computer "audits" for medical practices.
"No part of this is intuitive," warns the boss. "Unless you know the reasons why you have been denied reimbursement, you will die on the vine." Right now, the business is growing at a pace of 20 or 30 percent annually.
Boston lawyer Robert Blaisdell found Sloan-Kelly's help decisive in a case where he was defending a physician who had been caught in a random audit by Medicare. "She was fantastic—she made a huge difference," he says. The M.D. on Sloan-Kelly's business card gave her instant credibility. "She knows the coding inside out, all the nuances of it, and was able to explain things to Medicare by talking on their level. I was there, and I could see the impression this made" on the auditors, Blaisdell relates.
In a way, all the chickens have come home to roost, from her days as a beer-jerk teen to restless medical student with blush and lipstick for sale. As Sloan-Kelly told her mom recently, "Every ounce of my life makes sense now."
This story first appeared in the Fall 2009 Tufts Medicine magazine.
Bruce Morgan can be reached at bruce.morgan@tufts.edu.