Flights of Fancy
Mark Karlins' latest children's book tells the story of a boy who wants to pursue his dreams—with a little help from Einstein
By Taylor McNeil
It's not often someone finishes a book and quickly picks it up again—and again. But in author Mark Karlins' case, it happens all the time. His audience is usually made up of four and five year olds, and in a child's world, repeated readings are a sign of affection for a story. What parent, after having read a picture book aloud for the gazillionth time, hasn't heard the plea, "Read it again"?
Coming up with ideas for stories isn't a problem—"sometimes there are so many ideas, the issue is how to sort through and choose one," says Mark Karlins. Photo: Alonso Nichols
That's no doubt the case with Karlins' latest children's picture book, Starring Lorenzo and Einstein Too (Dial Books, 2009), the story of Lorenzo Fortunato, a budding young scientist struggling to fit in with his family of vaudeville performers. Karlins, a longtime lecturer in English in the School of Arts and Sciences, tells the story with special empathy for his hero, who longs to be accepted for his talents, which just don't happen to include juggling.
Karlins' interest in children's books began, naturally enough, with his first child. "I fell in love with authors such as Maurice Sendak and William Steig," he says.
He had already written several volumes of poetry, then dipped into fairy tales, but found himself drawn to writing picture books. In the beginning, his drafts were 10 to 12 pages long—far more text than would fit in a picture book. But he learned the rhythm of the genre and published his first, A Christmas Fable (Atheneum), in 1990, and since then has published four more, including Music Over Manhattan (Doubleday), which was a bestseller in late 1998 on Amazon.
Writing children's books is like writing poetry: it's a condensed form, honed and lyrical, conveying feeling and tone as much as action, with an economy of verbiage. "It took me a long time to really figure out what a picture book is," Karlins says. "It has a very tight structure."
In manuscripts that are as few as two or three typed pages, characters have to be developed, a sense of time and place have to be established and a storyline built from beginning to end. "A lot of personality is conveyed through dialogue, but also the language in the narrative conveys a lot very quickly," Karlins says. "That's always a struggle."
Usually he works through 15 to 20 drafts before he's satisfied. "I often create really terrible first drafts just to get the material out there, and [then] I go back and edit it," he says.
He also knows the value of hearing his stories read aloud as works in progress, so he reads drafts to his wife. "There's something about reading it out loud," Karlins says. "You get a public witness, and somehow getting that witness and making it public changes the feel of it."
Albert Joins the Crew
Coming up with ideas for stories isn't a problem—"sometimes there are so many ideas, the issue is how to sort through and choose one," Karlins says. For Starring Lorenzo and Einstein Too, he says that his interest in theatrical families, and in particular vaudeville, was a starting point.
He also needed some tension, and his stories often feature a protagonist who doesn't quite mesh with his surroundings. In this case, Lorenzo doesn't fit in with his performing parents and siblings. He sneaks off to an abandoned pigeon coop on the roof of his Brooklyn apartment building to work on a secret science project: a rocket ship.
That Albert Einstein plays a key role in Lorenzo's tale—he makes the boy realize it's okay to be himself and like science instead of performing, and accompanies him on his ride through space—is one of those unpredictable twists that come up in creative writing.
"To be perfectly honest, I'm not quite sure how Einstein crept into the story," Karlins says. "I was writing one day, and Einstein appeared in the theater where the family was performing. He's such a loveable character, everyone's favorite scientist, and I decided to see what it would be like to keep him in the story."
A Little Audience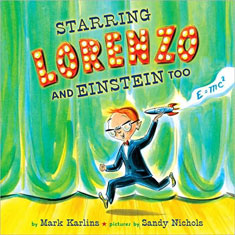 Being a children's author isn't usually terribly lucrative: given that some 30,000 books are published for young readers each year, few have a chance of really standing out. But Karlins got lucky his last go-round. Children's author Daniel Pinkwater has a monthly segment about his favorite new books on NPR's Weekend Edition Saturday with Scott Simon, and in late 1998, Pinkwater praised Music Over Manhattan.
What Publishers Weekly subsequently called "the Pinkwater effect" kicked in, and sales took off. "Before this, it was something like the 34,000th best-selling book in the country on Amazon," Karlins says, "and then, after Pinkwater's review, it was the second best-selling book in the country, trailing only Stephen King's Bag of Bones." According to a Publishers Weekly article a few months later, the book's print run had already doubled to 30,000.
With the new book recently published, Karlins continues to think about his young audience. He's starting to do school visits—kindergarten through third grade—to read his books and teach some basic science, illustrating points made in Lorenzo. "Before I even started going to schools, I gave a reading at a bookstore, and there were a lot of kids there," he says. "That actually helped me a lot. I suddenly realized: this is my audience, these little kids. It's really fun."
Taylor McNeil can be reached at taylor.mcneil@tufts.edu