Lights, Camera, Class
Former Tufts writer-in-residence Haruki Murakami's new Japanese best-seller has film crews coming to the Hill
By Helene Ragovin
The frenzy over a best-selling Japanese novel has reached Tufts. In mid-June, a film crew from NHK, Japan's public television network, arrived on the Medford/Somerville campus to interview Hosea Hirata, professor of Japanese in the School of Arts and Sciences.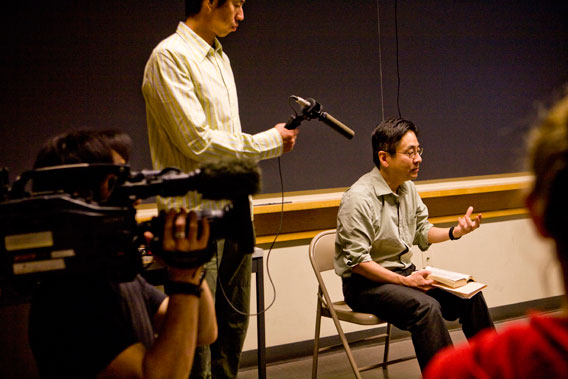 Hosea Hirata has unexpected company in class one Monday morning in summer: a film crew from NHK-TV in Japan. Photo: Joanie Tobin
Hirata teaches a popular summer-session class that compares the short stories of Japanese author Haruki Murakami and American author Raymond Carver. Murakami, who has long been wildly successful in Japan, published his most recent novel, titled IQ84, in May.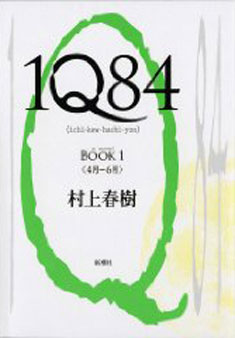 Haruki Murakami's latest book, now only available in Japanese.
It had been five years since Murakami's last novel, and his Japanese admirers greeted IQ84 with no little fanfare—imagine, for example, the simultaneous release of a new iPhone and a Harry Potter installment, and you might have an idea of the level of anticipation that gripped Tokyo. The sheer number of advance orders forced Murakami's publishers to increase the first print run by 100,000 copies.
In the wake of the new novel, NHK is producing a 30-minute documentary about Murakami and his worldwide success. Murakami was a former writer-in-residence at Tufts; before that, he and Hirata were colleagues at Princeton University.
Helene Ragovin can be reached at helene.ragovin@tufts.edu.