Stopping an Outbreak
A pesky virus in alpacas spawns broad research agenda at the Cummings School
By Leslie Limon
A female alpaca at Spruce Ridge Farm in New York's Hudson Valley gave birth to an apparently healthy female cria, as alpaca offspring are called, in 2005. Soon after, a male cria in the herd fell ill. Herd owner Steve McCarthy, president of the Empire Alpaca Association, brought the baby to the Cummings School, where Daniela Bedenice, an assistant professor of clinical sciences, suspected bovine viral diarrhea (BVD), which is prevalent in the cattle industry.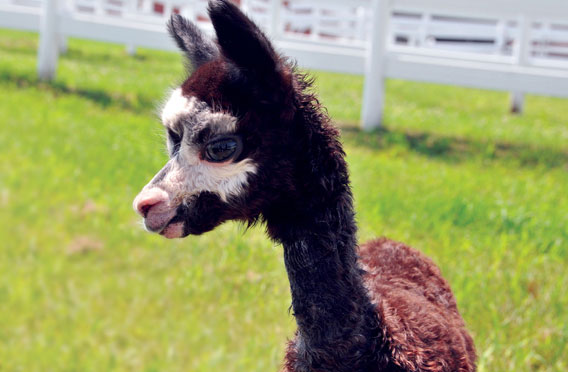 Research at the Cummings School has expanded what we know about alpacas and the diseases that compromise their health. Photo: Andrew Cunningham
Back in 2005, BVD was not considered common in alpacas, yet the male cria tested positive, as did 39 other alpacas in McCarthy's herd, including the newborn. Most of them recovered, but the newborn was found to be "persistently virus infected," having been exposed in utero before its immune system could develop antibodies to combat the disease.
A healthy alpaca mother whose offspring starts shedding the virus immediately after birth "is a kind of Trojan horse," says Bedenice. "The newborn may show no signs of illness for weeks as it silently spreads the virus through a susceptible herd." Among those exposed in McCarthy's herd were 12 pregnant females, which were taken off-site for birthing to evaluate the incidence of infection and isolate the crias. Nine had persistent infections, which Bedenice monitored in strict quarantine.
Physiologically, alpacas share common attributes with cows, horses and even cats. Intrigued by alpacas' gentle and inquisitive nature, Bedenice saw an opportunity to use her research to improve the health of this species of South American camelid.
After Spruce Ridge Farm became the first in the United States to go public with a case of BVD in an alpaca herd, Bedenice began to research the virus, supported by a gift from the Empire Alpaca Association. The industry also stepped up its efforts to educate owners. The New England Alpaca Owners and Breeders Association requires show animals to be tested for BVD exposure. At conferences, Bedenice would show photos of healthy-looking infected crias to debunk the myth that you can identify a sick cria on sight.
Another focus of Bedenice's research, Eastern equine encephalitis (EEE), a viral disease that causes inflammation in the brain, was first identified in alpacas at the Cummings School in 2004. The following year, she evaluated the prevalence of natural EEE antibodies in alpacas, and led a clinical trial to determine if the EEE vaccine would produce antibodies against the disease and to make sure it was safe. It did, and it was.
The cost of infectious diseases and other illnesses on alpaca herds is considerable. The average proven breeding female fetches anywhere from $20,000 to $50,000, and show animals considerably more.
"There is very little research done on alpacas compared to other livestock, and we appreciate Dr. Bedenice's commitment to our animals," says McCarthy. "Her unbelievable dedication and responsiveness endear her to us alpaca owners."
This story first appeared in the Spring 2009 issue of Tufts Veterinary Medicine magazine.