A Great Run
Softball places fourth in NCAA Championships, ends season with 44-3 record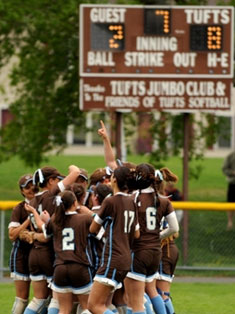 One of the season's highlights: the Jumbos winning the NESCAC 2009 softball championship.
The extraordinary 2009 Tufts University softball season is over, following a 5-0 loss to Gustavus Adolphus College at the NCAA Division III Championships on May 17 at Montclair State University in New Jersey.
Tufts, which placed fourth at the NCAA Championships, finished the year at 44-3. The team's outstanding .936 winning percentage ranks seventh-best all time in NCAA Division III softball history.
Earlier in the day, the Jumbos had a solid 4-0 victory over the University of Texas at Tyler in an elimination game. "Our bats came alive" in that game, said head coach Cheryl Milligan, J98, G01. "We didn't have as many base hits as we are used to getting, but we swung the bats better in key situations."
But in the game against Gustavus, the bats went silent, as the first six Tufts batters were retired.
Seeded first at the 2009 NCAA New England Regional hosted by Endicott College in Beverly, Mass., Tufts had swept through the field to win its second NCAA regional championship in early May.
For a softball regular season wrap-up, read
"Slugging Their Way to Success."