Construction Update
Many campus projects wend their way to completion
As the school year winds down, so are many construction projects. To keep the Tufts community up to date, here is a list of current projects, and their estimated completion dates:
MEDFORD/SOMERVILLE CAMPUS
Cousens Gymnasium "This is second phase of a four-phase project to expand and renovate the athletic facilities," says John Roberto, vice president of operations. The first phase, completed last summer, involved relocating utilities such as storm and sewer lines. The current phase is to renovate Cousens Gymnasium. "The basketball court is about 10 feet short of regulation size, so we could not host any kind of championship basketball games," he says. The court will be rotated 90 degrees to create an NCAA regulation-sized court. New hardwood floors are being installed, and lighting and safety systems will be upgraded. With new retractable bleachers, seating capacity will be about the same as it was prior to the renovation. The project is slated to be completed by mid-August.
Packard Hall The renovation is complete, says Roberto, and the political science department in the School of Arts and Sciences is moving in. The work included a complete gut renovation and installation of a new wing for an elevator and a secondary means of egress. "It's been completely renovated to provide offices and conference space and support space," says Roberto. "It was done almost as a restoration, more than a renovation. We put slate on the roof, which was the original material, and kept the original feel of the building from the exterior."
"Packard Hall is an icon of Tufts' Academic Quad, and the second-oldest building on campus," says Tufts President Lawrence S. Bacow. "Its wonderful restoration and renovation have truly given it new life."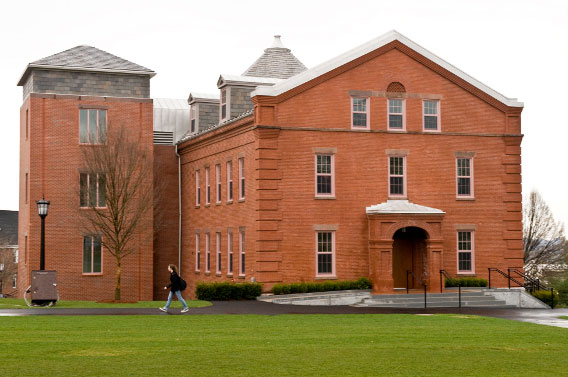 The Packard Hall renovation is complete, and the political science department is moving into its new home. Photo: Alonso Nichols
Pearson Chemistry Lab A completely new teaching lab for organic chemistry is being installed. "The scope of work is the usual: student benches, fume hoods, ventilation systems and a sprinkler system to bring us up to a modern teaching laboratory configuration," says Roberto. The project will be completed by September.
Tisch Library Roof Construction is complete on the library roof garden, known as Alex's Place. The renovation was made possible by Tom and Andrea Mendell, whose son, Alex, attended Tufts in 2002 and died in 2003. The project included a new roof, an accessible entrance plaza and the creation of artistic garden/meditation space with seating areas, landscaping and mosaic tile. "It's a great space," says Roberto.
51 Winthrop The work on the former Sacred Heart Church is complete, and the building is now used as multipurpose function space for the university. "It was a renovation that included replacement of windows, roof repair as needed, and on the inside, complete insulation of the roof and a new floor. It's one big, wide-open space," says Roberto. It is being used for conferences, executive education programs and functions such as the Tufts Alumni Association's Distinguished Service Awards dinner. It has space for some 200 people for formal seated service; seating capacity for the space when used as an auditorium is about 220.
BOSTON CAMPUS
Dental School Vertical Expansion This project, which will add five floors and 95,000 square feet to the 10-story building at One Kneeland Street, is ahead of schedule, and will be completed by the end of September, Roberto says. "Then there would be a phased occupancy by the dental school," he notes. Currently workers are painting, and carpet is being installed in some areas. Once that work is all done in September, furniture, audiovisual equipment and other wiring will be completed prior to occupancy. (See the Tufts Journal story about the expansion.) A dedication ceremony is slated for November 20.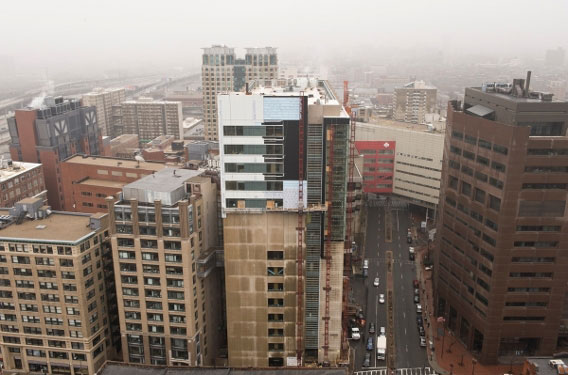 The dental school's vertical expansion project is ahead of schedule, set to be completed by the end of September. Photo: Alonso Nichols
Sacker Campus Center The third and final phase of the Sacker renovation is on schedule for completion in late August. "Right now we're working on the new auditorium, public space and the fitness center," says Roberto. For more details on the project, see http://www.tufts.edu/med/docs/news/sackler_renovation_project.pdf.
GRAFTON CAMPUS
Agnes Varis Campus Center Auditorium The 173-seat auditorium, equipped with state-of-the-art acoustics, lighting and a sophisticated audio-visual system and a continuing education facility, was recently completed. "The ability to hold campus-wide meetings, national and international meetings and community hearings on our campus will broaden our impact on society and academic life, while bringing faculty, students, staff and the local community closer together," says Andrew Hoffman, professor of clinical sciences and director of the Lung Function Testing Laboratory. The auditorium will be dedicated on June 10 at 4 p.m. on the Grafton campus.