Better Living Through Walnuts
Animal studies show improved motor skills and memory function
By Taylor McNeil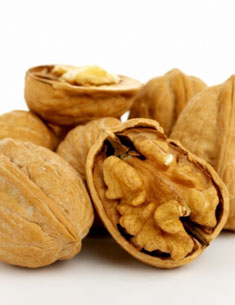 "One promising avenue for the prevention and reversal of age-related motor and cognitive dysfunction is dietary intervention," the researchers say. Photo: iStock
Add walnuts to the list of foods that might make you smarter and more coordinated as you age.
That's according to a recent study by researchers at the Jean Mayer USDA Human Nutrition Research Center on Aging at Tufts, which reports that a moderate diet of walnuts helped improve motor and cognitive skills in older rodents.
While it's too early to tell if walnuts would have the same effects on human brains, "there are numerous studies which have suggested beneficial effects on cardiovascular health in humans, so one might predict the same would be true for brain and cognition," says study co-author Barbara Shukitt-Hale, a research psychologist at the HNRCA.
The researchers focused on 19-month-old rats, which show distinct age-related deficits in motor and cognitive abilities, according to the researchers, led by James Joseph, a research physiologist with HNRCA.
"One promising avenue for the prevention and reversal of age-related motor and cognitive dysfunction is dietary intervention," the researchers wrote in their paper, published in the British Journal of Nutrition.
The rats were fed diets with varying percentages of English walnuts for eight weeks. The diets contained either 2, 6 or 9 percent walnuts, while control groups received none. They were then tested on various abilities. Results showed that the 2-percent diet improved results on one motor skills test, while the 6-percent diet improved performance on another motor test, and all groups consuming walnuts improved on short-term memory tests. On the other hand, the 9-percent group registered lower longer-term memory skills.
"These findings show for the first time that moderate dietary walnut supplementation can improve cognitive and motor performance in aged rats," write the researchers.
The 2-percent walnut diet is equivalent to a human eating one-third of an ounce of walnuts daily; the 6-percent walnut diet is equal to about 1 ounce of walnuts daily and the 9-percent diet some 1.5 ounces.
The exact mechanism leading to the changes is not known. "As is the case with a number of other nutritional substances, it is likely that walnuts provide a variety of bioactive substances that exhibit a multiplicity of effects on neural tissue to forestall and reverse motor and cognitive decline during the aging process," the researchers write.
Walnuts are a dietary source of polyphenols, chemicals found in plants that provide protection by acting as antioxidants and anti-inflammatories. Other foods that contain polyphenols include berries, peanuts and some vegetables and fruits, such as pomegranates.
The study, which was supported in part by the California Walnut Commission, was also co-authored by Lauren Willis, a postdoctoral associate at the HNRCA, and Vivian Cheng, a research technician.
Taylor McNeil can be reached at taylor.mcneil@tufts.edu.